TOP Best Guitar Headphone Amps
Whether you're new to the world of music or a professional musician, chances are you know how good traditional full-size amps sound. They give you the power and volume you need, and give you access to a wide range of effects. However, we are not always able to take the amplifier with us on any trip or trip, and for many guitarists it is important to train in any free minute. This is why micro amps are becoming more and more popular, as they allow you to rehearse whenever you want. Their most popular variety is guitar headphone amps, as they allow musicians to practice at any convenient time of the day or night. This way, if you decide to play guitar late at night or early in the morning, you won't have to worry about waking up your neighbors or family with a loud sound.
If you haven't heard of them before and are wondering what are headphone amps guitar, then you should know that these are small pocket gadgets that allow you to rehearse at any time, as well as provide you with amazing guitar tones and the ability to record. Moreover, if you like to rehearse on the road or travel, then headphone guitar amps are the best solution for you. Our top best electric guitar headphone amps will help you find the right model for you and your needs.
Top Best Headphone Amps For Guitar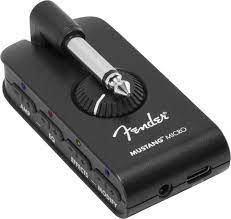 1)Fender Mustang Micro
Amp Models: 12
Effects: 12
Power: Lithium ion battery rechargeable via USB-C
Battery Life: 4 hours (minimum)
Input: yes
Speaking about the best headphone guitar amps, the honorable first place in our top is occupied by the Fender Mustang Micro, which really cannot but amaze with its abilities.
Of course, Fender, as one of the most popular guitar brands, could not disappoint us with a bad amplifier, but they combined everything in this gadget. First of all, it's worth mentioning that it includes 12 amp models that can range from pure Fender sound to high gain for metal.
What's more, it gives guitarists a huge range of tones that can be used not only for rehearsing at home, but also for recording.
Also, this headphone amp for guitar practice cannot but impress with its effects. The Fender Mustang Micro has classing Fender spring reverb, Fender's own vibratone, and also spacious stereo delays. It's also worth noting that there are 4 colored LEDs on the side of the amp that tell you the effect settings.
So, if you're looking for a great personal guitar amp from a well-known brand with lots of extra features, then the Fender Mustang Micro is your best bet.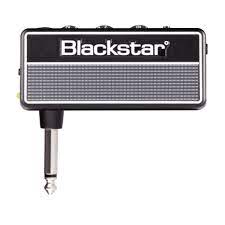 2)Blackstar amPlug 2
Amp Models: 3
Effects: 9
Power: 2 x AAA batteries
Battery Life: 17 hours
Input: Built-in
Another one of the best headphone amps for guitar is the Blackstar amPlug 2, which also features a large number of effects for such a small device. First of all, it is worth noting that Blackstar brought its own timbre and sound to the already beloved amPlug guitarists.
Also, it plays three different channels – clean, crunch and lead, which means you can play a fairly wide range of timbres to experiment with your sound. What's more, the Blackstar amPlug 2 also features a patented ISF control that lets you customize the sound to a more American or British style, depending on your needs.
This model is also among the best guitar amps for headphones thanks to the fact that you can play with it up to 17 hours using just a couple of AAA batteries.
Among other things, this amp also offers you three different types of chorus, reverb and delay built in. So if you want to be creative, practice and experiment with sound any time you like, the Blackstar amPlug 2 is one of the best guitar amps headphones you can find on the market.
Amp Models: 1
Effects: 9
Power: 2 x AAA batteries
Input: yes
VOX is another fairly well-known brand in the music market that needs no introduction. Speaking about him, it should be noted that VOX amPlug was one of the first popular guitar amps head phones on the market.
It still has a large following worldwide thanks to its simple vintage design, great sound and the effects it offers. It also refers to headphone amps for guitar amp practice which is suitable for both beginners and professionals.
This model delivers the traditional VOX tube sound, as well as a great practice tone that can be easily adjusted with the volume, tone and gain controls. It is important to mention that the VOX amPlug 2 AC30 does not have metallic distortion, however, if you increase the gain, you will get a great overdriven sound.
Among other things, this model has three effects, each of which has three variations. This way you get nine different varieties in order to find the tone you are looking for. So, if you dream of using a guitar headphone amp that has a vintage look and great sound, the VOX amPlug 2 AC30 is your best bet.
4) Boss Waza-Air
Amp Models: 5
Effects: 50
Power: Rechargeable lithium-ion battery Supplied from the CHARGE (DC IN 5 V) port
Input: yes
When people ask what are headphone guitar amps, they most often imagine exactly what this amplifier embodies. Boss Waza-Air differs from all previous models in this list in that the amplifier is built into the headphones.
Thus, this model is a revolutionary training amplifier that combines both wireless headphones and amplifier models, as well as effects and other functions. Among other things, this model also has Bluetooth audio streaming, so it is undoubtedly one of the best headphone amps guitar.
First of all, we would like to mention that Boss Waza-Air gives you access to five realistic amp models as well as 50 customizable effects through the Boss Tone Studio app. Among other things, this model is also distinguished by the fact that it has spatial technology and an integrated gyro sensor with a unique 3D sound.
In addition, this amplifier is extremely easy to use, and the knobs are easily accessible and understandable, so it is ideal even for a beginner. Another indisputable advantage of this amplifier is the absence of cables, so you can always play the guitar in maximum comfort.
So, if you were looking for the best small guitar amps to use with headphones, then you can forget about it, because the Boss Waza-Air is built into the headphones and will be as easy to use as possible.
5)Valeton Rushead Max
Amp Models: 3
effects: 6
Power: Rechargeable battery
Battery Life: 5 hours
Input: Built-in
The last model we turn our attention to is one of the most affordable headphone amps guitars on the market. While it may not be the highest quality, it is perfect for those on a budget and still get great bang for your buck.
It has three channels – overdrive, clean and distorted, as well as a large enough set of effects, which is just perfect for a cheap little amplifier that fits in your pocket.
Many pros include this model in the best cheap headphone guitar amps reviews because it is as easy to use as possible. Thus, if you are a beginner and have little money, but also want to experiment with the sound of your electric guitar, the Valeton Rushead Max is a great solution.
It should also be noted that it has a built-in rechargeable battery, so you do not have to spend money to constantly change batteries.
How To Choose The Best Guitar Headphone Amp?
In order to choose the right amplifier, you first need to rely on your own desires and needs. If you were buying a full size amp, you would probably think about what kind of effect features you would like to get from it. With guitar headphone amps the situation is similar as they also offer different channels, effects and functions. That is why only by paying attention to your needs and the musical style in which you play, you can choose the right headphone amplifier.
Another point to consider is whether you are a beginner, an intermediate player, or a professional guitarist. Thus, if you are just starting out, the most likely thing for you is the simplest possible amplifier with a few effects so that you can experiment with sound. Speaking of a professional, you probably already know your needs and will be able to choose an amplifier that is more complex in terms of functionality.