TOP Best Mini Amps For Guitar
Many decades ago, guitarists had such a problem that they could not take a full-size amplifier with them and rehearse at any time convenient for them. However, the market is now overflowing with a huge number of options that help musicians find a solution to almost any problem. If you are also often on the road or just want to have the most compact amplifier in order to rehearse anywhere at any time, then our guide is exactly what you need.
First of all, it is worth noting that mini amps for electric guitar cannot replace a full-size amplifier in terms of sound quality and volume. This is logical since these amplifiers are very small, have small drivers and therefore produce little power. However, along with this, it is also worth noting that the price for them is also much less. Now there is an opinion that guitar micro amps are nothing more than a toy that will not give you a good sound, but this is a misconception. There are now a huge number of good mini guitar amps that will offer you great sound quality and effects to experiment with.
Guitar amps were built to produce decent sound at low volumes for practicing anywhere, anytime. Thus, even if you live with family and friends and want to rehearse at night, a small amplifier will solve all your problems. It will also be an indispensable companion on any journey, since you do not have to take a heavy full-size amplifier with you. Below you can explore the best mini guitar amps on the market and choose the most suitable model for you.
Top Best Mini Amps For Guitar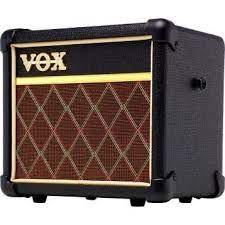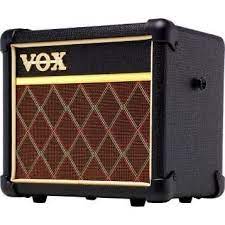 1)VOX Mini 3 G2
We decided to start our top mini amps for electric guitar with an amp that is best suited for those who spend a lot of time on the road and want to practice guitar more no matter where they are.
VOX is one of the most famous amplifier companies that has a memorable vintage look and classic sound. VOX Mini 3 G2 is the most compact, portable and lightweight amplifier that has a power of 3 watts and 1×5" speakers. It's also worth noting that this amplifier has two power supply options – an AC adapter or a 6 AA batteries (that can last up to 12 hours).
Speaking of this amp, it's worth mentioning that it's digital, so you can choose between 11 different amps and 12 effects that include delay, reverb, tremolo, chorus and so on.
Among other things, the VOX Mini 3 G2 has a built-in tuner making it ideal for practicing. Speaking of the construction of this model, VOX Mini 3 G2 has a standard 1/4 instrumental input, the microphone and the aux input for backing tracks or playing songs.
Another important feature of this amplifier is a headphone output, which allows you to play at any time of the day or night without fear of waking up the neighbors. Its price of just $150 makes it one of the top budget mini guitar amps.
2)Marshall MS2
If you're looking for a guitar amp that fits in your pocket, the Marshall MS2 is one of the best micro guitar amps the market has to offer. It also belongs to the world's smallest solid-state guitar amps as it measures only 110 x 140 x 60 mm and weighs 0.34kg. In its construction it has a 1×2' speaker and 1 watt power.
Of course, this micro amp is extremely quiet, so you'll have to rehearse in a quiet place for the speaker to handle the volume. However, even if you're not in the quietest of places, the Marshall MS2 has a headphone output so you can rehearse at any time you choose.
Also this amp runs on batteries so you can rehearse on the road without any problems, and if you are at home you can use an AC adapter. This model has a classic Marshall look and sound that will pleasantly surprise you with its clean and overdrive sound.
This tiny amp is also great for a beginner as there are only 3 knobs – volume, tone and clean/overdrive activation. The Marshall MS2 is one of the best micro guitar amps due to its size, quality and functionality.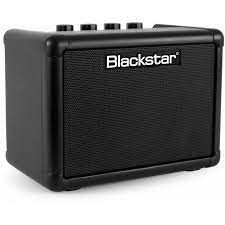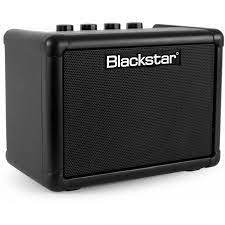 Blackstar is a manufacturer that has been on the amplifier market for a long time and has continued to surprise fans with its models over the past few years. Knowing the needs of guitarists, they have also created one of the best guitar mini amps on the market, the Blackstar Fly 3, which measures just 170 x 126 x 102mm and weighs less than one kilogram.
This model houses a 1 x 3" speaker with 3W of power. Among other things, the Blackstar Fly 3 has a line-input for playing with backing tracks or just playing music. As well as other models from our list, this model has a headphone Jack for convenient practice at any time.
If you are a beginner and want to pick up one of the top mini guitar amps, then this model is a great solution, since the knob panel is simple and has only gain, volume, EQ / ISF and delay.
Moreover, it should be noted that you can also choose from two types of amplifier sound – American or British. The difference between the two is that the American style sounds focused and tight, while the British style has a warm, crunchy sound.
It is also impossible not to mention that this guitar amplifier is the most budgetary and costs only $55, so any musician can afford to purchase Blackstar Fly 3.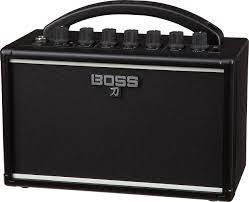 4)Boss Katana Mini Combo
If you're looking for a great $100 amp with amazing looks and good sound, you can't go wrong with the Boss Katana Mini Combo. Like all the best guitar mini amps on this list, this model impresses with its size of 230 x 181 x 116 and weighs just over one kilogram.
However, despite this, the distinguishing feature of this small amplifier is that it has a 1 x 4" speaker with a power of 7 watts. Thus, it is loud enough to fill the whole room, but still not suitable for rehearsals with a band.
If you're looking for one of the most powerful mini guitar amps on this list, the Boss Katana Mini Combo is definitely worth checking out.
Of course, it's also worth noting that the Boss Katana Mini Combo is a solid state amp that can operate both on an adapter (DC) and batteries (6 x AA).
This model has the standard headphone output and also a recording output, which makes it stand out from the competition. Speaking of the knob panel, it's also quite simple and has the gain, EQ and delay panels.
If you are looking for one of the bestsounding mini guitar amps at an affordable price – Boss Katana Mini Combo is definitely worth your attention.
5)Harley Benton Rockplug
Are you looking for one of the best tiny guitar amps that will take up as little space as possible? Well, the Harley Benton Rockplug will not leave you indifferent as many professionals refer it to the top ten cheap mini portable guitar amps.
First of all, we would like to surprise you with its dimensions of 80 x 30 x 15 mm and a weight of only 10g! Yes, you heard right, now you can take this miniature gadget with you everywhere as soon as you leave the house and rehearse in any place convenient for you.
It's also worth mentioning that the Harley Benton Rockplug is considered the best micro amps for guitar as it has a built-in rechargeable battery that can last up to 15 hours!
However, the great news is that after your battery runs out, you don't have to buy a new one or recharge your old one, as you can plug the USB cable on the charging mini USB port without any problems. Harley Benton Rockplug has a standard instrumental Jack, and also the aux-in, headphones-out and also includes an adapter for connecting a second headphone.
Speaking of control knobs, there are only 3 of them – drive, tone and volume. So, if you want to get one of the best small travel guitar amps that has an analog overdrive circuit and weighs only 10 grams, then the Harley Benton Rockplug is your best bet.