Top Best Vintage Bass Guitars
You probably know that finding the right bass guitar can be a tedious process. You need to take into account not only the characteristics of the guitar, but also your desires and needs. If you are looking for cheap vintage bass guitars, then finding the right model can be even more difficult. Recently, more and more musicians are interested in old musical instruments and want to purchase a unique model with an interesting vintage sound. If you are one of them and are thinking about getting one of the 60s bass guitars, then our top is exactly what you need.
When choosing such an instrument, it is especially important to take into account the features of a particular guitar, since not every one of them will be able to meet all your wishes and needs. However, you should be aware that bass guitars from the 60s and 70s did not have the same range of features that modern models can boast. This way, you will most likely not get a huge number of different features, but at the same time you will get an incredibly vintage sound. Also, if you just want to get one of the good used vintage bass guitars for sale, we have some interesting options for you.
Top Best Vintage Bass Guitars
Here are our top picks: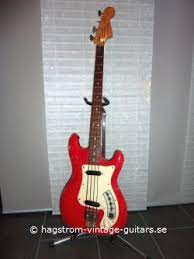 1)Vintage Hagstrom Futurama Bass 1964
So, if you have always wanted to find one of the good 60's bass guitars, then you should definitely consider the Vintage Hagstrom Futurama Bass 1964. Speaking of this instrument, first of all we would like to draw your attention to the fact that it has a wooden body with the classic Hagstrom face cover.
We would also like to say right away that we attributed this model to one of the good vintage bass guitars, as it has an incredibly beautiful and vintage design which will not leave you indifferent.
Speaking of this model's electronics, it's also great and gives you an incredible clean tone, while the pickups are strong enough to handle a variety of musical styles.
The electronics works great with pickups and provides incredible tonal variation. Moreover, all mini switches also works great (one switch for each pickup on/off, one switch for tone and one switch for mute).
This guitar has the maple neck with rosewood fingerboard, 21 frets, and 31 inch short scale, and also features original chrome head tuners. The bridge of this model is also adjustable.
Recently, the Vintage Hagstrom Futurama Bass 1964 easel has become more and more popular due to its fretboard and very retro control plate. Moreover, the Hagstrom brand was not very popular at that time, as it was expensive and more in demand in the European market.
So, if you're really looking for one of the vintage and rare bass guitars, you can't miss the Vintage Hagstrom Futurama Bass 1964.
2)VOX Wyman Bass Mid-Late 1960's Sunburst
Another great 1960s bass guitar that we would like to bring to your attention is the VOX Wyman Bass Mid-Late 1960's Sunburst. This model was made in Italy in the mid to late sixties and is currently a real lure for collectors.
If your goal was to find one of the rare bass guitars for sale, this model is exactly what you need. It not only looks unique and as vintage as possible, but also gives you access to the unique sound of the sixties.
This guitar has four strings and a slim neck profile that is perfect for any style of music. No matter what kind of music you prefer, VOX Wyman Bass Mid-Late 1960's Sunburst will surprise you not only with the sound, but also with the look. Still looking for vintage looking bass guitars? You definitely found it.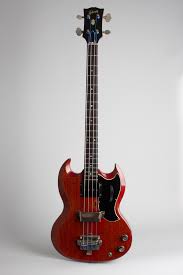 3)Gibson EB-3 1961
It seems to us that there is practically no guitarist who has not heard of Gibson at least once. Thus, while compiling our list of vintage brand bass guitars, we could not help but pay attention to the Gibson EB-3 1961.
This model was produced until 1979, so at the moment it is quite rare and belongs to the vintage bass guitars boutique. It has a familiar sharp double-cutaway solid body similar to the SG. Thus, the model looks incredibly vintage and has the spirit of the old school like no other.
It should also be noted that the Gibson EB-3 1961 model has a solid mahogany body with a metal cover over the bridge pickup and a 4-position rotary tone switch. In addition, we have classified this instrument as cool vintage bass guitars, as it has dual humbuckers on its own.
Moreover, if you are familiar with such musicians as Jack Bruce and Bill Wyman, you should know that they also preferred this particular model. The Gibson EB-3 1961 is one of those vintage rare bass guitars that definitely deserves your attention.
4)Fender Jazz Bass 1960-'62
If you are not the first day to play the bass guitar, then most likely you have heard of such a brandy as Fender. It has been building musical instruments for many years and provides some of the finest guitars you can find on the market.
That is why our top old bass guitars could not do without at least one instrument of this brand. The Fender Jazz Bass 1960-'62 is a legend chosen by many musicians of the time. Moreover, because of its incredible sound, it is suitable not only for jazz, but also for many other musical styles.
In the sixties, this guitar was bought quite actively, as it had a non-standard design, excellent sound and unusual colors. However, since the seventies it has become a collector's item and topped the lists of vintage bass guitars for sale. The Fender Jazz Bass 1960-'62 is one of the great vintage bass guitars you should definitely have in your collection.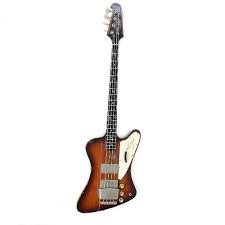 5) Gibson Thunderburn IV 1963-'65
We round out our top antique bass guitars with yet another Gibson model, considered by many to be the brand's finest guitar, the Gibson Thunderburn IV 1963-'65.
If you have ever seen or held this model in your hands, then you probably know that it will not leave anyone indifferent, largely due to its "reverse-body", which distinguishes it from many competitors of those times. Also Thunderbird IV has a neck-through design and combines both style and function.
This model has four strings and two-pickups, which will provide you with an incredible vintage sound. Both the look and sound of the Gibson Thunderburn IV 1963-'65 is one of the finest collectible bass guitars you can find.
Where To Buy Vintage Bass Guitars?
If you are interested in vintage musical instruments, you probably want to know where to buy vintage bass guitars. Actually, we won't give you any unique answer since you can buy vintage bass guitars online. Now there are a huge number of sites and people that sell vintage boutique bass guitars, so it will not be difficult for you to find old bass guitars for sale.
Apart from this, there are also various vintage auctions where you can look for vintage items and maybe find one of the best quality basses. If you're interested in 80s vintage bass guitars, it won't be that hard to find them, as these models are often not as rare as 60s guitars. So, for finesse to find vintage electric bass guitars, look through the ads on the internet, research sold out and collectors' collections and you may find exactly what you need.
Conclusion
Old electric bass guitars certainly have their own charm and are therefore popular with collectors and musicians around the world. Just the idea of one of the retro bass guitars, you can achieve the incredible sound of the 60-70s, characteristic of that time. While it can be difficult to find the right classic bass guitars for sale, the market is still full of different offerings that won't leave you indifferent.
We hope that our top vintage bass guitars were useful to you and that you were able to find one of those models that is perfect for your music or collection. Good luck!