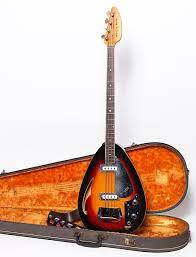 VOX Wyman Bass Mid-Late 1960's Sunburst: A Classic Icon Revisited
The 1960s marked a significant era in the world of music, characterized by revolutionary sounds and innovative instruments. Among these game-changers was the VOX Wyman Bass, which first emerged on the scene in the mid to late 60s. Named after its most famous user, Bill Wyman of The Rolling Stones, this bass guitar has had an enduring impact on popular music. This review will delve deep into the unique features, sound quality, design, and overall performance of the VOX Wyman Bass Mid-Late 1960's Sunburst.
Aesthetic and Design
The VOX Wyman Bass is immediately recognizable due to its distinctive teardrop-shaped body, a classic VOX design that sets it apart from more traditional bass guitar shapes. The Sunburst finish, a gradient of warm, earthy tones, enhances the instrument's vintage appeal. With its unique silhouette and beautiful finish, the VOX Wyman Bass is as much a visual statement as it is a musical instrument.
The build quality of the VOX Wyman Bass is exceptional. The body is made from solid mahogany, known for its durability and rich, warm tonal properties. The neck, crafted from maple, provides excellent stability and sustain. The rosewood fretboard, adorned with dot inlays, offers a smooth playing experience.
Sound and Performance
The VOX Wyman Bass is equipped with two single-coil pickups, delivering a wide range of tonal possibilities. These pickups are capable of producing everything from deep, growling lows to crisp, clear highs. The controls include two volume knobs and two tone knobs, allowing for extensive sound shaping.
Regardless of your playing style, this bass can deliver. It excels at producing the punchy, driving basslines characteristic of rock and roll, but it's also capable of more nuanced, melodic playing. It's versatile enough to handle genres as diverse as jazz, blues, and funk.
One remarkable feature of the VOX Wyman Bass is its sustain. Notes ring out for an impressive length of time, adding richness and depth to the overall sound. This is due in large part to the instrument's solid construction and the use of high-quality materials.
Playability
The VOX Wyman Bass offers a comfortable playing experience. The teardrop-shaped body sits naturally against the player's body, reducing fatigue during long playing sessions. The neck is slim and easy to navigate, making complex basslines and fast runs easier to execute.
The action on the VOX Wyman Bass is also worth noting. It is set up to be low without any buzzing, making it easier to play quickly and accurately. The tuning machines are reliable, keeping the bass in tune even during vigorous performances.
Final Thoughts
The VOX Wyman Bass Mid-Late 1960's Sunburst is more than just a bass guitar; it's a piece of music history. It captures the spirit and sound of an era when music was undergoing rapid and exciting changes.
Beyond its historical significance, this bass is a high-quality instrument in its own right. From its distinctive design to its versatile sound to its excellent playability, the VOX Wyman Bass has a lot to offer both collectors and musicians.
If you're a fan of vintage instruments, or if you're simply looking for a bass that stands out from the crowd, the VOX Wyman Bass Mid-Late 1960's Sunburst is well worth considering. Its combination of aesthetic appeal, sonic versatility, and comfortable playability make it a standout choice for bassists of all levels and styles.
Ultimately, the VOX Wyman Bass Mid-Late 1960's Sunburst is a testament to VOX's commitment to quality and innovation. It's a reminder of a time when the boundaries of music were being pushed and expanded, and it continues to inspire musicians today with its unique sound and design.