TOP Best Portable Guitar Amps
The market for guitar amplifiers is bigger than ever. Now you can get anything from a tiny micro amp to a huge monster for the big stage, depending on your desires and needs. However, in recent times, portable guitar amps have become more and more popular. They are good because they are compact and great for people who travel a lot or rehearse in different places.
While all amps are more or less portable, we want to look at those that have been specifically designed to be carried around with you. A large number of well-known brands have also been working on their own portable amplifiers, so in this guide we will analyze the best options you can find on the market.
Best Small Portable Guitar Amps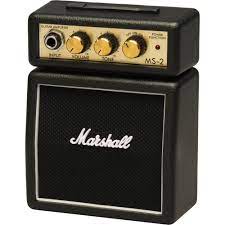 1) Marshall Ms2 Battery-Powered Micro Amp
We decided to start our top best portable amps for guitar with an amplifier from one of the most famous brands in the world.
Marshall has been in the music market for decades and is still popular because its amps are not only reliable but also produce great sound. That's why the Marshall Ms2 Battery-Powered Micro Amp is one of the best pocket guitar amps on the market.
First of all, it can be described as a microamp, since it has only 1 watt of power and a 2-inch speaker. The controls are also as simple as possible, so even if you are a beginner, it will not be difficult for you to understand this amplifier. It has one input, tone and volume and also a switch for overdrive.
However, where can you use it? Of course, this tiny amplifier is not suitable even for small gigs, but it will be a great option if you plan to practice and rehearse at home. So, if you are looking for the best portable mini guitar amps – Marshall is the right choice.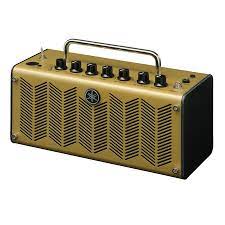 2)Yamaha THR10c Mini Amp
Yamaha is another fairly popular brand in the music world, however many people don't know that they also make amplifiers.
Moreover, it was Yamaha who decided to solve the problem that exists in the market – to create not just a good portable guitar amp, but also to take into account that some musicians also want to have some features in their compact amplifiers.
Thus, the Yamaha THR10c Mini is an amplifier that will not only allow you to practice at home or on the go, but also provide you with everything you need to write music or even create a simple demo.
As more and more musicians nowadays are away on tour, often moving or traveling, they write music on the go and therefore need a place to store their ideas for future use, and the Yamaha THR10c Mini solves this problem.
It should also be noted that for playback it produces 10 watts and gives you the opportunity to get the sound of 5 classic amps to choose from. What's more, you will also get other models for acoustic and bass guitar as well as other instruments.
The Yamaha THR10c Mini also has setting buttons so you can save your favorite settings and use them when you need them. Among other things, this little amp impresses with its onboard effects – four fever and delay ones and four separate modulations.
The Yamaha THR10c Mini also has a 3 band EQ and a THR editor, as well as two USB ports for recording to your computer. If you like to rehearse at night you will also be happy to know that it has a headphone socket.
So, if you want to purchase not only one of the best small portable guitar amps, but also a model that has a large number of different functions, pay attention to the Yamaha THR10c Mini.
If you've been looking into the best travel amps guitar options, then you've probably paid attention to Roland at least once. This Roland cube street guitar amp has all the hallmarks of this brand as it is beautifully designed, light and compact and has a stage monitor. Also there are two 6.5 inch speakers inside the cabinet.
Many pros also refer to this model as a top ten portable guitar amps as it has two input channels and mic with an XLR and has been specifically designed for outdoor use.
Moreover, it is impossible not to mention that it has a power of 5 watts, but it sounds much more powerful. It also takes pride of place as the best portable electric guitar amps thanks to its six digital effects processors and is even equipped with a built in tuner!
Among other things, it should be noted that the mic channel has a two-band EQ, delay and reverb. Roland cube guitar amp is a good model for rehearsing at home, however, as already mentioned, it is ideal for outdoor use.
It is quite durable and also has a large number of built-in effects, which will be enough for you for small live performances. Looking for a great portable amp for electric guitar? Choose Roland.
4) Blackstar Guitar Combo Amp
If you are looking for one of the best portable amps for guitar that also has good power, you should definitely check out the Blackstar combo amp. It was designed specifically for travel, which is why many professionals and musicians consider it to be one of the best small travel guitar amps.
What's more, it has two channels that give you both pure sound and overdrive and distortion. It's also no doubt worth noting that Blackstar has included ISF (Infinite Shape Feature) in this model, which gives you a whole range of tonal possibilities. In addition, the amplifier has a tape delay effect which offers more playful options.
As mentioned, the amp is relatively small and has a 3-inch speaker, but don't underestimate it. It has a quite acceptable volume, and also surprises with its incredible sound quality.
Also not to mention that this Blackstar Combo amp has an MP3 line which will let you either to play along to some music or just listen. In addition, the amplifier also has a headphone output, so you can rehearse at any convenient time of the day.
The Blackstar Guitar Combo Amp is one of the best travel guitar amps if you want quality sound and decent power.
5) Pignose 7-100 Legendary Portable amp
Our top portable guitar amps will complete another model, which is one of the first in the production of quality portable rehearsal amplifiers in a small size.
The Pignose 7-100 Legendary Portable amp is an amp that has been around for 30 years and still dominates most of the top 10 portable guitar amps. When purchasing this as a practice amp, you should know that this model has 5 watts of power and a 5-inch speaker.
Moreover, it should be noted that many people use this amplifier as their first amplifier, as it fits all the requirements perfectly. It has good sound and enough volume for rehearsals at home.
Pignose 7-100 has one interesting effect – by turning the control knob you can easily go from very clean sound to heavy overdrive. It also belongs to the good portable guitar amps due to the fact that it has a solid construction and is built to last.
So as a practice amp, it's quite good as it's powerful, doesn't have a huge amount of sounds, and offers the ruggedness needed for beginners. Interested in purchasing your first guitar portable amp? Pignose 7-100 is what you need.
How to Choose The Best Portable Guitar Amp?
In order to answer this question, you must clearly understand where and how you plan to use this amplifier. The concept of portable is rather vague, and for one musician a small model up to 10 kg is a portable option, and another wants to purchase one of the pocket guitar amps.
So, considering travel guitar amps, do you plan to rehearse and practice at home, or do you still want to put on small gigs? If you are just starting your journey, then any mini amplifier with a power of 1-5 watts will be enough for you, which will allow you to experiment. However, if you're targeting gigs, you'll probably want to look at 10 watt or more amps that are also reasonably portable yet have good performance speakers.
Another question you should ask yourself before buying a portable amps guitar is if you need built-in effects. While some musicians want to experiment with the sound and enjoy having different effects, others prefer simplicity, especially if they are newbies. By paying attention to all these points, you will no doubt be able to choose the right portable amplifier for you. We hope our top was helpful and you were able to choose a model that suits your desires and needs.