TOP Best Clean Guitar Amps
The amplifier market has never been as crowded as it is now. At the moment, you can buy amplifiers for various musical styles, amps for performances or rehearsals at home, or models for beginners and professionals. Prices also vary greatly and can range from a few hundred to tens of thousands of dollars. While some players are looking for high gain amps, others are looking for clean guitar sound. It should be noted that great clean guitar amps allow guitarists to achieve much higher volume levels. They have a huge number of advantages and also work great with various carrion and effects.
Our top will help you pay attention to the best guitar amps for clean tone. We have selected the best models that will give you a sparkling clean sound and will not distort the volume. However, before choosing an amplifier, pay attention to where you want to use it and how much power you need.
Top Best Clean Sounding Guitar Amps
1) Fender 65 Deluxe Reverb
We decided to start our list of cleanest guitar amps with the legendary Fender brand, which has been and remains one of the most popular ones in the music market.
The Fender 65 Deluxe Reverb is a classic amp that is a favorite of many professional musicians and one of the most recorded amps in the world. It is as versatile as possible and covers a huge number of genres, from blues to rock.
It is the Fender 65 Deluxe Reverb that will allow you to get the classic Fender sound that will not leave you indifferent. It also belongs to our top rated clean guitar amps due to being portable enough for 22W of power. What's more, the power of this amp is also ideal, as it will mature you to rehearse at home, do small gigs and even use it in the recording studio.
Speaking about the distinctive features of this amplifier, it is worth saying that it has 2 channels with tube spring reverb, tube vibrato and also a tube rectifier. Also the Fender 65 Deluxe Reverb has a single 12" Jensen C-12K. Moreover, this model is powered by two 6V6 power amp tubes (one 5AR4 rectifier tube, four 12AX7 preamp tubes, and two 12AT7 tubes for reverb and vibrato).
If you are a beginner then don't worry either as the control knobs are quite simple – treble, bass, volume, reverb, intensity and speed. Another feature you will notice about this amp is its sound, which is why many people wonder why do fender guitar amps sound good clean. Indeed, you'll get Fender's unique clean sound, as well as the signature overdrive, with enough volume for 22W.
The last thing we would like to note is that the second channel has built-in vibrato/tremolo and reverb effects, the quality of which will amaze even a professional musician. So, if you are looking for the best clean guitar amps for clean sounds, then the Fender 65 Deluxe Reverb is your best bet.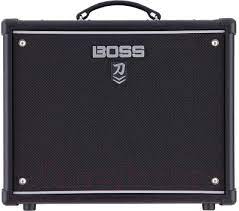 2) Boss Katana 50 MKII
Another amp that often makes it to the top 10 guitar amps for clean tones is the Boss Katana 50 MKII. It is this model that proves that a quality modeling amplifier will cope with almost any genre and situation.
What's more, the sound of this amplifier remains pure no matter what you do and what settings you apply. Thus, if you want to purchase guitar amps with best clean tone, this model will suit you the most. It should also be noted that despite the fact that this amplifier is small, it has a power of 50 watts.
Boss Katana 50 MKII is driven by solid state digital circuitry, and features 5 different amp voicings. It's also worth mentioning that this model only has one input. Even at the maximum volume of the amplifier, its tones remain clean and shimmery, so you do not have to clean up the sound with other settings.
This model is known as one of the cleanest sounding guitar amps also because the on board FX also works great with clean tones. Although this amp is not the most powerful on our list, it will be enough to rehearse at home, as well as perform at small concerts and get the most pleasant clean sound.
Marshall is a fairly well-known music brand, but what many don't know is that they also make good quality amplifiers. The Marshall DSL40CR is one of those youngsters that is capable of producing incredibly rich tones even at the highest volume.
It has a power of 40 watts thanks to 4 x ECC83 preamp tubes and 2 x EL34 power tubes. The Marshall DSL40CR is also one of the most popular guitar amps known for clean sound.
When testing this guitar amp, you can't help but notice the tone control, which can be adjusted. The Marshall DSL40CR will provide you with a clear, shimmering tone that persists even at high volumes.
Among other things, he impressed us with excellent performance with the pedal board. This model provides a nice crunch and nice clean tones, so if you're looking for a good clean guitar amp from Marshall, you've found it.
4) Supro 1968RK Keeley
When exploring the best clean amps for guitar market, one cannot help but pay attention to the Supro 1968RK Keeley – an all tube model that offers incredible sound at an affordable price. It's also worth noting that Supro has a contract with pedal manufacturer Keeley so this model is specifically designed to work with pedals.
This amplifier is rated at 25 watts and is equipped with a single 12" Celestion Creamback (by way of two ECC83S preamp tubes and two 6V6GT power tubes).
In loudness testing, the Supro 1968RK Keeley was found to still offer an excellent clean tone without distortion. What's more, if you're a fan of the British tone, then this teacher will definitely become your favorite, especially considering the fact that it's quite loud with its 25 watts of power.
This amp rightly belongs to guitar amps with amazing cleans and has a lot of other benefits. Also it should be your best choice if you want to play with the pedal. So, if you're looking for an easy-to-operate yet powerful enough clean tube guitar amps to perform, get the Supro 1968RK Keeley.
5) Roland JC-120
One of the best guitar amps for clean players is also the final model from our list – Roland JC-120. This amp has been around since 1975 and has since become famous for its crystal clear tone and signature choirs effect. It is a solid state amp which is the most powerful on our list – 120 watts, so it's perfect for stage performances.
The Roland JC-120 has been referred to as a premium guitar amps clean for many years, as it has set the standard for high quality clean amps for both stage and recording. Let's see why.
First of all, it is worth noting that this amplifier has two channels and two speakers with a power of 60 W each. It is impossible not to pay attention to the fact that the Roland JC-120 comes with two 12-inch speakers, which is the basis of excellent sound.
We would also like to note that channel one has a classic pure tone with basic control knobs – treble, volume, bass and middle. However, this model is best known for its channel 2, which has volume and EQ knobs and a selection of effect knobs.
What's more, this amp will provide you with distortion, reverb, vibrato & chorus effects with speed and depth controls for the effects. So with so many features and effects, you can get a versatile sound and achieve exactly the tone you want.
However, despite the effects, the Roland JC-120 is still famous for its sound and is not in vain a completely clean guitar amps. It has been popular with guitarists since the 1970s, as it was designed specifically for those who needed a versatile clean tone for various musical genres such as jazz, R&B, country, and more, but is now mainly used by rock and pop guitarists.
This model has established itself as one of the cleanest guitar amps many years ago and still remains popular. So if you want a classic clean guitar tone and plenty of effects to experiment with, the Roland JC-120 is your best bet.