TOPBest Guitar Amps Under 200
If you are just starting to play the electric guitar, then you probably already know that you need a guitar amplifier. Whether you're planning to practice at home, rehearse with a band, or perform on stage, good sound is essential and it's the amp that creates the sound. Now the market has a huge number of different models that suit any desires and needs, but beginners most often have no idea where to start. What's more, guitar amps come in a range of prices, from hundreds to tens of thousands of dollars. We understand that beginners probably can't afford to spend a huge amount on their first amp, so we decided to create a top five best guitar amps under $200 that have good sound and build quality.
How To Choose The Best Electric Guitar Amps Under 200?
Before we move on to the top best guitar amps under 200, we would like to give you some basic information about what to look for when looking for an amplifier. First of all, you must decide what kind of music you are playing, since the characteristics of many amplifiers depend on the musical style you prefer. However, if you are still undecided, there are still a large number of universal amplifiers on the market that are suitable for most genres.
Another important point to pay attention to is the power and size. If you plan to purchase an amplifier to practice at home, then a small model with a power of 5 to 20 watts will be enough for you. However, if you are planning more serious performances in the future, we recommend that you look at larger amplifiers with a power of up to 100 watts and good speakers. Beyond that, you need to decide if you want your amp to have built-in effects that give you great tonal variety and the ability to experiment with your sound. Another important point – check that the amplifier has a headphone jack if you want to practice playing the guitar at any time of the day or night.
Top Best Guitar Amps Under $200
Now that you know the main points to pay attention to, it's time to explore our top 5 best guitar amps under 200. It offers you the best models on the market and meets the desires and needs of most beginners.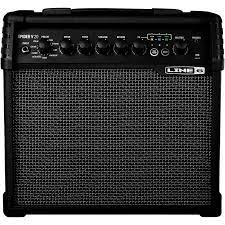 1) Line 6 Spider V 20 MKII
We decided to start our top guitar amps under 200 with one of the best long-lasting solid state amps on the market that has been popular for years – the Line 6 Spider V 20 MKII.
This model has the classic design of the Spider series of amplifiers and is included in a huge number of top guitar amps under 200 dollars thanks to the powerful amp modeling and effect system.
It should be noted that this model also comes with some acoustic and bass presets, so if you are looking for the best acoustic guitar amps under $200, then the Line 6 Spider V 20 MKII may also suit you.
First of all, it's important to note that this amplifier can deliver up to 20 watts, which means it's quite loud, which is surprising for a model weighing around 10 pounds.
What's more, Line 6 Spider V 20 MKII gives you access to over 200 preloaded presets, which means you'll get all the classic sounds of your favorite jams. Also, if you like high quality clear sound, this model will be the best option for you, as it has a huge number of built-in options.
So you can just select am amp model and control all the effects you want and get access to EQ, drive and more. In addition to all this, you also get wireless remote controls with your smartphone!
Speaking of other distinguishing features of this amplifier, it has a built-in tuner and a tap-tempo function for setting all the modulation based effects.
The system also has over 100 effect models and the three FX buttons that will give you access to three effects simultaneously and a headphone output. If you've been looking for one of the best guitar amps for under 200 with great sound and tons of effects, Line 6 Spider V 20 MKII will be your absolute favorite.
2)Blackstar Mini Amp Fly 3
If you are looking for a small size amplifier that is as portable as possible, then you should definitely pay attention to the Blackstar Mini Amp Fly 3. First of all, we would like to note that this amplifier is intended for home use only, as its sound is too quiet for recording or jamming.
However, if you're just starting out and just looking for the right model to practice with, this $60 amp is a great choice. It is also important to note that the Blackstar Mini Amp Fly 3 has a small power of only 3 watts, but is as light as possible (2.6 pounds).
This model gives you two choices of voices – clean and overdrive, and also comes with the auxiliary and headphone outputs.
One of the distinguishing features that made this amplifier our top 5 guitar amps under 200 is Bluetooth, which means it can also work as a speaker.
The controls elements include volume, gain, overdrive switch, EQ and delay level. Blackstar Mini Amp Fly 3 can be safely attributed to the best guitar amps for beginners under 200, as it is quite compact and easy to operate.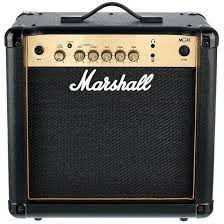 Almost no top small low wattage guitar amps under $200 is left without at least one amp from Marshall, a brand that has been on the market for decades as one of the highest quality and most reliable. It is as simple as possible, and therefore one of the best training amplifiers for beginners.
So if you don't need a huge amount of effects and appreciate simplicity, the Marshall MG15 is probably what you need. It is also worth noting that it has a power of 15 watts, so if you plan to rehearse at home, then this will be more than enough.
Like all Marshall amps, this model has a clean tone, built-in spring reverb, gain/overdrive option and a headphone input.
What's more, it's worth mentioning that this amplifier can also be connected to your phone or iPad and play along with a backing track. Marshall MG15 also has 2 channels – overdrive and clean, and it also comes with clean volume knob, overdrive volume knob, 3-band EQ, gain and spring reverb knobs.
If you're looking for the best simple guitar amp around 200 dollars, then the Marshall MG15 with 8 inch Custom Design speaker is perfect for you.
4) Fender Mustang LT-25
Fender is probably one of the most famous brands in the world of music, so the Fender Mustang LT-25 should definitely be in our list of best $200 guitar amps. If you are a fan of modern amplifiers with a lot of features, then you will most likely like this model, as it primarily has a digital screen.
Also, this amplifier has a large number of interactive digital functions, which is suitable for both beginners and advanced guitarists.
The Fender Mustang LT-25 has 25 watts of power, which is enough for home rehearsal, subway performance, recording and jam, which also makes it one of the best guitar amps for recording under 200. It is also important to note that it comes with 20 amp models for choice and 25 effects that include delay, reverb and modulation.
Thus, if you were looking for the best guitar amps under 200 with reverb, then the Fender Mustang LT-25 is the right choice. Among other things, it also has 50 factory presets and comes with a huge selection of Fender clean sound.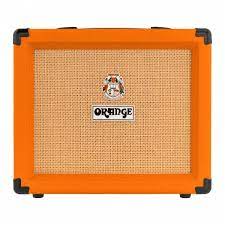 5)Orange Crush 20RT
If you're looking for one of the best guitar amps for under 200 dollars that gives you that traditional British rock sound, then the 20 watt Orange Crush 20RT is the one for you. It is also one of the best small guitar amps under $200 of this brand, which is suitable for home practice, rehearsals and even recording.
It can be noted that this amplifier has two channels – dirty and clean. It also has a light weight of about 16 pounds, which makes it quite portable.
The Orange Crush 20RT specializes in higher tones and overdrive, so if you're into rock, blues or metal, this amp is for you. It also has the most intuitive controls, is equipped with a high quality spring reverb and has a chromatic tuner.
Like many of the amps on this list, this model also has the line-out/headphone output. Speaking of controls, the Orange Crush 20RT has volume, gain, bass, treble and mid knobs. So this practicing amp with 8-inch Orange Voice of the World speaker would be one of the best guitar amps under 200 dollars for beginners or intermediate players.