Top Best Line 6 Guitar Amps
Line 6 is one of the most successful companies still producing musical instruments and audio. That's why, if you're not new to music and have been playing the guitar for a while, chances are you've heard of the Line 6 at least once. What's more, their Spider range of amps is one of the best selling on the market. However, both professionals and beginners are quite biased towards Line 6. However, is such an opinion justified? This guide will help you learn more about Line 6, where and how they are made, why they have such a reputation, whether they are worth buying and so on. Also besides this, you can check out the best line6 guitar amps on the market.
Where Is Line 6 Manufactured? Who Makes Them?
Before moving on to the best cheap line 6 guitar amps, we would like to first answer the questions of who makes them and where. Best of all, you will be surprised to know that Line 6 amplifiers are now made by Yamaha. The fact is that in 2014, Yamaha bought Line 6, and since then it has been selling all Line 6 products around the world.
At the moment, all Line 6 products are made in China. While all R&D is done in California, everything, including the amps, is made in China to save money. Despite the fact that most people believe that the equipment in China is of inferior quality, this is not the case. Moreover, most of the amplifiers of very famous brands such as Fender, Marshall and others are also made in China.
What's Wrong With Line 6 Reputation?
Many people don't even consider buying a guitar amps line 6 because they've heard about the brand's not-so-great reputation. That is why now we would like to deal with this together, since some information is justified, and some is completely unfair.
First of all, we would like to note that most of the criticism that fell on the Line 6 was directed precisely at the Spider amplifiers. They were first released to the market in the 2000s and were distinguished by their unusual sound. However, their quality left much to be desired. However, it is impossible not to mention the fact that at that time very few modeling amplifiers sounded good, but the main hatred fell on the Spider. However, even in spite of this, many newcomers continued to buy them, and it was these amplifiers that popularized modeling technology.
Thus, since then, this brand has acquired a bad reputation. And even as they continued to improve their Spider amps, the bad publicity continued to haunt them. But, as we just mentioned, all this time the brand has been working on improving its amplifiers and corrected the shortcomings that were in the first Spider line. Moreover, Line 6 has released other amplifiers that are definitely worthy of your attention.
How Good Are Current Spider Amplifiers?
It has already been said several times that all this time the brother has been working on improving their amplifiers, so now the Spider line is many times better than it was then. Thus, they deserve your attention, like all other amplifiers. However, the inbuilt effects still leave a lot to be desired, however even they have undergone significant improvements. What's more, the Spider app is also a pretty good addition as it works great with an amplifier. You will be able to access a large number of sounds and artists. Thus, the Spider is a good amp that is great for beginners, but for professionals we recommend several other models.
What About Other Line 6 Guitar Amps?
In addition to the Spider, Line 6 has many other famous lines and models, and one of the most popular of them is the Helix. It's not just a guitar amp, it's more like a multi-effect floor pedal with a large amount of amp models. Moreover, unlike Spider, Helix is quite famous, and many bands switched to modeling amps thanks to the Helix. Helix also showed many people that there is a good enough alternative to tube amps.
Also noteworthy are such lines as the Flextone and Vetta, which have a large number of fans, unlike Spider. They are no longer in production, but you can still get them for a fairly low cost.
Why Should You Choose Line Six Guitar Amps?
If you're thinking about whether or not you should consider inline 6 guitar amps, the first thing to consider is their price and availability. If you are a beginner and need a first booster to practice regularly, then this is exactly what you need. Now with Line6 you can get really good decent tones from modeling amps that emulate all sorts of famous amps.
So, if you are just starting your journey in the music world and do not know which amplifier you should pay attention to, then the options that we present below will be the most suitable for you. Most Line6 amplifiers are equipped with a large set of examples, which will also be an advantage for you.
Here are our top picks:
Top Best Line6 Guitar Amps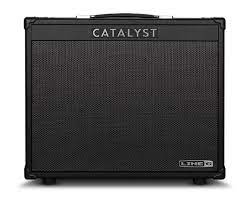 1)Catalyst (New)
The Catalyst range is the brand's newest amps and was announced in February 2022. Here you will find traditional amplifiers that also include convenient modern features. With Catalyst you get 6 amp models and two amp channels. All settings will be made using the traditional buttons and knobs cause there's no digital screen.
Although the Catalyst was intended to be a more traditional amplifier, it has a lot of modern features such as the power amp which allows you to connect pedalboards directly to the power amp. You can also adjust the power output, which is also not only convenient, but also necessary.
Here's what you need to know about the main Catalyst features:
Two amp channels
60, 100, 200 watt combos
Power dampening (full power, half power, 0.5 watts)
Six HX amp models (Clean, Boutique, Chime, Crunch, Dynamic, Hi Gain)Six HX amp models (Clean, Boutique, Chime, Crunch, Dynamic, Hi Gain)
Boost toggle with control knob
6 types of Reverb with dedicated Reverb knob
18 HX Digital effects (Delay, Modulation, Pitch/Filter)
I/O options (FX Loop, Aux In, Headphone out, XLR out, Power Amp In, MIDI, Footswitch)
USB Recording
Catalyst Edit software (PC, Mac, iOS, Android)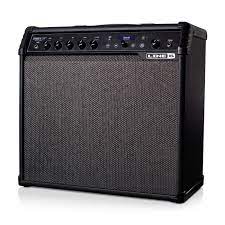 2)Spider V Mkll Series
Most likely, Line6 would have been better off renaming their Spider line, as this name is associated with a not-so-great brand reputation. However, this series is a great example of how much the brand has improved the quality of their amps since the first Spider was released.
First of all, they added a new 20 watt combo model, Classic speaker mood, new presets, full range speaker mode and so on. You can also refer to using the expression pedal so you can pitch shifters and control effect parameters.
So, if you are a beginner and want to learn more about amplifier effects, then Spider V Mkll Series will help you to try out the maximum number of effects and the ability to combine them.
Also you don't need to use apps to control the amps as all of the presets can be controlled using the amp's menu. So, if you are looking for a guitar amplifier with a full range of effects, then Spider V Mkll Series is what you are looking for.
Here's what you need to know about the main Spider V Mkll Series features:
Over 200 amps, cabs and effects
30, 60, 120 & 240 watt combo (15 watt 'classic' also available)
Available in 240-watt stack
Full range speaker system
Wireless guitar G10T compatible (60-watt models and higher)
Android and iOS editor app compatible (USB only)
Inbuilt drum patterns, metronome, tuner & looper
3) AMPLIFi
Another of the best Line6 guitar amps is the AMPLIFi. In fact, it looks more like a home stereo system than an amplifier, which is exactly what this brand was aiming for.
A key component of this amp is the iOS app, which helps you set up effects and tones, mix them in place, and find the best fit for you. That is why you need to have an iOS device in order to use this amplifier.
It will be a good option for you if you want to purchase an amplifier that can also be used as a Bluetooth stereo system. Moreover, it is suitable for guitarists of any level who prefer to play at home.
Here's what you need to know about the main AMPLIFi features:
30, 75 & 150 watt combos
About 200 amps, effects and speaker models via the app
Full range stereo speaker system
Bluetooth compatible for editor app or music playback
iOS AMPLIFi Remote editor app compatible via Bluetooth
Automatic cloud-based tone matching via app