Top Best Online Shred Guitar Lessons
Now the online education market is full of various courses, video lessons, apps and resources for learning. It doesn't matter if you want to learn how to play the guitar or master any other skill – you will find a huge number of proposals for different levels. However, if you want to learn a more specific style or technique, such as shredding, you may find it difficult to find a qualified teacher and good lessons.
Many people who choose online education face the problem of diversity. They do not understand which resources can be trusted, which will lead them to the result, and which will be a disappointment. Below, we will take a closer look at why people choose online guitar lessons, and also offer you the top five best courses if you want to master shredding.
Technique in the Service of Creativity by Gretchen Menn
Why Best Online Shred Guitar Lessons?
If you have already tried to master shredding, most likely you understand that this is a rather complex metal technique that requires a lot of knowledge, speed and concentration. That is why you need a teacher who can draw your attention to all the nuances associated with it. This will be the main reason why you should choose online lessons.
The fact is that most likely there will not be professional guitarists in your city who can teach you such a technique as shredding. Most likely you will be able to meet a couple of good tutors who will give you a good base for playing the guitar, but speaking of this technique, there are not many professionals who will help you hone your skills. However, by choosing online lessons, you can learn from world-class professionals who have earned their name through years of experience, performances and practice.
It should also be noted that online guitar lessons are a significant time saver, since you no longer need to travel anywhere. Instead, you can be in a comfortable environment and practice, improving your skills day by day. Another distinctive feature of online lessons is a pleasant price, which will be several times cheaper than even one lesson with a professional guitarist.
Best Online Shred Guitar Lessons
Here are our top picks:
1) Shredding Revolution by Dan Sugarman
We decided to start our top shred guitar online lessons from one of the best sites for learning to play the guitar – JamPlay. It has been on the market for many years and still offers some of the best quality video tutorials, a wide variety of instructors, and additional self-study materials.
Moreover, here you can find video lessons for almost any genre of music, including learning shredding. The course from Dan Sugarman is as detailed as possible and uses a unique approach to help you build speed. It focuses on showing you exactly how you need to relax your fingers in order to achieve fast results in shredding. In addition, Sugarman will introduce you to various methods for developing muscle memory and talk about more functional approaches to playing the guitar.
Shredding Revolution by Dan Sugarman is one of the best online guitar shredding lessons as it also introduces you to some advanced rhythm concepts and leading techniques such as triplets, legato, hammer-one's/pull-offs.
However, we would like to point out that for a beginner musician, this course may be too difficult, but if you are an intermediate to advanced musician, this may be exactly what you need. This course is ideal for an in-depth study of shredding and focuses on functionality and muscle memory. The style of Dan Sugarman is as easy to understand as possible and will help you improve your skills in the shortest possible time.
2)Technique in the Service of Creativity by Gretchen Menn
Another course from JamPlay that you should definitely take a look at is Technique in the Service of Creativity by Gretchen Menn. It is this course that puts a lot of emphasis on the right-hand side of the shredding and also offers you a huge amount of tapping and picking technique.
Besides that, Gretchen Menn also teaches harmonics and melody, which is very important for a good base. Also, it should be noted that this course covers a huge amount of material that goes beyond speed and shredding, so you will get a lot of additional information to study.
So, if you are interested in building technique and melody instead of specific shredding patterns, then this course will be one of the best online guitar shred lessons for you. The main influence is tapping and sweep picking, which will give you a great base for this musical style.
3) Essential Shred Licks by Ben Lindholm
Another resource that is one of the best in the field of online music education is Guitar Tricks, and that is what brings you the Essential Shred Licks by Ben Lindholm course.
There are several metal lessons on this site that you can check out, but we recommend that you focus on two of them – Essential Shred I and II. Here Ben Lindholm will show you the most popular shredding patterns and exactly how to play them. Also, you will start slowly and then gradually increase the speed and improve the quality of your game.
We wouldn't say this is a complete course, but these are two great sets of lessons to get you started on shredding or hone your existing skills. So, if you are looking for the best online guitar lessons for beginners shred, then Essential Shred Licks by Ben Lindholm might be a good option.
Moreover, the method used by Ben Lindholm in teaching is as simple and easy to use as possible. In this way, you can learn advanced techniques in a simple way and gradually increase your playing speed. So, if these video lessons are not enough for you, then Guitar Tricks will offer you other metal courses that will help you practice and improve your skills.
4)Cybernetic Shred by Stephanie Bradley
Another course of guitar lessons online shred from JamPlay, which you just can't help but pay attention to, is Cybernetic Shred by Stephanie Bradley. It will be a great option for you if you want to focus on exercises and patterns that focus on developing speed. The course will also help you get a melodic understanding of the fretboard in general.
If you have been looking for the best online guitar lessons shread, then you have found this as the course focuses specifically on shredding and building speed. In addition, it will help you to cover the many nuances and various delicate concepts associated with leading techniques.
Speaking about Cybernetic Shred by Stephanie Bradley, we can't help but mention that it will give you the overall right-hand technique, which is the most important at the initial stage. In addition, you will receive alternate and tremolo speed picking, incremental speed building and note applications.
However, speaking about this course, we would like to note that there is a fairly quick transition between beginner and advanced content, which can be quite difficult for people who have not been playing guitar for so long.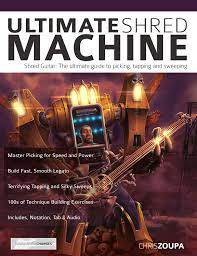 5)Ultimate Shred Machine: Learn shred guitar techniques
The last guitar learning resource we would like to introduce you to is Udemy. This learning platform has been around for many years and is very much focused on customer needs. Their Ultimate Shred Machine: Learn shred guitar techniques course is a great opportunity to get a better understanding and grasp all the techniques needed for metal. They also teach how to practice techniques in order to achieve the desired result and compose music using the acquired skills.
This course is specifically designed to enable people to properly use the four basic heavy metal techniques such as shredding, legato, sweeping and tapping. Each section of the course is devoted to one of these techniques and contains a huge number of examples that start from the very simple to the most complex.
Also, each section will be divided into small subsections for each method and will cover common problems that may arise along the way to learning. In addition, you will receive tips, tricks and ways to solve these problems.
This course is suitable for any guitarist who wants to improve the four basic heavy metal techniques, as well as for those who have already tried to do it and failed. It will be ideal for both beginners and intermediate guitarists. However, in order to pass it, you must be able to read tabulature, cross string and play licks and scales.
Conclusion
Among the huge variety that the online guitar lessons market offers, it is quite difficult to find a course that suits your level and skills. We hope that our top best online shred guitar lessons was useful for you and that you were able to find the resource that suits your desires and needs. Good luck!