Top Best Modeling Guitar Amps
If you're not new to the world of guitars, then you probably know that in recent years, modeling amplifiers have become more and more popular in the market. Moreover, if earlier they were mainly chosen by novice guitarists, now the market contains a huge number of models for all types of performers, up to professionals. Modeling amps offer a range of amazing tones and versatile sound. However, due to the fact that the market is crowded with offers, finding the right model can be quite difficult. However, our top will solve your problem and give you access to the 5 best guitar modeling amps.
What Should I Know About Modeling Amps?
So, based on the name, you can understand that modeling amplifiers are those that model the sound of other amplifiers, from expensive to cheap, and are also equipped with a number of unique sound effects. They became popular due to the fact that not everyone can buy an expensive amplifier with a great sound, but thanks to the modeling amplifier, any guitarist can feel what it is.
It is also important to note that in order to play the music you like, you may need a huge number of different sounds, and this is where the modeling amplifier can come in and solve all your problems. The sheer number of modeling amps gives guitarists a lot of options when it comes to style. So with just one amp, you can play pop and jazz, heavy music and everything in between, and the built-in effects help make the sound inimitable.
Top Best Digital Guitar Amps
We have studied a huge number of different models on the market and created our top modeling guitar amps that will allow you to choose the one that suits you the most.
Here are our top picks: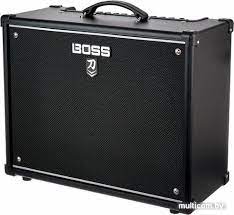 1)Boss Katana 100 Mkll
If you have read guitar modeling amps reviews at least once, then you probably know that the Boss Katana 100 Mkll is currently one of the most popular modeling amplifiers on the market.
First of all, we would like to note that this model offers the guitarist four different amp styles as well as an acoustic channel with two variations for each. So the Boss Katana 100 Mkll has 10 amp models. This amp covers everything from soft and warm jazz sound to rich metal, and provides a large number of high-quality effects among other things.
Another advantage that has made this amp one of the top electric guitar modeling amps is its simplicity. All usage elements are right in front of you, which means you can figure out the settings even if you are a beginner.
It should also be noted that the Boss Katana 100 Mkll has a power of 100 watt (can also be switched to 50w and 0.5w). Thus, this amplifier is not only good and high quality, but also quite loud, and also offers a huge number of effects that will not leave anyone indifferent.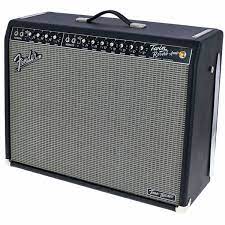 2)Fender Tone Master Twin Reverb
Whether you're an aspiring musician or a professional, you probably know that Fender makes some of the most popular guitar amps in the world. That's why our top modeling amps for guitar had to include at least one brand amp, and we settled on the Fender Tonemaster Twin Reverb, as the deluxe reverb is one of the most sought after sounds in the guitar world.
The first thing we look for when buying an amplifier is its sound, and this model has rich bass and awesome highs. What's more, the combination of the two 12-inch speakers and onboard reverb and tremolo is incredible.
Speaking of the Fender Tonemaster Twin Reverb, it is also worth noting that it has a power of 200W and weighs 15kg, which is not much for a good quality amplifier.
We also included this model in our top list of the best guitar modeling amps as it has reverb and tremolo effects as well as power attenuation options which means you can get the most vintage Fenderat manageable levels.
What's more, the IR outputs are also incredibly well voiced. Ithaca If you want to buy a simple quality amp from a popular brand, then the Fender Tonemaster Twin Reverb is your best bet.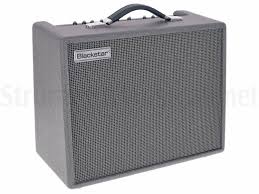 3) Blackstar Silverline Special
Another model that takes pride of place in our top guitar modeling amps is the Blackstar Silverline Special. Chances are you've heard of Blackstar at least once in your life, as the brand has also won the love of a large number of guitarists around the world, thanks in large part to its TVP series.
However, Silverline keeps up with its successful predecessor and offers you different power tubes so you can not only get a wide range of tones, but also change how the amp responds to your playing.
It is important to note that the Blackstar Silverline Special is combined with the 6 different amp models that give you access to a versatile sound with serious character and quality sound.
Also, as with most modeling amps, you will have a number of amps to use as your root – two crunch, two cleans and two overdrives. In addition, the Blackstar Silverline Special has a section of 12 high-quality effects and Blackstar's patented ISF control.
This is what will allow you to tune and mix both British and American sound. We would also like to note that this amplifier has a power of 50W and 1 x 12" celestion V-type speaker.
So, if you are looking for the best modeling guitar amps with impressive looks, unique aesthetics and inimitable sound with lots of effects, check out the Blackstar Silverline Special.
4)Positive Grid Spark 40
The next amp that we want to introduce you to, rightfully takes pride of place in our top best guitar modeling amps or software due to the huge number of amp models and effects.
The Positive Grid Spark 40 is one of the smartest amps on this list. Why? Thanks to the microphone of your tablet or smartphone, it can listen to what you are playing and create a backing track, which is undoubtedly its unique feature. Among other things, this sit is a great learning tool, as it provides you with the chords for almost any song.
However, in addition to all the above features, the Positive Grid Spark 40 has some great built-in amp models.
Of course, it has the usual cleans, crunch and high-gain amp models and also options for acoustic guitar and bass. You will get a lot more out of this amp if you use it with the app, however, it also works great without it. Also Positive Grid Spark 40 is equipped with 2 x 4" custom-designed speaker and contains 33 amp models.
What's more, this amp gives you access to as many as 43 effects to help you fulfill your wildest musical fantasies. So, if you're looking for a smart amp with lots of effects and an app for more comfortable control and recording of backing tracks, don't lose sight of the Positive Grid Spark 40.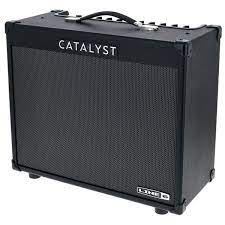 5) Line 6 Catalyst 100
Our top best guitar modeling amps for the home studio rounds out another unique amp that was one of the first modeling models on the market. Line 6 Catalyst 100 is a powerful 100 watt amplifier that has the simplest design and high quality effects that are suitable not only for recording, but also for performances.
Line 6 is a fairly popular brand that already has a number of distinctive features, which is why you will be surprised to know that there is only one real high gain sound, since most models of amplifiers often have pure tones.
The setting of the Line 6 Catalyst 100 is also quite interesting as it contains a lot of British and American sounds. This model is equipped with 2 channels and has a power of 100 watt (switchable to 50W and 0.5W).
Buying this amp you will find a full suite of Line 6's renowned HX effects which will give you interesting reverbs, delays and also shifting modulation effects.
Line 6 Catalyst 100 contains 18 effects that allow you to experiment, try new sounds and bring new ideas to life. Moreover, speaking about this amplifier, it should be noted that it has a USB connection that will allow you to edit and record directly on your computer. The Line 6 Catalyst 100 also weighs just 11kg for a good quality amplifier.
While the market is brimming with guitar modeling amps these days, finding a good quality amp can be difficult. Our top includes all the best models that you can buy, and any of these amplifiers will not disappoint you. Good luck with your music practice and happy shopping!y asked questions. Based on your tastes and your headphone jack to choose the most suitable amp for you. Good luck!