Top Best Guitar Amps With Bluetooth
If you play electric guitar, you probably know how important it is to find the right amp that suits your musical style. However, an interesting fact about electric amplifiers is that they have not been completely redesigned since their first improvements back in the fifties. We would also like to note that since then the market has a huge number of accessories and add-ons that can make your sound even more interesting. However, the amplifier itself continues to have a fairly basic design and virtually the same features.
Conventional amplifier manufacturing techniques are good, however, they have their drawbacks. Firstly, cables tend to wear out, and you can easily trip over them at a concert or rehearsal. This is where new technology saves us, which is why the market now has a huge number of Bluetooth electric guitar amplifiers. So, if you get guitar amps that have bluetooth, you can forget about inputs and concentrate only on your playing.
Now, Bluetooth technology continues to gain momentum and is included in almost every gadget in 2023. That is why most companies began to include Bluetooth in their guitar amplifiers in order to keep up with progress. Below you can get more detailed information about what it is, how it works and also pay attention to the top wireless amps for guitar.
What Is A Guitar Amp With Bluetooth?
As a musician, you understand that traditional communication between devices depends on cords and cables, which have a huge number of disadvantages. Of course, the physical connection can be easily broken due to accidents, failures, wear and tear, and so on. Thus, the amplifier market had to undergo some changes in order to solve these problems.
Wireless connections are a simple and convenient solution to most of these problems. It uses radio frequency to sync with nearby devices. So, bluetooth guitar amps are amplifiers that are integrated with Bluetooth technology to provide a wireless connection. The main advantage of such a guitar amplifier is that it gives you the ability to play music without having to wire the amplifier. Moreover, it can be a lifesaver if you travel a lot and there are no outlets for connecting your amplifier along the way.
How Do Bluetooth Guitar Amps Work?
Blue tooth guitar amps are extremely easy to use. The instrument is wirelessly connected to your amp via Bluetooth without any wires, giving you freedom of movement. Also not to mention that the sound quality of these amps is good enough that you don't have to worry about sacrificing anything to get a wireless amp.
As with any other device, you will have a Bluetooth indicator on your amplifier that will show that the device is connected to a smartphone or tablet. It's also important to note that you can use Bluetooth not only to connect to the guitar itself, but also to play music during a break or even background music. The Bluetooth amplifier is perfect for both rehearsals and solo accompaniment.
Top Best Wireless Guitar Amps
After you become more familiar with this technology, we would like to present you the top best guitar amps with bluetooth. Here you can see completely different models and choose the one that best suits your needs.
Here are our top picks:
1)Yamaha THR30 II Wireless
Yamaha is a brand with a worldwide reputation that has been a guarantee of quality for many years. Of the instruments are favorites among musicians around the world, but not every one of them knows that Yamaha also produces good and high-quality amplifiers.
One of the best bluetooth amps guitars on the market is the Yamaha THR30 II Wireless. If you are looking for a portable amplifier with excellent sound quality, then this model will be the most suitable option for you.
Yamaha THR30 II Wireless is a 30 watt amplifier with 15 guitar tube amplifier emulation settings. It is also important to note that you can easily connect it to other devices as it has a large number of different input and output options.
What's more, this amplifier has a rather unusual appearance, so you can also use it as part of your home design.
Whether you're an Android or iOS user, you can use the free Yamaha Rec'n'Share app. This app has been specifically designed to allow musicians to record audio and video along with songs from their playlist and then share it online.
2)Boss Katana Air Wireless Guitar Amp
If you're looking for guitar practice amps with bluetooth, you should definitely check out the Boss Katana Air Wireless Guitar Amp, the world's first fully wireless guitar amp.
It features an all-new advanced wireless guitar technology that was developed by BOSS and allows you to practice without having to think about guitar wires. What's more, you also don't need to plug into AC either as this amp has a support of battery operation.
This amplifier is 20/30 watt and equipped with a stereo speaker system. What's more, despite its compact size, the sound quality is still serious. Boss Katana Air Wireless Guitar Amp is equipped with professional timbres, the effect has high-end Katana amps.
Thus, this amplifier is absolutely versatile and will provide you with incredible guitar sounds for any musical style. You can also edit sounds wirelessly using a special application and mix songs streamed from your phone.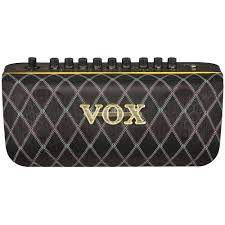 3) VOX Adio Air GT
If you want to know the answer to the question what cheap guitar amps have built-in wireless, then you should definitely pay attention to the VOX Adio Air GT. This guitar amp has a 50 watt mod and is powerful enough for both rehearsals and performances.
Moreover, it will be an ideal solution for people who are looking for an amplifier not only for practice, but also for recording and performing music. Just like many of the other amps on our list, it's capable of playing all your favorite guitar sounds from classic cleans to legendary crunch and overdrive.
In addition to its 50 watt power, it is also equipped with two 3 in. stereo speakers and amazingly designed cabinet. Note that you can control this amplifier wirelessly from your favorite device.
Also, VOX Adio Air GT has a battery power that you can take with you anywhere. It is quite compact, but despite its size it delivers an amazing volume sensation and outperforms a lot of similar class amps.
Since the VOX Adio Air GT is capable of such high-output, it will be equally effective as a full-fledged performance amplifier or for home rehearsals.
Also, thanks to the new concepts used in the construction of the body, the VOX Adio Air GT has a bass reflex structure that provides a sound density that far exceeds the size of this device.
The speakers are also quite complex with a slant-body design that creates a powerful and high quality sound.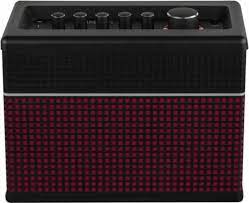 4)Line 6 AMPLIFi
Another incredible guitar amp you should check out is the Line 6 AMPLIFi. Its Bluetooth connection gives you maximum control over the device and is perfect for those people who want to record their playing and customize the details they need.
It has a power of 150 watts, so it is well suited for both appetite and performance. What's more, the Line 6 AMPLIFi is unlike any other amp you've ever heard, as it lets you hear every note in great detail thanks to its revolutionary 5-speaker stereo design. A ton of built-in DSP provides you with amazing quality guitar effects and tones.
Also, we would like to draw your attention to the fact that Bluetooth streaming will allow you to easily play songs in rehearsals, as well as easily play along with your music library.
What's more, you can control your amps with your phone and get the sounds that match the tracks in your playlist. Also not to mention that the built-in full-range speakers sound incredible and provide not only volume, but can also serve as a subwoofer.
5) Marshall CODE 25W Guitar Combo Amp
The last model on our list of top best Bluetooth guitar amps is yet another incredible amp, the Marshall CODE 25W Guitar Combo Amp. It can be connected via Bluetooth and USB allowing you to remotely control all of its features and functions thanks to the Marshall Gateway software.
This model is one of the best rehearsal amps in the world and has standard controls such as gain, volume and a three-band EQ. See also Code 25 features an individual digital modeling section for dialing in one of 26 power amp, preamp, or cab models.
It may not be the most powerful of our list, but it will provide all the necessary features so that you can comfortably rehearse at home and in the rehearsal room.