TOP Best Guitar Combo Amps
Choosing a new amp is never an easy task as the market is brimming with options right now. You can find everything from tiny to huge models, from the simplest amps for beginners to incredibly functional monsters for professionals. The price category can also be completely different and range from $50 to tens of thousands.
Now combo boosters are getting more and more popular because with them you can get everything you could ever want. Not only are they reliable, but they also offer you a huge number of different features that will allow you to experiment with sound and look for exactly the sound you need. Below we will draw your attention to the top 5 best combo amplifiers that you can find on the market at the moment. The brands that we offer are well-known and time-tested, so in any case you will get a high-quality reliable model for many years to come.
Top Best Guitar Combo Amps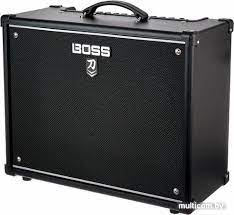 1)Boss Katana 100 MKII
We decided to start our top best guitar combo amps with a model that is known for being capable of just about anything. Many professionals also refer to it as the best versatile guitar amps for performing due to its incredible versatility.
The Boss Katana 100 MKII is a five built-in modeling amplifier that covers almost all musical styles. His amp models include Crunch, Clean, Acoustic, Lead and Brown (which is why he can easily be classified as the best guitar amps for lead guitar).
Boss Katana 100 MKII is a fairly powerful amplifier (100 watts, and switchable to 50 and 0.5w) which will be more than enough not only for home rehearsals, but also for performances.
We would also like to mention its 1 x 12" custom speakers which will provide you with incredible clear sound. What's more, the Boss Katana 100 MKII amplifier is a real gem as it has a huge amount of fantastic effects for you to experiment with sound.
So, if you want to buy one of the best guitar amps with effects, you should definitely choose Boss Katana 100 MKII.
2)Orange Rocker 15
Are you a fan of rock guitar amps? Then Orange Rocker 15 is exactly the model from our list that suits you best. This guitar amplifier will surprise you not only with its bright orange appearance, but also with a signature tone that will impress any rock musician.
Speaking about this amplifier, first of all we would like to note a 10 " 'Voice of The World' speaker and a power of 15 watts, which is more than enough for home rehearsals. It has two channels, and the natural one has a volume control and produces the cleanest, smoothest possible sound.
Speaking of the dirty channel, this is where the Orange Rocker 15 shows its best side and thanks to which it is called one of the best guitar amps for rock. Here you can find a huge number of traditional and old school Orange tones.
Also, it should be noted that in this model Orange has included many power switching options, such as the 'Headroom/Bedroom' switch that will allow you to reduce the power of the amplifier to 1 watt.
You can also cut the power down to half and get that iconic sound at a reasonable volume. In addition to rock, Orange Rocker 15 is also ideal for playing any blues and old school tones, so it takes pride of place in our top. So, are you looking for good guitar amps for rock that provide you with great sonic variety? Choose Orange!
There is probably not a single musician in the world who has never heard of such a musical brand as Fender. The brand is also known for offering reliable and affordable modeling technology.
It is this manufacturer that offers good quality at a moderate price, which is why the Fender Mustang GTX100 belongs to the best rated guitar combo amps on our list.
This model is an excellent training option for beginners and intermediate players, as it provides simplicity, convenience and great power.
Speaking of the Fender Mustang GTX100, it's worth noting that it will allow you to compose your own presets, which is as simple as possible. The signal path on the GTX is fully customizable, so you can reorder the blocks in your signal chain with the click of a button.
Moreover, you can change any settings in the Tone 3.0 app, which is also very convenient for beginners. However, if you just want to practice and are not interested in tweaking the settings, then you can choose from a huge collection of 200 presets on offer.
It's also worth noting that the Fender Mustang GTX100 packs 100 watts of power and weighs 22lbs, making it one of the most powerful guitar amps on our list.
Not to mention the specially designed 1 x 12" speaker that delivers incredible sound whether you're playing Deluxe Reverb, Blues Junior, Bassman or others. Also the Fender Mustang GTX100 is equipped with Bluetooth so you can also stream your favorite tracks without any problems.
The last feature we'll talk about about this amp is the included footswitch, which allows you to change presets or access the onboard loop. If you are looking for one of the best best 100 watt guitar amps that is as versatile and high quality as possible, there is nothing better than the Fender Mustang GTX100.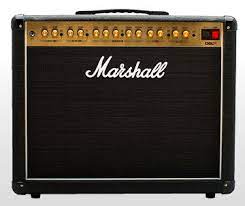 4)Marshall DSL40CR
If you are a fan of the Marshall brand and are looking for one of the top performing guitar amps, you should definitely check out the Marshall DSL40CR. This particular amp is the epitome of great value for money as it is one of the best amps for lead guitars under $1000 you can find.
First of all, we would like to pay attention to the classic gain and ultra gain channels, which is very surprising since for the most part Marshall amplifiers are known for their pure sound.
However Marshall DSL40CR really sounds great during overdrive! It is also worth noting that the 3-way EQ is as clear and powerful as possible, and the on board reverb is an advantage for any guitarist.
We also rated the Marshall DSL40CR as the best guitar amps as it offers you 40 watts of all-tube power which is incredible. What's more, the independent presence and resonance controls allow you to fine-tune the tone as deeply as possible and achieve exactly the sound you need.
This feature will be a great addition for those musicians who plan to use the amplifier for studio use. What's more, this amp sounds great with a mic, but in case you're still not satisfied with the sound, the Marshall DSL40CR also has the emulated output.
Marshall is a legendary brand and the Marshall DSL40CR is the update to the DSL line that everyone has been waiting for. Thus, if you wanted to get the best amps for the lead guitar sound, choose the Marshall DSL40CR.
5)VOX AC30C2 Custom
Last on our list of most popular guitar combo amps is the VOX AC30C2 Custom which features a vintage design and great sound quality. First of all, we would like to note that the amplifiers of this brand have been a main part of rock and rock and roll for many decades, so it is impossible not to include VOX in top rock guitar amps.
It has a unique personality that has kept professionals around the world using it for years. It's important to mention that this amp has a power of 30 watts, so it will be enough for both home rehearsals and small gigs. It is also equipped with 2 x Celestion G12M Greenback for incredible sound quality.
If you are a fan of vintage British tones, then this amp will become an indispensable part of your rehearsals. It offers the Normal and Top Boost AC30 channels that provide the perfect sound for these needs.
Also noteworthy is the incredible built-in spring reverb and tremolo top, making the VOX AC30C2 one of the best rock guitar amps ever. It also works great with pedals and offers you plenty of room to experiment.
So, if you're looking for one of the guitar rock amps that's reliable, great sounding, and British tones, then there's nothing better than the VOX AC30C2 Custom.
Conclusion
The variety of combo amps on the market is amazing. Now any guitarist can find an amplifier that will cover all his desires and needs. Even though some of them can be a little pricey, their quality will not leave you indifferent. Moreover, most of the models we have listed are universal and therefore they will suit you regardless of the musical style that you prefer. We hope our top of the best amp combos was useful to you and you were able to find the perfect model for you.