TOP Best Guitar Amps For Recording
Previously, in order to record music, you had to set a time and go to a recording studio, where professionals offered you a huge number of amplifiers, microphones and other necessary equipment. However, guitar recording has become much easier these days! Technology continues to advance every year, so now there are a huge number of options for how you can record guitar from the comfort of your home. What's more, the market now offers guitar amps that are specifically designed for recording, so you don't have to learn any complicated mic or recording software tricks.
Now almost everyone has a computer or laptop at home, so many guitar brands have found it necessary to include additional convenient features to streamline the recording process into amplifiers. That is why models that have a built-in interface, line-outs, and so on. However, in all this diversity it is quite difficult to find a suitable amplifier that will suit your desires and needs. That is why we have created a guide about electric guitar amps for recording. Explore the best models on the market and choose the one that suits you best!
Top Best Guitar Amps For Recording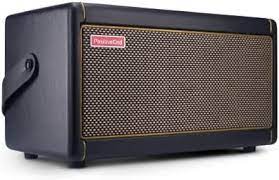 1)Positive Grid Spark
We decided to start our top best home recording guitar amps with a model that appeared on the market relatively recently – at the end of 2019. Positive Grid Spark is a guitar amplifier that has forever changed the idea of practicing amps.
Why? Although it looks like a typical 40W guitar amp, it hides advanced technology that won't leave you indifferent. First off, the Positive Grid Spark is powered by the highly revered BIAS tone engine, making it capable of reproducing some of the most popular tube amps and effects of all time.
Apart from that, you can also use this model along with the Spark app, giving you even more features for great practice.
Another element of the Positive Grid Spark that made it our top choice for good guitar amps for home recording is its revolutionary Auto Chord feature. It is thanks to her that you can calculate the chords of any song from Apple Music, Spotify or Youtube, which will be just a godsend for beginners.
It should also be noted that the Smart Jam feature not only analyzes the notes you play, but also creates a background track in the style of your choice. The final benefit of Positive Grid Spark is that the app gives you access to over 10,000 tone presets.
So, if you're looking for a new innovative amp that's powerful enough for even small gigs, you should know that the Positive Grid Spark is the one for you, as many pros rank it among the best guitar amps for home studios.
2)Blackstar HT-1R MKII
If you are a fan of valve combo amps, then the next model that we will introduce you to will not leave you indifferent. The Blackstar HT-1R MKII is one of the best tube guitar amps for studio as it will give you an excellent level of gain as well as natural compression and the traditional Blackstar tone.
A distinctive feature of this amplifier, which makes it one of the favorite studio guitar amps, is its weight, which is only 5.6 kg. Thus, you can take it on any trip and record music in any place convenient for you.
The Blackstar HT-1R MKII also features two separate channels, each with two tones, giving you a huge versatile tonal range. What's more, we can't forget the built-in digital reverb, which will add atmosphere to your music. In addition to all this, the Blackstar HT-1R MKII also has the ability to record via the USB port, which is located on the back of the device.
So, if you are looking for a good amps for recording guitar that is as compact and portable as possible, and also has good sound quality, the Blackstar HT-1R MKII is your best choice.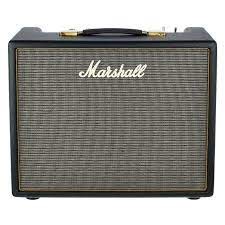 No top amps for recording guitar is complete without at least one amp from Marshall, a brand that has been one of the most popular in the world for decades.
Despite the fact that now there are a huge number of models of this nonsense that deserve attention, we all decided to stop at the Marshall Origin 20C. The Origin series of 2018 was not the best, but Marshall worked on it and soon introduced the a single channel tube amp to the market which was a great revival of the past.
The Marshall Origin 20C is now one of the brand's best amps in recent years, as it includes many of the modern features that guitarists need.
First of all, we would like to pay attention to its power of 20 watts, which will be more than enough for home rehearsals, as well as rich, clean and warm tones.
You can achieve different sounds thanks to the gain control in conjunction with the power attenuator. On top of that, the Marshall Origin 20C has an in-built gain boost if you want a richer sound. Also noteworthy is a foot switch controllable FX loop.
So, the Marshall Origin 20C is truly one of the best guitar amps for studio recording, thanks to its unique sound, solid body and great power.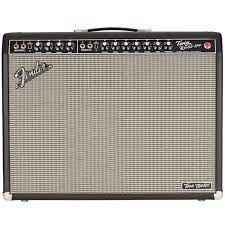 4)Fender Tone Master Twin Reverb
Another brand that is phenomenal in the world of music is Fender. Whether you're a beginner or a professional musician, chances are you've heard of it at least once, which is why we've included the Fender Tone Master Twin Reverb in our top best recording guitar amps.
Let's take a closer look at why! First of all, we would like to note that any powerful amplifier is incredibly heavy and takes up a lot of space, which can be a disadvantage for a home recording studio.
And it is this model from Fender that solves your problems. Even though the Fender Tone Master Twin Reverb produces an incredible 200 watts of power, it only weighs 15kg! It also has 2 x 12" Jensen N-12K Neo speakers that will make your sound as loud and clear as possible.
It should also be noted that now a huge number of modeling amplifiers on the market are trying to imitate as many different models as possible.
The Fender Tone Master Twin Reverb is different in that instead of offering a huge number of average quality amps, it perfectly recreates just one, down to the smallest detail.
So it looks like a Fender Twin and sounds like a Fender Twin, with the only difference being the lighter weight. So, if you want to get one of the phenomenal studio guitar amps from a famous brand, then you can't miss the Fender Tone Master Twin Reverb.
5)Orange Rocker 15
We decided to complete our top guitar amps for home recording with another model that is ideal for heavier music styles.
Orange Rocker 15 is an excellent 15 watt model that will surprise you not only with its functionality, but also with its appearance. What's more, if you're a fan of brands like Marshall and VOX, then Orange is your best bet as it offers something in between.
First of all, we would like to note that Orange Rocker 15 is designed in a special way and offers you to easily switch between the bedroom and the stage.
What's more, the natural channel has a solitary volume control and is designed to make your guitar's tone shine. Speaking of the dirty channel, it's pretty standard and has a three-band EQ, master volume and gain control.
Thus, if you want to reproduce the most rock tone, then this channel is what you need. Thus, Orange Rocker 15 belongs to the best guitar amps to have in a studio due to its interesting appearance, excellent sound and the presence of a rock tone for heavy music lovers.
Conclusion
Choosing one of the good recording guitar amps can be quite difficult, especially when there are so many different models on the market. However, before you buy a guitar studio amps, think about your expectations. Do you want your amp to be as simple as possible? Or maybe you would like to have a model with a huge variety of effects to experiment with?
Also, do not forget about the price category. While huge quality recording amps can cost tens of thousands of dollars, many musicians also google good cheap guitar amps for recording. Another important point to pay attention to when choosing guitar amps for studio recording is the size. Do you have room for a large full size amplifier? Or maybe you want to purchase the most compact model? We hope our top guitar amps for the studio helped you find exactly the model you were looking for!