Top Best Bass Guitar Amps
Bass guitar is an integral part of any band, but few people know that the basic amp came about more out of necessity than design. As other instruments began to develop, the bass guitar lost its sound, so it became necessary to create a basic amplifier. It appeared in 1952 and was called the Fender Bassman. Even though it was good enough and had decent sound, it still didn't have the power needed to play. It wasn't until 1965 that the amplifier market got what it had been waiting for, as Jim Marshall created an incredible model with a 100 watt top.
So, since then, amps for bass guitar have appeared on the market and they still remain popular and unique. In today's guide, we'll take a look at how bass amps differ from regular amps and take a look at the top 5 best bass guitar amps on the market.
What's The Difference Between Bass Guitar Amps And Guitar Amps?
In fact, many guitarists know that the difference between a bass amp and a conventional guitar amp is quite small. Basically the bass amp is different in that the speakers are bigger and the frequencies are changed.
Nowadays, you can find over a hundred variations of various amplifiers on the market. Despite the fact that most of them are digital, not all of them can compete with traditional valve amps. However, there are still plenty of options you should be aware of!
Top Best Bass Guitar Amps
Now that you know the difference between a traditional guitar amp and a bass guitar amp, it's time to explore our top five best options on the market right now. They differ both in price and features, so you can choose the most suitable offer for you.
Here are our top picks:
1)Fender Rumble 15
Power: 15 watts
Features: Volume, bass, mid, treble
Connections: 1/4-inch jack input socket, 1/4-inch jack headphone socket, 1/8 aux in
Weight: 16lbs/7.26kg
If you are looking for an amp to practice at home, then you will not find anything better than the Fender Rumble 15. First of all, we would like to mention that this series was specially created to be compact, so it does not take up much space, even if you live in a small room.
What's more, this amplifier is extremely lightweight and portable, so it's suitable not only for beginners, but also for professionals who travel a lot. It is also quite stylish, which will please those musicians for whom appearance is important.
The Fender Rumble 15 has 15 watts of power, which is more than enough if you plan to practice a lot at home. Moreover, one of the biggest advantages of this amplifier is that it has a headphone output.
This means that you will be able to study at any time convenient for you and will not disturb your family or neighbors. Also the Fender Rumble 15 has the aux-in which allows you to jam along with your favorite tracks via your devices.
So, the Fender Rumble 15 is pretty basic, but it's got it all: light weight, affordable price, great Fender tone, and great sound. So if you're looking for a small bass amp to practice at home, then this is the one for you.
2)Orange Crush 50
Power: 50 watts
Features: Active 3-band EQ, frequency, volume, blend, tuner, -6dB pad
Connections: 1/4-inch jack input socket, 1/4-inch jack headphone socket, 1/4-inch, fx loop, footswitch
Weight: 31.85lbs/14.4kg
If you're looking for an amp with a built-in tuner that will give you a unique sound, the Orange Crush 50 is definitely worth checking out. Inspired by other models, it delivers the famous iconic orange tone that's also more suitable for rehearsals at home.
Even though the Orange Crush 50 is one of the cheap bass guitar amps, it still can't help but impress you with its sound.
Whether you're looking for clean modern sound, warm tone or vintage drive, this amp is up to the task of giving you what you need.
What's more, it has the versatile EQ section with a sweepable parametric mid bend that gives you complete control over the sound.
Also Orange Crush 50 has another distinctive feature that you should definitely pay attention to, and this is the chromatic tuner. However, we would also like to point out that this amp has fewer features than other amps in this price range.
However, if you like the classic orange sound and are looking for a good tuned amp for home rehearsals, you can definitely consider the Orange Crush 50.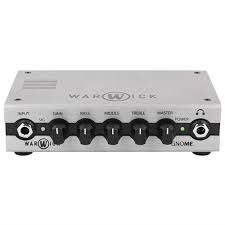 3) Warwick Gnome Head
Power: 200 watts
Features: Gain, bass, mid, treble, master
Connections: 1/4-inch jack input socket, 1/4-inch jack headphone socket, 1/4-inch speaker out, XLR line out, ground lift
Weight: 2.12lbs/0.96kg
This amp would be a great option for a small size that fits in your pocket but still delivers decent sound quality. Weighing less than a kilogram, Warwick Gnome Head is the best companion for the traveling musician.
However, do not think that the small size of the amplifier will in any way affect its power. For its size, it's a whopping 200 watts, so whether you want to rehearse at home or perform on stage, this amp is great for everything. You will also be surprised by the quality of the sound as it delivers a crisp, clear and warm tone.
Among other things, it is impossible not to mention that the Warwick Gnome Head is the most reliable as it has an all-metal case. Another feature of this model is the XLR DI output with switchable ground lift. Thus, if you are looking for the smallest, lightest and most compact bass/guitar amps, you should get Warwick Gnome Head.
4)Trace Elliot Elf
Power: 200 watts
Features: Gain, Level indicator, Bass, Middle, Treble, Power indicator, Ground/Lift switch
Connections: 1/4-inch jack input socket, 1/4-inch jack Headphone socket, 1/4-inch jack output socket, Balanced XLR DI output
Weight: 730g
Another miniature amp that we also included in our top guitar bass amps list is the Trace Elliot Elf. TE used to mean bass boost, and now the updated Elf amplifier is ready to amaze you with its size and functionality.
First of all, we would like to note the power of this amplifier, which is quite impressive. What's more, it will provide you with good tone and nice clear sound.
Also noteworthy is the limited EQ section and the LED indicators, which highlight when the in-built compression and drive functionality are operated. Trace Elliot Elf is as easy to use as its design has nothing superfluous. So, if you're looking for a simple, compact amp perfect for your bass guitar, consider the Trace Elliot Elf.
5) Ampeg SVT-CL
Power: 300 watts
Features: Gain, Ultra Hi/Lo selectors, Bass, Midrange, Frequency, Treble, Master Volume, Bias 1 control, Bias 2 control, Impedance Selector switch
Connections: 2x 1/4-inch jack input sockets (0dB/-15dB), 1/4-inch jack Slave Output socket, 2x 1/4-inch jack output sockets, Speakon output socket, Balanced XLR DI output socket, 1/ 4-inch jack preamp Output socket, 1/4-inch jack Power Amp Input socket
Weight: 36.3kg
If you want to get one of the best usa bass guitar amps, then the Ampeg SVT-CL is your best bet. It is one of the heaviest on our list, but you will be amazed by its sound and power.
First of all, it is important to note that Ampeg set a high standard for bass guitar amps usa back in the 60s and 70s, as they were the ones who created the classic bass sound for the most part.
It has 11 valves across the preamp, and also power amp and drive sections. Thus, this model may turn out to be one of the best base guitar amps that you have to try.
If you are looking for bass guitar amps with effects, then this model is most likely not suitable for you, since the Ampeg SVT-CL does not have a lot of features and add-ons. Moreover, you can't call it cheap amps for bass guitar either, since it is the most expensive in our top, but its price is more than justified.
It will provide you with chic bass tones, incredible power and a nice classic sound. So, whether you're a beginner or a pro, if you're looking for one of the best amps bass guitars, the Ampeg SVT-CL is the one to get.