TOP Best Guitar Amps Under 300
If you are just starting to play the electric guitar, then you probably know that it is far from cheap. Moreover, in addition to the guitar itself, you also need a guitar amplifier, which can be very difficult to find, especially if you are a beginner. Another problem is that many musicians are on a tight budget and can't afford a multi-thousand dollar amp. However, is there a solution? Of course!
Now the market is overflowing with various offers, so you can buy both a very cheap amplifier and an incredibly expensive amplifier. In this guide, we'll take a look at the top 5 best guitar amps under $300 from well-known brands to help you get exactly the sound you want.
Best Guitar Amps Under $300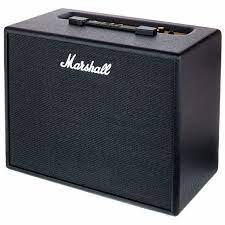 1)Marshall Code 50
Marshall is a legendary name in the music world as this brand has been and remains one of the most popular at the moment. That's why we decided to start our best guitar amps under 300 list with the Marshall Code 50, one of the brand's most popular guitar amps.
First of all, we would like to note that Code 50 is a portable modeling combo amp that can be synchronized with a phone or an online application, which is most convenient. It is also worth mentioning that it has a power of 50 watts, so you can not only rehearse at home, but also perform without any problems.
The Marshall Code 50 also has one 12-inch speaker with separate Preset and Edit control knobs. Talking about the functions on the control panel, they include gain, master, volume, Treble EQ, middle and bass.
Marshall Code 50 is an amplifier that provides up to 4 power amp models, eight-speaker models, and also 14 preamp models and 24 effects.
Also not to mention that you can use up to five effects at the same time. There are over 100 presets that you can use or edit to suit the song you're playing. It is important to note that this model also belongs to the best modeling guitar amps under 300 due to the fact that you can use it with both electric and acoustic guitars.
Speaking of performance, Marshall Code 50 is the best as it invites you to download Marshall Gateway on your phone for more features. Among other things, you can also use this amplifier to play music directly from your phone!
So, Marshall Code 50 is one of the best guitar amps under 300 dollars, which is suitable for both beginners and professionals.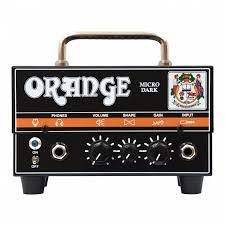 2)Orange Micro Dark
Are you looking for orange guitar amps under $300? Then Orange Micro Dark is without a doubt the best guitar amps under 300 you can find. Even though this amp is tiny, don't let that put you off as it will shock you with its explosive sound.
First of all, it is important to note that it is designed for metallic tones, however, at the same time, this amplifier is quite versatile and sounds good with different musical styles, which is why it belongs to the best electric guitar amps under 300.
Speaking of Orange Micro Dark features, not to mention it's fully buffered effects loop, as well as CabSim circuitry and headphone output, which will allow you to rehearse at any time of the day or night. Its power is 20 watts, which is more than enough for rehearsals at home.
Orange Micro Dark is the ideal solution not only for rehearsal, but also for recording. The fact is that the buffered low impedance loop adds a huge number of effects without affecting the timbre.
Also, this model has a fairly simple and convenient design, so if you are a beginner who is just starting his journey, then this amplifier will undoubtedly be a good solution. So, if you want one of the good guitar amps under 300 that offers incredible sound and is great for recording, buy this model from Orange and you won't regret it.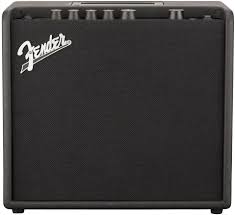 Are you thinking about getting the best guitar amps under 300 fender mustang gt 40? This is undoubtedly a good option, but we would like to offer you an alternative – the Fender Mustang LT25.
Of course, Fender as a brand needs no introduction as it is known worldwide for its quality musical instruments and amplifiers. The Fender Mustang LT25 is one of the top rated guitar amps under 300 for travel. It is also important to note that with this model Fender showed their modern approach to modeling amplifiers.
The Fender Mustang LT25 has nothing fancy and offers you everything you need to get great sound. What's more, the built-in display also gives you the option to choose voice amp and effects.
So what does the Fender Mustang LT25 best guitar combo amps under 300 do? First of all, there are 30 ready-made presets that you can use, from pure tones to heavy metal with high gain.
Moreover, you can customize any preset with a simple press if the large encoder button. The set of effects that the Fender Mustang LT25 offers is also quite large. You'll get everything from compression to exotic sounds to experimenting with sound.
So, if you have long wanted to buy one of the best guitar amps for under $300 from a well-known brand, then you should definitely choose the Fender Mustang LT25.
4)VOX AV15
The VOX AV15 is the best tube guitar amps for 300 due to its vintage look and lots of effects that let you experiment with your sound. First of all, we would like to note that the VOX AV15 is a modeling combo tube amp which has a power of 15 watts, which is ideal for indoor use – both at home and in the studio.
Also not to mention that it has custom 8-inch VOX speakers which are great for acoustic guitars too!
This model from VOX is one of the best guitar amps under $300 as it offers the three analog-voiced digital effects which also include Delay, Reverb and Chorus.
It is also extremely versatile, suitable for almost all types of music, whether jazz or rock, and the unique design of the cabinet provides a clear sound that will surprise you.
The VOX AV15 also has Bright and Fat switches, as well as the switchable Bias control which allows you to choose between modern and vintage tube response.
If you're dreaming of a guitar tube amps under 300 dollars that will offer you tons of effects, a headphone output and a simple design for beginners, then the VOX AV15 is the perfect choice.
5)Monoprice 611815
The last in our top best guitar amps for 300 dollars is a model that will surprise you with its uniqueness and incredible sound – Monoprice 611815. It belongs to the great guitar tube amps for 300 dollars as it has a power of 15 watts and is equipped with a 12-inch Celestion Speaker that makes it an excellent choice for large studios.
You can also switch on the spring reverb feature using the pedal. Another standout feature of this model is its 3-band equalizer which allows you to customize your sound to suit your needs.
The design of this amp is also as simple and straightforward as possible, and its flexibility will help you play in any musical genre.
Speaking about its design, it is worth noting that it is equipped with three industry standard 12AX7 tubes to monitor re-amp and power amp sections.
This is what makes the Monoprice 611815 one of the best all-around 300 dollar guitar amps. It should also be noted that this amplifier is vintage, so if you love the music of the forties or fifties, then this is exactly what you need.
Conclusion
Many beginners continue to wonder what guitar amps can i get for $300, as they believe that it is impossible to find a good model for this amount. However, they are wrong. Now the market for guitar amplifiers is bigger than ever and gives you the opportunity to buy a model for any budget. However, before you buy one of the best guitar amps under 300 doolars, keep your needs in mind. Do you need a small compact amplifier for home practice? Or do you still prefer a larger model that can also be used for smaller gigs? How many effects do you want to have? What musical style do you prefer? By answering all these questions, you will no doubt be able to find the best guitar amplifier under $300. I hope you found everything you need in our top. Good luck!