Top Best Guitar Amps For Gigging
It doesn't matter if you are a beginner musician or an expert with many years of experience, you probably know that a guitar amplifier is of great importance, as it directly affects the sound that you get in the end. Not only does an amp need to sound good, it also needs to deliver exactly the sound and tones you're looking for. Also, most likely you know that most of the great guitarists can be recognized not only by the songs they wrote, but also by their legendary sound.
However, if you play in a cover band, then your amplifier should be as versatile as possible and be able to reproduce completely different tones and musical styles. Among other things, amplifiers for rehearsals at home and guitar amps for gigging also have differences that are worth paying attention to.
Types Of Guitar Amps
Of course, before you buy the best guitar amps for gigging, you need to study what types of amplifiers are and what are their main differences:
Tube. This type of amp offers brilliant clean, pleasant and natural overdrive at higher volume gain settings.
Solid state. These amplifiers are the most practical simple and affordable and at a price.
Modeling (digital). This type of amplifier offers many interesting and useful features and the ability to reproduce the sounds of other amplifiers.
Thus, when choosing electric guitar amps for gigs, you need to keep in mind how much power you want to have, what sound to get and what musical style you play.
Top Best Guitar Amps For Playing Gigs
Now that you know the differences between the main types of amplifiers, it's time to answer the question what guitar amps are good for gigs. Below you can explore five good amp models that are perfect for gigging.
Here are our top picks: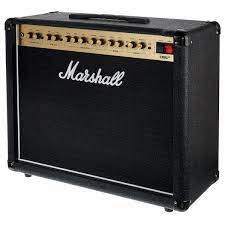 1)Marshall DSL40CR
The Marshall brand has been famous for its musical instruments and amplifiers for many years, as it offers excellent sound quality, good looks and reliability. That's why we decided to start our top best gigging amps for guitar with the Marshall DSL40CR, a good amp at an affordable price.
It has an average power and has a great clear sound that will not leave anyone indifferent. Moreover, it is important to note that it has a massive British Marshall overdrive that fans of this brand will appreciate.
The Marshall DSL40CR is easy to use: it has two channels – Classic and Ultra Gain as well as a digital reverb control (which is controlled via the foot switch). Classic channel has a Clean and Crunch switch, and Ultra Gain has Lead 1 and Lead 2 switches.
So with this amp you will get a good enough tonal range to work with your sound. If you are looking for a quality amplifier from a well-known brand, the Marshall DSL40CR may be a good choice.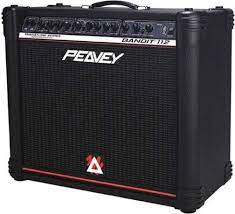 2) Peavey Bandit 112
If solid-state amps are your thing, then the Peavey Bandit 112 should be in your top nice guitar amps for gigging out.
First of all, we would like to note that this amplifier is quite affordable, so even if you do not have a lot of money to spend on a quality amplifier, this model will be an ideal solution. Moreover, it is also quite reliable, so even if you ever drop the Peavey Bandit 112, you can be sure that nothing will happen to it.
Among other things, it should be noted that the Peavey Bandit 112 is quite loud, so it will be enough not only for home rehearsals, but also for performances and concerts.
What's more, if you love effects pedals, then this amp will be your best bet, as you can plug in an effects processor and a line of your favorite digital or analog pedals and experiment with your sound.
We'd also like to mention that the Peavey Bandit 112 has great distortion, so you can get everything from bluesy overdrive to high gain. So, if you are looking for the best small guitar amps for gigs, check out this one.
3) Orange Micro Terror
We would like to include another high-quality amplifier in our list, which weighs only 2 pounds, but it will pleasantly surprise you with its sound and appearance. Orange Micro Terror is the best lightweight guitar amps for gigging you can find on the market at an affordable price.
This little amp is incredible, as it combines a valve preamp to a solid state output section for huge tones. Among other things, it also has a headphone output, making it ideal for practicing whenever you want.
Even though the Orange Micro Terror is small in size, don't underestimate it. Thanks to the case made of high-strength steel, it is the most reliable and high-quality. It should also be noted that both the depth of sound and the volume of this amplifier cannot fail to amaze you, given its size.
Even though it was first released back in 2013, it is still one of the most popular models for gigging. Therefore, if you want to get the smallest amplifier at the lowest price – choose Orange Micro Terror.
4)Boss Katana 50 MKII
Without a doubt, our list of best guitar amps for playing small gigs would not be complete without the Boss Katana 50 MKII, often referred to as one of the best amps ever made.
For many years, guitarists around the world have been buying it for both gigging and home use. This is a solid-state amp which is a great option for those musicians who value the dynamic response that a valve can provide.
You should definitely pay attention to this amplifier as it has five built-in characters – Lead, Clean, Crunch, Acoustic and Brown and newly voiced variations for each. Thus, it is as versatile as possible and is suitable for various genres and styles of play, no matter which one you prefer.
The Boss Katana 50 MKII has 50 watts so it will be more than enough for gigs, and the power control will let you enjoy the sound at a lower volume. And on top of all of the above, you'll also get access to over 60 Boss effects that you can customize to your liking.
What's more, you can also store 15 of these effects on the amp itself. So, if you're looking to get a solid-state combo amp for gigging, you should definitely check out the Boss Katana 50 MKII.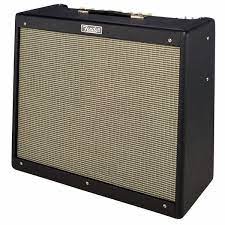 5) Fender Hot Rod Deville 212 IV Combo Valve
Fender is a brand that is known around the world and has established itself as a quality manufacturer of musical instruments.
However, on top of that, he also sells good quality amps, so we round out our best guitar amps for small gigs list with the Fender Hot Rod Deville 212 IV Combo Valve.
We could safely call it one of the best combo amps for performances, and its small size also makes it a great option for rehearsals at home.
It is still used by thousands of artists around the world today as it has 60 watts of power, 3 different channels of classic Fender tone (Normal, Drive and More Drive) and 2 x 12" speakers.
You understand that when you buy Fender, you will not be disappointed, as this brand has a worldwide reputation, and its amplifiers are distinguished by their own unique sound.
So if you are looking for small gigging guitar amps that will also be good for rehearsing at home and have a unique sound, then buy the Fender Hot Rod Deville 212 IV Combo Valve.
Which Amplifier Should I Choose?
As already mentioned, the choice of a guitar amplifier will depend on a huge number of factors. First of all, decide on the power and size. If you prefer to rehearse at home and have small gigs, then you don't need a big expensive amp. However, if you plan to perform on a big stage, you need to look at more powerful models.
Also, if you often travel and need to take the amplifier with you, then pay attention to the lightest models that will not be difficult for you to transport. In addition to all this, do not forget about the presence of built-in functions and effects if this is important to you. Moreover, if you are still experimenting with sound and do not know what musical style to play, choose the most versatile amplifier that will give you a classic sound instead of, for example, jazz or rock. Good luck on your musical journey!