TOP Best Electric Guitar Blues Amps
If you're new to the world of music, you probably think that an amplifier doesn't really matter, but that's not true. Any professional musician will tell you that a good amplifier is the key to success and one of the hardest parts of the job. Choosing a guitar is quite easy, but with an amplifier, everything may not be so simple. Of course, an amplifier is critical to a good guitar sound. Even if your guitar costs tens of thousands of dollars, if you pick up a bad amplifier, you will get a bad sound. However, in the event that you take a bad guitar and connect it to a good expensive amplifier, then it will have a chance.
As far as blues guitars are concerned, they are mainly based on dynamics and expression, so the right amp is very important. Even if you're an experienced blues player who can't get it to sound right, it's likely the amp is the problem. The fact is that the best blues guitar amps are equipped with power tubes and preamps that create a complex vintage sound in order to convey the nature of the genre as best as possible.
When creating our top best guitar amps for blues, we took into account a large number of factors. Here you can find different power options and choose the one that suits your needs and requirements. Of course, if you're planning to perform, you'll need a larger, more powerful amp, but for rehearsals at home, a smaller model will suffice. Also, when studying our top, pay attention to the inputs and outputs, which are also crucial if you want to use accessories or headphones. Whatever your wants and needs, our top best amps for blues guitar will help you find what you need.
there are a large number of blues elements that resonate with different styles of music, such as pop, jazz, rock, and others.
Top Best Electric Guitar Blues Amps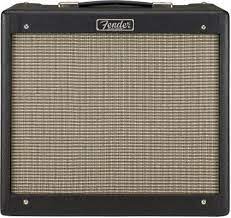 1) Fender Blues Junior IV
Type: Tube combo
Output: 15W
Tubes: Three 12AX7s, two EL84s
Number of channels: One
Speaker: 12″ Celestion A-Type
Weight: 31lb/14.3kg
Key features: Op-amp-driven spring reverb, Fat switch
Fender is the first brand that many aspiring musicians think of, as it has long won the love and recognition of a huge number of guitarists. That's why we decided to start our top guitar amps for blues with the Fender Blues Junior IV.
This amp was released back in 1995 and became a bestseller among players looking for iconic Fender and overdriven tones at an affordable price. This amp has gone through a lot of changes over the years, and now Fender has settled on the IV version, but it still has all the traditional characteristics.
First of all, we would like to note that the Fender Blues Junior IV is loud enough not only to rehearse at home, but also to arrange small gigs. This amplifier is equipped with one 12" Celestion A-Type speaker and has fairly simple controls.
Here you can see a control panel with treble, volume, middle, bass, master volume and reverb, and also a Fat switch which can add some boost.
Among other things, it is important to note that this amplifier produces clean, pleasant tones, and the reverb will make your sound more raw. The Fender Blues Junior IV covers a wide range of blues styles and is a good choice for any of them.
We'd call the Fender Blues Junior IV a classic blues amp that has the universal Fender tone and the most simple controls that even a beginner can handle.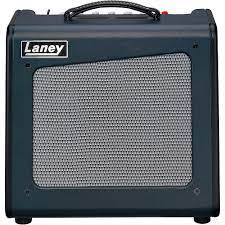 2) Laney CUB-SUPER12
Type: Tube combo
Output: 15W (switchable to 1W)
Tubes: Three 12AX7s, two EL84s
Number of channels: One
Speaker: One 12″ HH Electronics
Weight: 26lb/12kg
Key features: On-board boost, digital reverb, double latching footswitch toggles boost function and reverb, external speaker jack, series effects loop, line-out
Another guitar amps for rythm and blues is Laney CUB-SUPER12, which is the most affordable, but at the same time does not disappoint us with its sound quality. This little amp has just about everything a blues player could want.
First of all we want to say that Laney CUB-SUPER12 has a trio of 12AX7 in the preamp and a power section driven by EL84s. It also has a fairly large volume and a power of 15 watts, which is ideal for both home practice and recording in the studio.
Other than that, this amp works well with pedals and has a footswitchable digital reverb and on-board boost. So Laney CUB-SUPER12 will be a good blues guitar amp for old school blues lovers, but it still combines a fresh new sound.
Also, we would like to draw your attention to the three-band EQ, which is not only powerful, but also smooth, so you just need to pick up the tone or experiment with the sound. What's more, the Laney CUB-SUPER12 has an excellent overdrive which is ideal for blues players.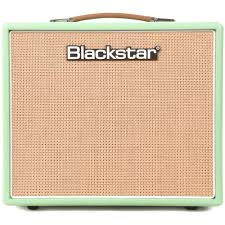 3) Blackstar Studio 10 6L6
Type: Class A tube combo
Output: 10W
Tubes: One ECC83, one 6L6
Number of channels: One
Speaker: 12″ Celestion Seventy 80
Weight: 32.4lb/14.6kg
Key features: Speaker-emulated output, effects loop, footswitch, digital reverb
Our top best guitar amps for blues rock will continue with another amplifier that will surprise you both with its appearance and sound quality – the Blackstar Studio 10 6L6. It is a single-ended Class A amp, which offers you a nice transatlantic accent.
What's more, if you're a beginner, you won't have to worry because the control panel is as simple as it gets. It has knobs for gain, tone, reverb and muster volume. Also Blackstar Studio 10 6L6 has a push button to activate a Drive function.
Moreover, it is impossible not to draw your attention to the fact that the amplifier has the drive circuit and can offer you a lot of saturation.
Among other things, it's footswitchable which is very comfortable. The Blackstar Studio 10 6L6 is affordable, stylish and has a great sound that's perfect for the blues.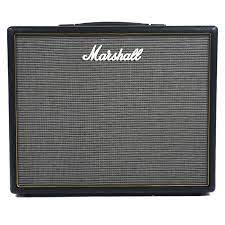 4) Marshall Origin20C
Type: Tube combo
Output: 20W (switchable to 3W or 0.5W)
Tubes: Three ECC83s, two EL34s
Number of channels: One
Speaker: 12" Celestion G10 VT Jr
Weight: 30.6lb/13.9kg
Key features: Three speaker outputs, DI output, footswitch input (switch included), effects loop
If you are looking for your favorite amps of blues guitar players, then you should definitely check out the model from the world-famous brand – Marshall Origin20C. This amplifier has been and remains one of the most popular on the market due to two factors – simplicity and versatility.
It's a single channel combo amp which has a push and pull gain boost that is activated with a footswitch. Thanks to him, you can get classic British driving tones that will make jazz music absolutely inimitable.
Speaking of the control panel, the Marshall Origin20C has three-band EQ with controls for gain, master volume, presence and tilt. In this way, you will be able to mix bright and normal sounds and improve control over high frequencies.
We would also like to point out that this amp is more suitable for more muscular blues styles due to its harsh sound. However, the Marshall Origin20C is still good value for money guitar amp for blues.
5) Supro Delta King 10
Type: Class A tube combo
Output: 5W
Tubes: One 12AX7, one 6V6
Number of channels: One
Speaker: 10" Supro DK10
Weight: 23lb/10.4kg
Key features: Spring reverb, FET-driven boost, Pigtronix Fat high-gain mode, emulated line-out, available in Tweed & Black or Black & Cream
Rounding out our top best electric blues guitar amps is a somewhat unusual model that stands out for both its look and unique sound, and this is the Supro Delta King 10. Delta King offers the most affordable compact tube amps that are ideal for blues and rock and roll.
What's more, it's important to note that both the construction and design of these amps are second to none, with the aesthetic taken from the Supro Valco of the 50's. However, don't be fooled, as this amp's design is state of the art and it's one of the best tube amps available.
The retro body of the Supro Delta King 10 has a custom 10" Supro DK10 speaker. So on top it has controls for volume, bass, treble, reverb and master volume. Among other things, it has a switch for drive and boost.
It is also impossible not to mention the fact that this amplifier has a power of only 5 watts, but at the same time it provides quite impressive volume. Supro Delta King 10 will be more than enough for home sessions and rehearsals at the base.
It also has an emulated line-out which offers an efficient solution for recording when needed. The Supro Delta King 10 is one of the best guitar amps blues that will amaze you with both its looks and its unique sound.