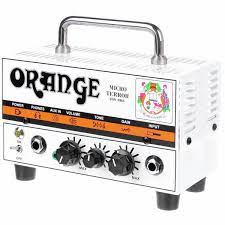 Orange Micro Terror Review: Is It Worth It?
Are you in search of a portable amplifier with an impressive sound to carry around for your gigs? Well, look no further because Orange Micro Terror is here for you. This compact-sized amplifier has one of the biggest sounds packing in a 20-Watt power amp, allowing you to enjoy immense and crispy sound quality. It is designed with an orange amplification coupled with glows, making it alluring and admirable both on stage or at home. But is it worth your money and attention? In this review, I'll share with you all the pros and cons of the Orange Micro Terror so that you can decide if it meets your needs and expectations.

Design and Build Quality
The Orange Micro Terror is a mini amp that weighs about 1.2kg, making it portable to fit in your backpack or small case. It has a sleek, compact, and sturdy all-steel design that is both durable and attractive. The amp has a single channel with a three-band EQ, Gain, and Volume knobs that allow you to tweak your sound to your style. Also, it has an FX loop, Speaker output, and Headphone output jacks for more sound manipulation. The power supply is a 15v DC jack that comes with the amplifier.

Sound Quality
The Orange Micro Terror is a hybrid amplifier that functions with a 12AX7 preamp tube and a solid-state power amp. With that combination, it produces a warm, organic, and full sound that is remarkable for its size. It's an excellent amp for rock, metal, and blues players looking for a high-gain, crunchy distortion sound. Also, its EQ features make it ideal for bass players, allowing them to achieve a punchy and powerful sound.

Price
The Orange Micro Terror can be considered a bit pricey, particularly given its size. However, its sound quality and portability can be considered a worthy investment for musicians. Many players deem it an excellent value, and it's a great choice for those in search of a quality-sounding, portable amp.

Pros:
The Orange Micro Terror's ease of portability, sound quality, and volume flexibility make it a go-to for musicians. It can easily fit into your tour or gig bag, and it's simple to operate. The amp's volume control can be increased to play in a full band with a drummer or turned down for home practicing. Its hybrid design allows convenient tube replacement and maintenance. Additionally, Orange is a brand known for producing high-quality amplifiers that are reliable and long-lasting.

Cons:
One downside of the Orange Micro Terror is that it occasionally produces a humming sound when the gain is set too high or when EQ is adjusted. Also, the amplifier has only one channel, making it challenging to switch between clean and distorted sounds with the footswitch. Additionally, the amp's tiny size may not be appealing to musicians looking for a big or more robust sound.


Conclusion:

In conclusion, the Orange Micro Terror is an excellent amp designed with aesthetics and functionality in mind. Its small size packs in noteworthy sound quality and features that cater to a variety of music genres. While it has some drawbacks, its pros make it worthy of musicians' attention. Its price may be a bit high, but its versatility and convenience justify the cost. If you're looking for a solid and portable amplifier with high sound quality, the Orange Micro Terror may be the amp for you.