Find The Best Electric Guitars Under 1500$
Probably you've already bought your first guitar. You've got some experience and now looking for the best guitars to improve your skills! Now you have a clear understanding that you like playing the guitar. You are prepared to buy a more expensive one.
All guitars on this page we definitely can call high-end or elite. But even if you're a beginner it's okay to start with these guitars too. It's much better to get a high-quality guitar from start. But it depends on your budget. If you have enough money, no doubt – you can buy one of these guitars.
On this page, you will find the list of best guitars for different genres of music.
Let's Rock! Here are the best electric guitars under 1500$.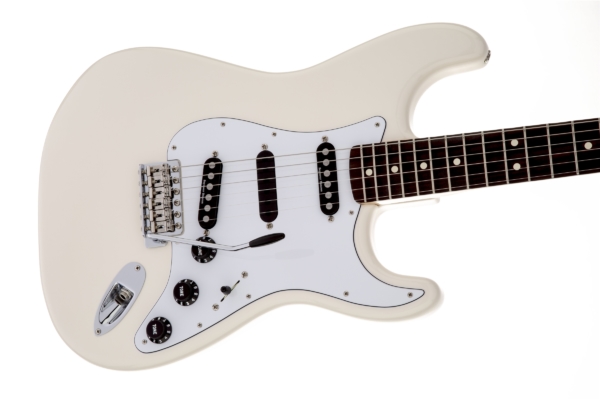 Fender Ritchie Blackmore Stratocaster
The Fender Ritchie Blackmore Stratocaster solidbody electric guitar brings you the sound and fury of a legendary player's favorite tonal weapon!
Based on the guitarist's favorite '70s Strat, the Ritchie Blackmore Stratocaster includes a distinctive scalloped fingerboard, '70s-style "F" tuners, and Seymour Duncan Quarter Pound Flat SSL-4 single-coil pickups (complete with a "dummy" middle position pickup). You get a vintage-style 3-bolt maple neck with a rosewood fingerboard, a large headstock design, and flush-mounted straplocks on the Ritchie Blackmore Stratocaster.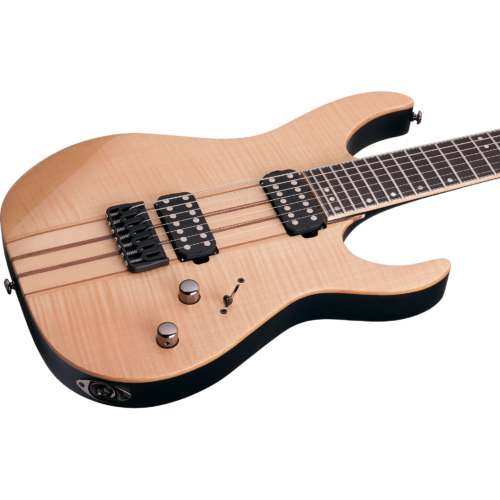 Schecter Banshee Elite-7 FR-S
The Schecter Banshee Elite-7 FR S is a high-performance 7-string electric guitar. Its swamp ash body delivers a musical blend of brightness, warmth, and mids, while its eye-catching flamed maple top adds extra bite and sustain.
Experience extreme clarity, robust mids, and amp-punishing output, thanks to a SuperCharger Mach-7 bridge humbucker, while a Sustainiac neck pickup gives you unending sustain to feed your creativity.
Enjoy supreme playability, courtesy of an Ultra Thin C-shaped neck with a fast-playing 12"–16" compound-radius ebony fingerboard. Benefit from maximum expressiveness and maximum stability, by virtue of Grover tuners and a Floyd Rose tremolo. The Banshee Elite-7 FR S includes glow-in-the-dark side dots and attractive black chrome hardware.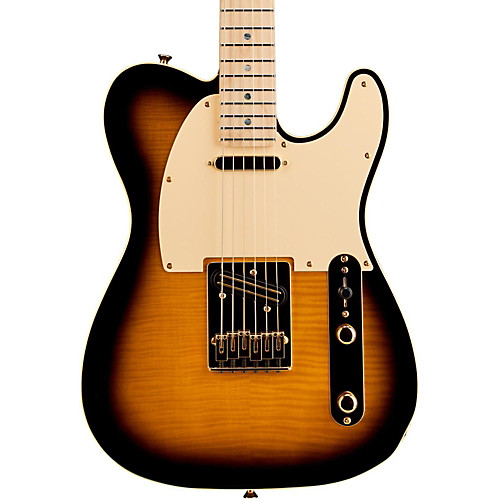 Fender Telecaster Richie Kotzen
In addition to his smokin' solo career and fronting the power trio Winery Dogs with Mike Portnoy and Billy Sheehan, Richie Kotzen has lent his considerable chops to Poison, Mr. Big, and his fusiony Vertu outing with Stanley Clark and Lenny White.
Richie deploys a unique fingerpicking technique on his weapon of choice: the Fender Telecaster – but not just any Telecaster.
Richie's signature axe is what many of us Tele fanatics here at Sweetwater think of when we conjure our perfect Telecaster.
If you appreciate ash bodies with belly and forearm contours, eye-popping flamed maple tops, gold hardware and abalone inlays, buttery playability, and a huge range of tone bookended by traditional Tele twang and modern high-gain – then the Fender Richie Kotzen Telecaster is for you.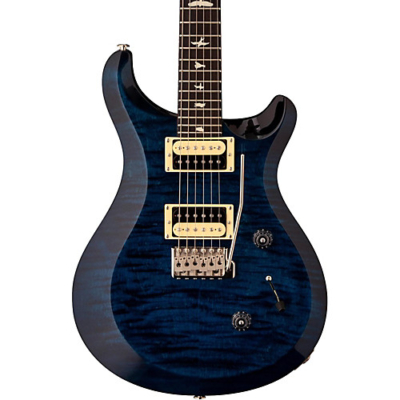 PRS S2 Custom 24 Solid-Body
The PRS S2 Custom 24 solidbody electric guitar's comfortable asymmetric bevel-cut double-cutaway body is built from maple-topped mahogany, so it's loaded with warmth, resonance, and copious amounts of bite and sustain. 
Instill your playing with incredible vintage sweetness, clarity, and extended tonal range, courtesy of the PRS S2 Custom 24's upgraded 85/15 "S" humbuckers. 
This guitar's Pattern Regular neck features an extended 24-fret rosewood fingerboard that makes high-register soloing easy.Perform everything from subtle, expressive nuances to full dive-bombs with this guitar's vibrato bridge/tailpiece.
Complete with iconic bird fingerboard inlays, the PRS S2 Custom 24 is a great-sounding, great-playing solidbody electric guitar.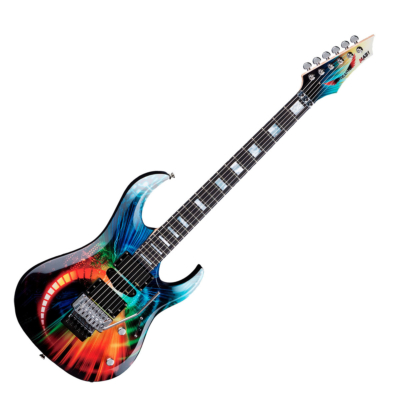 MICHAEL BATIO MAB1 – SPEED OF LIGHT W/C
The Dean Michael Angelo Batio Speed of Light Electric Guitar is spec'd by Batio to be an incredibly fast guitar.
Its neck is super thin, slightly rounded for extra comfort and joins the body at a straight angle for extended playability.
It has an ebony fingerboard and block inlays that are easy to spot on stage.
The alder body has a double cutaway with beveled edges and is covered in a custom "Speed of Light" Finish that is sure to stand out wherever you perform.
This signature guitar is loaded with EMG active pickups and has a Floyd Rose Original tremolo bridge, nickel hardware, and Grover tuners.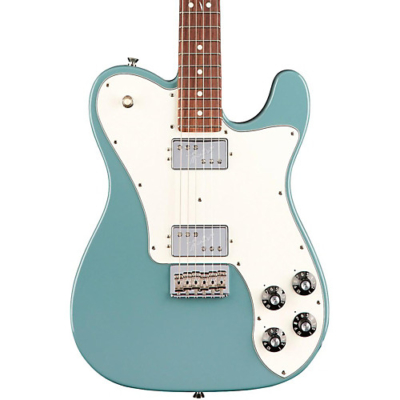 Fender Limited Edition American
Professional Telecaster Shawbucker
Fender is proud to offer their American Pro Tele Deluxe like you've never seen it before with the 2017 Limited Edition American Professional Mahogany Tele Deluxe Shawbucker Electric Guitar.
Rather than offering the standard alder or tonewoods for the body, these Teles employ a unique a selection of Honduran mahogany that was rescued from the forest floor after tropical Hurricane Mitch back in '98. Sonically, this adds some extra warmth and richness to that classic Tele bite we've all come to know and love. It also comes dressed in an elegantly eye-catching Crimson Red finish—a finish that's not available on the standard American Professional Deluxe Tele Shawbucker models.
Another departure from the standard model, the neck of this beautiful American Professional Mahogany Tele Deluxe Shawbucker is carved from mahogany instead of maple.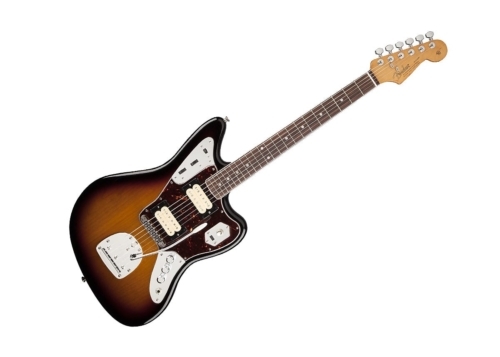 Fender Kurt Cobain Jaguar
Do you want to own a copy of Kurt's Jag? The Fender Kurt Cobain Jaguar is an exact replica of Kurt's famed guitar, down to the humbucking pickups and unique controls.
This Jaguar features an alder body with an NOS (New Old Stock) finish, a bound rosewood fretboard, a Stratocaster headstock, dual DiMarzio pickups, Gotoh tuners, and an Adjusto-matic bridge. And yes, it is available in right- and left-handed versions.
This is one of the iconic guitars that fueled the music revolution of the early '90s. If you are ready to rock, then the Fender Kurt Cobain Jaguar is ready to lead the charge.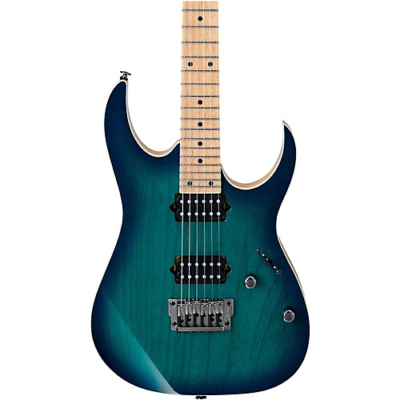 Ibanez Prestige RG652AHMFX
The Ibanez crafted the RG652AHMFX Prestige solidbody electric guitar for supreme playability and great sound.
The ash body's natural tonality pushes you to the forefront of a mix. You'll love the feel of the fast, 5-piece maple/walnut Super Wizard HP neck.
The RG652AHMFX Prestige effortlessly moves between crunchy rhythms and hot leads with its duo of DiMarzio Tone Zone and Air Norton humbuckers.
Get your hands on this RG652AHMFX Prestige and find out how far it can take your playing.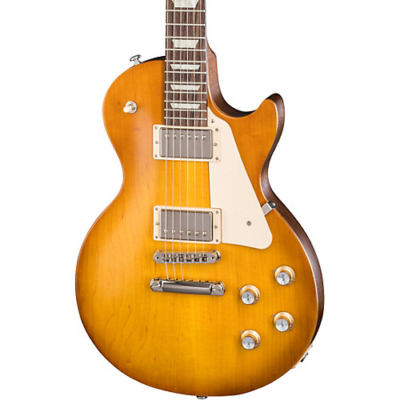 The Les Paul Tribute captures the historic character of the legendary Les Paul guitar.
Historic Gibson tonewoods, carved top, cream pickguard, vintage-style tuners, trapezoid inlays, and boosted PAF-inspired pickups give this impressive guitar classic looks and sound with an elegant, vintage touch.
No weight relief for those players who like to feel the authenticity of history in their hands.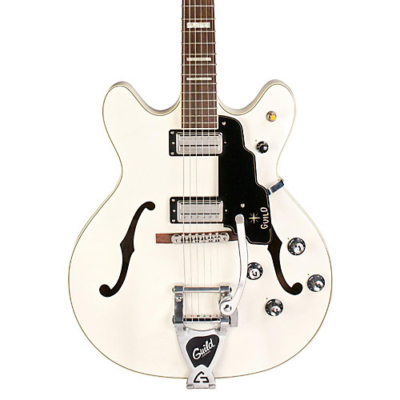 Guild Starfire V Semi-Hollowbody
Semi-hollow body. A deluxe double cutaway loaded with features that give a fully expressive voice to your individual playing style.
The classic Guild Starfire V is a semi-hollow beauty with a graceful 16 3/8″ thinline body and twin Guild LB-1 "Little Bucker" pickups that make it an outstanding choice with an authentic Guild voice perfect for rock, blues, roots and more.
The Starfire V's all-mahogany body features an arched top and back, with dual f holes, elegant ivory white body binding, black/white purfling and center-block construction.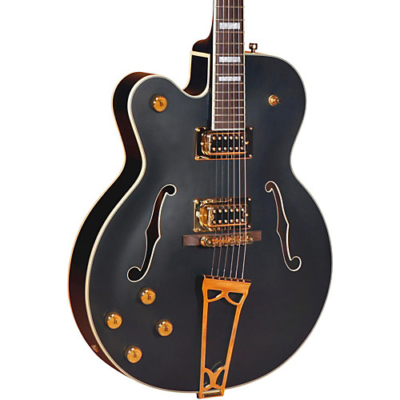 Gretsch Guitars G5191 Tim Armstrong
Loud and ferocious, the Gretsch® G5191BK Tim Armstrong Electromatic® Hollow Body bears the personal stamp of Rancid founder and punk godfather Armstrong. 
Huge tone resonates from deep within its bound single-cutaway hollow body, which features parallel tone bar bracing with sound post and bound F-holes.
The one-piece maple neck has a white graphite nut and bound rosewood fingerboard with acrylic block inlays.
Other features include dual Black Top Filter'Tron™ humbucking pickups with gold-plated bezels, three-position pickup switch, gold-plated hardware, bound headstock with
pearloid Gretsch inlay and Armstrong's signature on the truss rod cover, Grover® tuners, Adjusto-Matic™ bridge and harp tailpiece.