Our Top Of Best Hollow Body Electric Guitars
Choosing a new guitar is always a pleasant event for an experienced player and a confusing task for a beginner. However, there are a huge number of musicians who prefer hollow or semi-hollow body electric guitars. It was hollow bodies that were the very first guitars with amplifiers, and are still distinguished by their unique tone and their special sound. Many guitarists believe that today's hollow body guitars are best suited for jazz, as they were decades ago. However, the guitar world is changing and now there are a huge number of hollow bodies suitable for various musical styles.
When choosing between the best hollow body electric guitars, it is important to pay attention to exactly those characteristics that you need. These include tones, playability, construction and all the special features. So, if you want an answer to the question what are the best semi-hollow and hollow body electric guitars, then our top is exactly what you need.
Our Top Of Best Hollow Body Electric Guitars
Here are our top picks: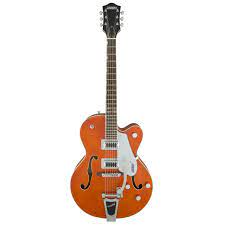 1)Gretsch G5420t Electromatic Hollow Body Guitar With Bigsby – Orange
Gretsch is a big guitar with a big name that gained its popularity back in the distant 50s. And the design of the guitar, and its sound, and aura – everything speaks of how special this instrument is.
The unique, deep and resonant sound is achieved thanks to the classic shape of the guitar with a single cutaway and 5-ply maple from which the body is made. The neck is maple with the rosewood fingerboard for 22 frets.
This guitar also features controls such as tone controls and two volume controls per pickup. In addition, the Gretsch G5420t has a master volume, which gives musicians the ability to mix the sound of two pickups and also adjust their volume. The glossy orange finish gives the instrument an unforgettable charm.
So, this model has a good construction, great sound and nice looks, which is why it opens our top best hollowbody electric guitars. Moreover, it doesn't matter if you play with a pick or fingerstyle – it will suit you in any case. So, if you want to choose a tool with a good price-quality ratio, then the Gretsch G5420t is what you need.
Pros:
Good materials
Deep and resonant sound
Big name with quality assurance
Cons:
Color may not be suitable for everyone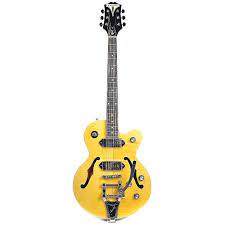 2)Epiphone Wildkat Royale Semi-Hollywood
Also in the list of best semihollow electric guitars, this unique model from Epiphone, which also enjoys a certain popularity in the music world, can be undoubtedly attributed.
The Epiphone Wildkat Royale Semi-Hollywood is an outstanding semi-hollow electric guitar with a slightly smaller than full-size body. Access to the top of the neck is provided by a single cutaway. The appearance of this beauty also cannot fail to attract attention, as the body, made of mahogany, is painted in glossy white with the addition of gold binding.
All this, combined with a maple neck with a rosewood fingerboard, provides the guitar with a luxurious and solid appearance and high-quality sound.
It is also worth paying special attention to the controls of this model. It not only has a volume control for each pickup, but also a master volume that will help you set the desired volume for each of them individually (or increase it for both).
Thus, the guitar is the most convenient to use. Another distinctive feature is the presence of a Bigsby unit.
Of course, you should pay attention to the sound. This guitar is equipped with two P-90 pickups that are made by Alnico. They can be both gentle and hard if necessary, which perfectly complement this model.
Pros:
Bigsby unit
Simple and convenient controls
Sound that may vary
Cons:
Not everyone's taste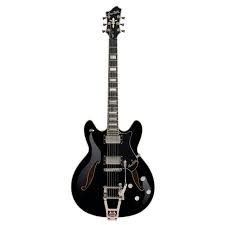 3)Hagstrom Tremar Viking Deluxe Semi-Hollow Body
The answer to the question what are the best hollow body electric guitars can also be this model, released by the Swedish company Hagstrom, which has existed since the 50s. This company has been a quality mark for more than half a century, but it is most suitable for adherents of a formal, traditional style.
The contoured maple body makes this guitar extremely comfortable to play, while the classic double cutaway shape matches the Tremar Viking style. The guitar neck is made of maple, and the pearl block inlays give the neck a traditional yet catchy look.
Among other things, it is worth noting that this guitar can also be referred to as the best semi hollow electric guitars for intermediate players as the neck is quite thin, which makes playing easy and comfortable. Moreover, it is this neck style that still has the fastest playing reputation to this day.
If it is important for you to always have a good pitch, no matter how often you play, then the Hagstrom Tremar Viking Deluxe is a great option, as the bridge and tremolo are designed specifically for these needs. The two custom wound pickups are designed to produce a smooth and warm tone and have tone and volume controls for each. This model can also be very good for jazz, as the tone of the neck makes it easy to pick up barre chords.
Pros:
Quality materials
Good for classic lovers
Slim neck for the fastest play
Cons:
Not suitable for fans of unique instruments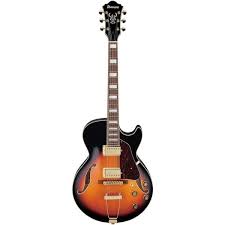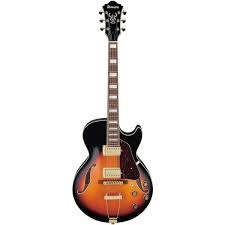 4)Ibanez Artcore AG75G
You've probably heard of Ibanez, which makes guitars from premium woods. The Artcore AG75G is no exception, as it is made of basswood on the top, sides and back, making the instrument lightweight and comfortable. Moreover, the warm and expensive sound of this model has already won the hearts of musicians around the world.
Another distinctive feature of the Ibanez Artcore AG75G is its thin neck, which is ideal for players with small hands, as well as women and children. What's more, the 22 fret walnut fingerboard is extremely tactile, making it a real pleasure to play.
This model wouldn't be in our top semi hollow body electric guitars list if it wasn't equipped with two Classic Elite humbuckers which provide a wide range of tones while keeping noise to a minimum.
It is also important to note the neck position, which gives warm and pleasant tones, ideal for jazz, while the bridge position adds sharpness and rock sound. The Gibraltar Performer Bridge allows you to perform the most accurate adjustment and also provides low and nice action.
The Ibanez Artcore AG75G is an impressive instrument that not only has good construction, but also a decent sound.
Pros:
Affordable price
Great range of tones
vintage style
Cons:
Nickel frets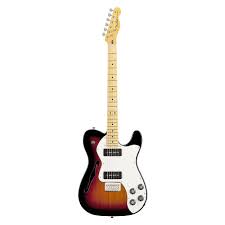 5) Fender Modern Player Telecaster Thinline Deluxe
You probably know that Fender is one of the most famous guitar manufacturers in the world, which is why our list of best semi hollow electric guitars could not do without at least one model of this brand.
This Telecaster has already won the love of many guitarists thanks not only to its good sound, but also to its stunning appearance. The body of this model is made of mahogany, and the neck is made of maple and has a maple fingerboard.
The Fender Modern Player Telecaster Thinline Deluxe also has a twenty five inch scale and 22 frets, and also includes a through the body bridge with six saddles, giving you the ability to individually adjust the height of the strings.
It is worth noting that this model also has two tone controls and two volume controls, as well as a toggle switch for moving between pickups. An additional feature of the guitar is the interestingly designed f-hole which complements this model perfectly.
What about the sound? This Telecaster is unusual, if only because of the two MP-90 single-coil pickups and the range of tones that are reminiscent of both growl and sweet warm sounds.
Thus, the sound of this model can be described as clear and sharp, but at the same time with warm tones due to the neck pickup. It is important to note that the sound may not be as rich as most guitars that have larger bodies, but this unique model finds its buyer.
Pros:
Individual string height adjustment
Fender – a sign of quality
Unique punchy sound
Cons:
Less rich sound than other models
Conclusion
Hollow or semi hollow body guitar has long ceased to be considered only a jazz instrument, as with the passage of time and the improvement of models, new guitars acquire more and more interesting look and less and less jazzy sound. Now these guitars can suit different styles, whether it's the Gretsch G5420t with a big name and warranty, or the Ibanez Artcore AG75G for small hands but big potential.
We hope that our top best hollow and semi hollow body electric guitars will help you choose the instrument you have been dreaming of for so long.
qualities are key for you. This is how you can find the right tool for you and your needs.