Best Rhythm Electric Guitars
A rhythm guitar is an instrument that is used to provide some or even all of the rhythmic momentum in sync with other instruments (such as a drum kit or bass guitar). In addition, this instrument is also used to ensure harmony. Thus, the rhythm guitar is primarily a lead instrument, which is also used as a percussion rhythm instrument. Rhythm guitar perfectly complements the bass lines and is an integral part of any musical group.
So, if you are new to the world of rhythm guitars, then you are probably wondering how you can choose the best electric guitars for rhythm among the huge number of proposals on the market. Even experienced guitarists spend quite a lot of time trying to find the most suitable musical instrument for rhythm. So, to help you make the right choice, we've looked at a huge number of different guitars, compared their builds, specs, and other features. That is why in our top you can explore the most suitable models for any wallet.
Best Rhythm Electric Guitars
Here are our top picks: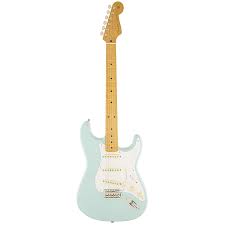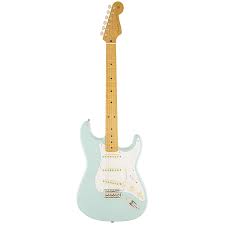 1)Fender Classic Series '50s Stratocaster
The first guitar on our list of best electric guitars for rhythm playing is the Fender Classic Series '50s Stratocaster, a solid quality instrument with great tone and classic aesthetics.
It is important to note that the Stratocaster has been in production for over 50 years, so it has already earned respect and recognition. Moreover, the style of this musical instrument is also unique, as the guitar looks and sounds quite vintage.
In terms of performance, the Fender Classic Series '50s Stratocaster has several vintage-style single coil pickups (vintage-style single-coil strat) that give the instrument a clean, classic tone.
Also noteworthy are the amazingly made electronics, as well as the 5-tone adjuster switch and superb wiring. The guitar features a solid alder body with maple fingerboard, polyester finish, V-shaped neck, synchronized tremolo bridge and gig back. Scale length is 25.5".
When you hold an instrument like the Fender Classic Series '50s Stratocaster, you feel like a legendary player, both for its looks and for its classic vintage sound.
However, before buying, you should also note that the guitar tone may not be ideal for heavy music styles. So, this model is ideal for an intermediate or good player who would like to combine vintage and classical guitars in his guitar.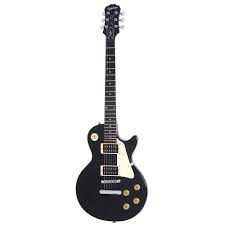 2) Epiphone Les Paul-100
The Epiphone Les Paul-100 can also rightly be called one of the best electric rhythm guitars thanks to its fresh classic sound. This model combines absolutely everything that a professional guitarist needs – from an interesting inspiring design to a unique clear sound.
What's more, the Epiphone Les Paul-100 has an incredible finish that will no doubt set this musical instrument apart from all others.
This model has a solid mahogany body, super slim mahogany bolted neck with 22 frets and 24.75" scale length. That is why this guitar is quite easy to tune and also comfortable to play.
The Epiphone Les Paul-100 has an open-coil humbucker pickup that delivers premium sound quality (700T in the bridge and 650R in the neck). In addition, the guitar is equipped with tune-o-magic tailpiece, bolt-on neck and volume and tune controls.
Thus, the overall design of this guitar was created to cover the needs of both intermediate and advanced players. You will get not only good sound, but also rich, pleasant tones.
While the Epiphone Les Paul-100 is a great musical instrument, there are a few things you should consider before purchasing it.
First of all, this model will not be the best option for beginners, since it was still developed for more experienced musicians. It is also worth noting that it does not come with an amplifier, cable and guitar case.
Thus, if you are a good musician and you are looking for a professional rhythm guitar, then the Epiphone Les Paul-100 is what you need, but for a beginner, we would recommend to look at other options.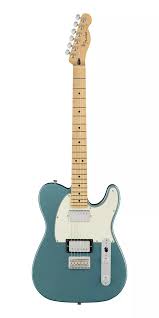 3)Fender HH Telecaster
If you are looking for the best electric guitars for clean tones, then the Fender HH Telecaster might be a good enough option for you. A huge number of musicians favor the body design of the Telecaster, especially with the typical configuration that includes a single coil pickup.
Also notable is the presence of two humbuckers, making the Fender HH Telecaster the perfect choice for rhythm players.
Speaking of the features of this guitar, the Fender HH Telecaster has an absolutely unique and versatile tone profile. Most of all, this musical instrument is suitable for fans of country and classic rock, as it has modern playability and several aggressive tones.
This guitar features an improved version of the 22 fret neck, upgraded bridges for better sustain and refined pickups that help reproduce Fender's unique sound in the best possible way.
It's also worth mentioning that for this series, Fender replaced their typical pickups with a pair of Player Series Alnico 2 humbuckers that deliver warmth, sustain and fullness.
It is thanks to these pickups that you can achieve almost any sound and enjoy the neck pickup's fluid attack. You can also use the Player Series Tele HH's push-pull tone pot to get coil-split single-coil tones.
This model also features fast-action Modern C-shaped neck and 22-fret fingerboard and Fender standard sealed tuners for rock-solid tuning. That's why the Fender HH Telecaster is a flexible-sounding guitar that's ready for any situation and musical style.


4)Ibanez RG Series RG7421PB
Ibanez is a world famous brand, so this model can definitely be included in the best type of electric guitars for rhythm. Over the years, this brand has produced high quality musical instruments ideal for professional guitar players.
First of all, we would like to say that the Ibanez RG Series RG7421PB has two colors – Charcoal Brian flat and Sapphire blue flat. The guitar also has a solid mahogany body (which is quite strong) with a bolted 3-piece maple neck. In addition, it should be noted that the Ibanez RG Series RG7421PB is equipped with a set of in-line die-cast tuning machines,
Quantum 7 pickups (ceramic humbuckers), a five-position blade switch and 3-piece neck with a special seven-string version of the wizard II contour.
Among other things, it is important to pay attention to the fact that the Ibanez RG Series RG7421PB has 7 strings, which is not suitable for every musician. She also has a poplar burl top, fixed bridge, jumbo frets and rosewood fingerboard. The scale length is 25".
However, in addition to the advantages, it is worth paying attention to some cons. As already mentioned, the guitar has 7 strings, which not everyone will like. In addition, it's pickup selector is not durable, but this can hardly be called a significant drawback, since it does not affect the performance in any way.
So, the Ibanez RG Series RG7421PB is a quality solid guitar with a worldwide reputation that is made from quality materials and has a reasonable price. Thus, if you are looking for a professional instrument, this model is your best choice.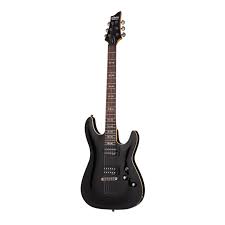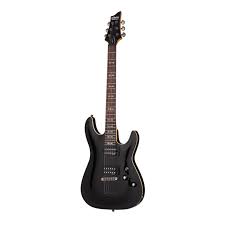 5)Schecter OMEN 6
Our top best electric guitars for rythm closes with another interesting model that simply cannot be ignored – the Schecter OMEN 6.
It is a stylish, durable, and, importantly, affordable guitar for almost any musician. It stands out from other models with its simple setup, adjustable controls, great craftsmanship and top quality materials.
The creator of this guitar, Schecter, is quite famous in the metal world, so since 1979 his company began to produce their own electric guitars. Of course, if you are looking for the best electric guitars for acoustic players, then this is not your option, since the Schecter OMEN 6 is still more made for metal.
The solid basswood body is perfect for this musical genre. The guitar has a fretboard with perloid gothic inlays and 24 extra jumbo frets, and is equipped with a 25.5 scale length and a 14 inch radius to greatly increase its performance. In addition, the Schecter OMEN 6 has a C-shaped maple neck, tune-o-matic bridge and 3-wat control switch and is equipped with Schester Diamond plus pickups.
While this guitar is the perfect musical instrument for heavy metal lovers, it also has a few points worth paying attention to.
First of all, it is worth noting that it is somewhat heavier than similar models, which can be a problem for those who play a lot while standing. In addition, some buyers noted that it's fret edges are rough.
So, if you are looking for the best electric guitars for clean sound and are a metal lover, Schecter OMEN 6 will be your best purchase.