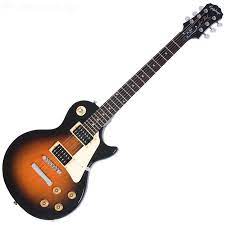 Regardless of your musical experience and skills, most likely you have heard at least once in your life about Epiphone – a subsidiary of Gibson, which produces high-quality electric guitars and basses at an affordable price. Epiphone guitars are a great option for musicians who want to buy a Gibson model but don't have the budget to spare. What's more, Epihone is also famous for its incredible sound and good build quality.
Today we want to bring to your attention such a model as the Epiphone Les Paul-100 and study its features and distinctive features that will help you decide whether to buy it.
What Should You Know About Epiphone Les Paul-100?
Although the Epihone is known as a cheap alternative to the Les Paul, we would like to debunk that myth from the start and mention that this is a good quality guitar for around $300. Moreover, this model is still popular and sells fast enough that you will be hard pressed to find it even on Amazon. At the moment, the Les Paul-100 is made in China.
Just looking at this guitar, we immediately see the traditional shape of the Les Paul, single cutout body, four control knobs, a three-position switch and two humbuckers. The guitar is just waiting to be turned on through your amp. What's more, you'll be happy to know that the Epiphone Les Paul-100 comes in all the same colors as the Gibson Les Paul models, namely Cherry Sunburst or Black & White. Below we will take a closer look at the features of this model.
Build Quality
As is tradition, Epiphone uses solid mahogany for the body, as well as a curved maple top. The single-cutout design on the bottom and curves provide incredible gaming comfort. The bolt on neck of this model is also made of mahogany and has a rosewood fingerboard. It's also important to note that the guitar has 22 medium jumbo frets, and thanks to the bottom cutout, you'll have easy access to all of them.
We want to pay special attention to the fact that the neck has Gibson's stellar profile, SlimTaper. Thus, the neck is somewhat asymmetrical and thin, which allows players to get the most comfortable access to all strings. An important addition is that the neck of the Les Paul-100 is thinner than conventional Les Pauls, which can be both an advantage and a disadvantage (depending on what you're looking for).
Hardware
The first thing we would like to note about the Les Paul-100 is the good stable LockTone Tune-o-Matic bridge, which is usually found on guitars in a higher price range. Also, at the headstock, it has a set of tuning pegs which provide incredible tuning stability. Speaking of pickups, the Les Paul-100 has two high power 700T humbuckers in the neck and bridge that produce a powerful, aggressive midrange tone.
Controls
The Epiphone Les Paul 100 has the standard controls found on all Les Paul guitars. This includes a 3-way pickup switch that is easy enough to use while playing and allows guitarists to mix two humbuckers. Other than that, it also has volume and tone knobs for each pickup.
Performance and Sound
The first thing we want to say about the Les Paul-100 is that it is a top class guitar that is one of the best in its price range. However, despite this, it will give you a bright, powerful, aggressive sound, as close as possible to the Gibson.
In addition, the sound of this model is also quite versatile if you prefer any kind of rock music. You'll get everything from punk to punchy metal sound. However, despite this, the Epiphone Les Paul 100 is capable of reproducing clear sounds that are of sufficient quality and articulation.
Epiphone Les Paul 100: Should You Buy It?
Our verdict is: for this amount of money, the Epiphone Les Paul 100 is an incredible bass guitar with good build quality and a great rock sound. What's more, it provides maximum playing comfort and is a great option for both beginners and intermediate players.
If you are a professional musician, we still recommend that you look at the more expensive and better models, but in all other cases, the Epiphone Les Paul 100 is definitely a model worthy of your attention.