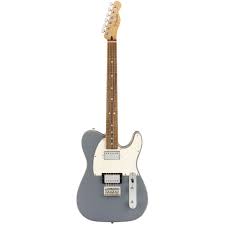 Fender is exactly the kind of music brand that needs no introduction. This company is famous all over the world for the production of good and high quality guitars that will serve you for many years. Moreover, many famous musicians also prefer this particular brand for recording and performances.
However, among the wide variety of the market, it is quite difficult to find a model that will suit your desires and needs. If you want to explore the best models of this brand currently on the market, take a look at our top of the best Fender guitars. Today we will turn your attention to a model such as the Fender HH telecaster, consider its features and pay attention to the advantages and disadvantages.
Fender HH Telecaster – Is it a Good Investment?
Undoubtedly, the Fender HH Telecaster is a good guitar that offers great build quality at an affordable price. However, at $879.99, does this model offer the Fender quality everyone is looking for? And is it worth the money?
Today we'll go over all the specific features of this model and answer your question if the Fender Player Telecaster HH is a worthy investment.
Build of Fender Player Telecaster HH
Speaking about the Telecaster HH, we would like to note that this is a solid body guitar made of Adler. The neck is made of maple and has a comfortable modern C-shape that will allow you to practice comfortably for long periods of time. It's also important to mention that the Fender Player Telecaster HH has a 25.5″ scale length and comes with a dual-action truss road. The nut width of this model is 1.65 inches.
We would like to pay special attention to the electronics of the Fender Player Telecaster HH. This model has Alnico 2 Player series passive humbuckers that come with an option for coil-split. Aside from that, notice so much that the guitar also has a 3-way pickup switch which will allow you to experiment with the sound and achieve exactly the sound you want.
What About Fender Player Telecaster HH Sound?
Of course, perhaps the most important factor influencing the decision to buy a particular guitar is its sound. Speaking about the Fender Player Telecaster HH and testing its capabilities, we want to note that it is the most versatile and suitable for various musical styles.
As already mentioned, the Fender Player Telecaster HH has two humbuckers, so you get a rich and warm sound. So, whether you prefer metal, rock, blues or lighter genres, the guitar will do just fine. Despite the fact that many professionals speak negatively about the quality of Fender humbuckers, we cannot say that they are bad. While better options can be found, the Fender Player Telecaster HH offers Player Alnico series humbuckers that produce great sound for the price.
Fender Player Telecaster HH Playability
Comfort during the game is undoubtedly an important factor that will also influence your buying decision. While testing the Fender Player Telecaster HH, we noticed that the body is smooth and comfortable, and the nick is thin and narrow. In addition, this guitar is quite easy to hold, so the practice on it will be as comfortable as possible. Also, as already mentioned, the Fender Player Telecaster HH has a modern C-shaped neck, which is well suited even for guitarists with small hands.
What About Quality?
Undoubtedly, this model is inferior in quality to other Fender guitars. We noticed that the finish could have been better, as well as the lack of additional details in the case. However, while for a professional these may be flaws, a novice or average player would not even notice these features. Moreover, we should not forget that this model is much more affordable than other Fender guitars, so the value for money is more than worthy.
Advantages and Disadvantages of Fender Player Telecaster HH
Advantages:
Sufficiently high build quality for a model in this price category
The guitar stays in tune for a long period of time
Modern stylish look
Comfort while playing
Versatile sound for a variety of musical styles
Bright warm sound
Disadvantages:
The humbuckers of this model could be of better quality, but for the price it is still a worthy choice.
The fretboard edges seem a little rough
Guitar finish leaves much be desired
Conclusion
The Fender Player Telecaster HH is a decent model that offers excellent build quality for the money. Although professionals may find a few shortcomings with this model, it is still a great option, offering great design and sonic versatility.