TOP Best Battery Guitar Amps
Whether you're a beginner or a professional, you probably know how difficult it can be to choose the right guitar amp, especially when there are so many options on the market. Moreover, now battery guitar amps are becoming more and more popular. As soon as the battery operated guitar amps – they were not reliable, and also did not give high-quality sound, so the musicians purchased traditional models. However, now with the development of modern technologies, battey powered amps for guitar are not inferior to any other models.
Now the market offers a huge number of options for those musicians who rehearse at home, and for people who perform live. However, if you're looking for a guitar amp that's portable enough to be easy to travel with, battery powered guitar amps are probably the way to go. Our guide will help you find the best battery powered guitar amps that are reliable, play good sound and are as portable as possible.
Why Choosing Battery Powered Guitar Amps?
First of all, we would like to note that the presence of a portable amplifier will help you play anytime and anywhere. Moreover, it will cost much less than an electric amplifier. Now the market is replete with a huge number of battery powered amps for guitar, but not every one of them will give you a powerful and high-quality sound. However, below we will look at options that will provide you with wide tonal diversity, excellent sound quality and reliability.
Recently, more and more musicians around the world prefer portable guitar amps and battery life as it is the most convenient option for rehearsals and travel. However, many experienced musicians also own several guitar amps, each serving a different purpose, and most of them have at least one portable battery operated guitar amps. Also, such a difference amplifier is suitable if you want to test different sounds and timbres without being tied to a place.
Top Best Battery Guitar Amps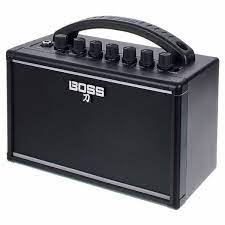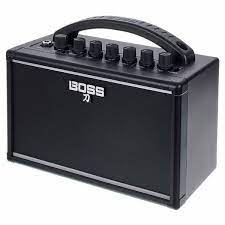 1) Boss Katana Mini
The Boss Katana series is one of the most popular amplifiers on the market as they offer quality and powerful models. However, the Boss Katana Mini is a small, compact 7 watt amplifier that offers great performance in a portable package.
We included this amp in our top of the best new battery powered guitar amps, as it offers a large number of models and onboard effects, so you can experiment and find exactly the sound you are looking for.
The Boss Katana Mini also has a four-inch speaker which will be more than enough for rehearsals at home. Although this amp is small, it still offers excellent sound quality like its Boss Katana brethren.
Speaking of other features that make this model one of the best small battery powered guitar amps, it is also worth noting the multi-stage analog gain circuit, 3-band EQ and delay effect. Also Boss Katana Mini is equipped with a clean, crunch and high gain.
It is extremely versatile, so you can play everything from modern music styles to metal on it. However, before purchasing, you need to pay attention to its power, which will only be enough for home rehearsals or performances in small venues.
If you wanted to buy portable battery operated guitar amps with guitar effects cheap, then Boss Katana Mini is exactly what you need.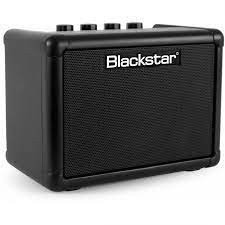 2) Blackstar Fly 3
Blackstar is another brand known for their larger amp models such as the Silverline Standard. However, as with the Boss, Blackstar realized that there was a growing demand for small portable amps, so they also decided to make a smaller model so musicians could take it anywhere.
First of all, we included the Blackstar Fly 3 in our top best battery operated portable guitar amps, as we were struck by its built quality. Many musicians think that small portable amplifiers are flimsy, this model will convince you otherwise. Even though the Blackstar Fly 3 is made of plastic, its weight still surprises and gives the feel of a full size amplifier.
Also this model has a 3W, three-in h speaker, but what does it sound like? We rated this model among the best guitar amps that can be powered by batteries precisely because of its incredible sound.
The Blackstar Fly 3 has a rich overdrive (while the OD switch is on) and offers the purest crisp tones possible. It's also worth noting that this model has a 1-band EQ which gives you enough control and options to create a different array of tones.
Also, this amplifier has the most simple 4-knob control system (gain, volume, delay and EQ), so even a beginner will find it easy enough to figure it out. So if you're wondering if there are cheap battery powered guitar amps on the market, the answer is yes, as the Blackstar Fly 3 only costs $70.
3) Yamaha THR5A
Yamaha is a brand known all over the world for its reliable and high quality musical instruments, but not everyone knows that they also make excellent amplifiers.
The Yamaha THR5A is considered to be one of the best battery powered acoustic guitar amps on the market today, as it gives acoustic musicians the opportunity to experience incredible power and great sound quality.
Although the THR series was originally created for electric guitars, the THR5A is specifically aimed at the needs of acoustic guitarists who want to purchase a portable battery powered guitar amps to walk around with.
The Yamaha THR5A is incredibly small, however it is all self-contained and is equipped with a pair of small three-inch speakers. You should also pay attention to the sound quality.
Since it's small and has 10 watts of power, it can't compete with larger, more powerful models, but despite that, it produces incredible sound quality that fills the room nicely. The Yamaha THR5A has inputs, line controls and a five-position switch so you can choose between different mic models.
So, if you are looking for the best acoustic guitar amp battery powered on the market, then you should definitely choose this model from Yamaha.
4) Marshall MS-2
If you've been paying attention to the types of battery powered guitar amps, you probably know that the market now also offers microamps that are so small that they'll probably even fit in your pocket.
The Marshall MS-2 is included in most battery powered guitar amps reviews as it is an iconic microamp that is as light and portable as possible (weighs less than a pound).
Speaking of Marshall MS-2, first of all it is worth noting that it was created solely as a training amplifier, and if you plan to perform, then you should definitely consider other options.
Also this model comes with an on/off switch volume and tone, and in order to get a good sound with excellent tonal qualities. Despite not being built for performance, the Marshall MS-2 still has all the features of a full-size amplifier and can be transported anywhere with no problem.
So, if you want to get the best battery guitar amps with the lowest possible weight, then the Marshall MS-2 is your best bet.
5) Fender Mini Deluxe
We round out our top of the best battery powered practice guitar amps with a model from one of the most famous brands in the world of music – Fender.
The Fender Mini Deluxe is a smaller version of the Fender Hot-Rod Deluxe and is powered by one 9V battery and has a single eight-inch 1W speaker that produces great sound for its size. Also, it can be safely attributed to the best battery powered amps guitar, as it is as portable as possible and it is easy to carry around with you.
Speaking of controls, the Fender Mini Deluxe has everything you need, namely four control knobs for volume, power, tone and drive. It's also worth noting that instead of an EQ section, you'll get a tone knob that acts like a single band EQ.
In other words, despite its size, this amplifier offers good versatility, so it can also be classified as the best battery powered guitar amps for metal. It certainly doesn't sound as good as a full size amp, but it still offers great sound and a decent clean tone.
Also notable is the overdrive which offers a nice crunchy sound and the knob tone offers a lot of variety in your sound which is surprising for such a small amp. While there are so many options on the market right now, the Fender Mini Deluxe remains one of the best micro guitar amps battery powered.