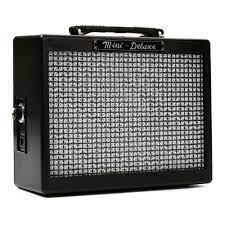 Fender Mini Deluxe Review: Is it Worth the Hype?
As a guitar enthusiast, you probably know that Fender is a household name in the music world. Fender's Mini Deluxe amplifier is making waves in the market due to its unique features. This small yet mighty powerhouse is an ideal option for gigging musicians and practice sessions alike. In this Fender Mini Deluxe review, we will take a closer look at this device's design, functionality, and sound quality, and determine the advantages and disadvantages of owning it.

Design
The Fender Mini Deluxe stands out for its retro-inspired design. It looks like a miniaturized version of Fender's signature amplifier and features the same silver grille cloth and logo badge you'd expect from this brand. Additionally, it's compact, lightweight, and easily portable, which makes it a perfect choice for practicing at home or gigs.

Sound Quality
For its size, the Fender Mini Deluxe amp produces a surprisingly big sound. You can adjust the Tone control to brighten or darken your sound to tailor it according to your playing style, and the Gain allows you to add overdrive for a more natural and vintage sound. The Mini Deluxe's sound quality is excellent, making it a perfect choice for guitar enthusiasts who want a quality amp that can produce a range of sounds.

Functionality
The Mini Deluxe amp has a range of features to help you control and customize its sound. The device's control panel offers Tone, Volume, and Gain knobs, which allows you to modify your sound according to your preferences. The amp is battery-powered, making it ideal for outdoor performances or travel. The Mini Deluxe also has a headphone jack, which comes in handy if you want to practice without disturbing anyone in the room.

Pros and Cons:
The Fender Mini Deluxe has many advantages, but it also has some disadvantages. Besides its size, the Mini Deluxe offers a range of features and great sound quality that match those of larger amps. Its compact design and battery power make it ideal for portable use and outdoor performances. It's perfect for guitar enthusiasts who live in apartments or suburban areas where loud noise can be an issue, as it offers a headphone jack that lets you practice without disturbing anyone. On the downside, the device is a little limited in terms of its sound quality compared to some of Fender's high-end amplifiers. Some users have reported issues with battery life, requiring them to change batteries frequently.

Conclusion:

In conclusion, the Fender Mini Deluxe is a versatile amplifier that would be a great addition to any guitar enthusiast's collection. Its compact design, range of features, and excellent sound quality make it worth the investment. Additionally, the device's easy portability makes it ideal for on-the-go guitarists. The minor downsides are battery life and limited tonal options, but the Mini Deluxe's overall performance overshadows these issues. Therefore, if you're considering purchasing an amp for practice or small gigs, the Fender Mini Deluxe amp is a great option.