Top Best Ampeg Guitar Amps
If you are not a beginner, but an experienced guitarist, then surely you have heard about Ampeg Amplification at least once. They have been on the market since the 1970s and were specifically designed to provide guitarists with a clear sound at high volumes. In those years, most other amplifiers did not have a quality sound if the guitarist played at high volume, so this company stood out from the others. So while other guitarists tried to overdrive at lower volumes, Ampeg did the opposite and provided guitarists with a unique tone. This is what made Ampeg amplifiers popular for rock and pop music.
Now, in our time, a huge number of guitarists are looking for ampeg guitar amps vintage in order to get the original clean sound of these amplifiers. Others prefer to purchase new ampeg guitar amps, which are more relevant to today's generation. So, if you are also interested in classic ampeg guitar amps, then our top picks are exactly what you need.
Top Best Ampeg Guitar Amps
Here are our top picks: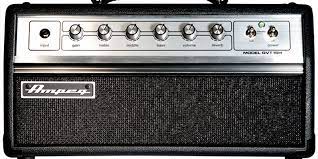 1)Ampeg GVT15H
Even though Ampeg amps have been around for decades, we decided to start our list with one of the new ampeg amps for guitar. Not so long ago, the company introduced the GVT series and today we would like to talk about such an amplifier as the GVT15H. It has a slightly different idea than its predecessors.
While it has the ability to create the clean sounds and slight overdrive that made this company famous, it can also achieve high high gain at lower volumes. Also, it should be noted that despite the fact that it is not very similar to the previous models of this brand, it is one of the best on the market. This amp weighs only 12 lb and resembles the previous V4 model due to the layout of the controls.
GVT15H will be your best bet if you are looking for ampeg guitar tube amps as this model is fully all-tube and is driven by two of 6V6 power tubes and a pair of 12AX7s in the preamp. It is important to note that this amplifier has only one channel and its main purpose is simplicity and a straight clean tone.
However, you can still shape and control your tone thanks to the Gain, Midrange, Treble and Bass controls. In addition, you can control your output with a master volume control (15 watt or 7.5 watt). Also, if you are a fan of ampeg vintage guitar amps, you should know that the three-band EQ section uses a Baxandall EQ configuration.
You probably haven't heard of this type of EQ, but it's much more interactive than the traditional one if you know how to use it. It is thanks to him that the sound of this amplifier becomes much more distinct, which made most of the Ampeg amplifiers so popular. Among other things, it should be noted that Ampeg included in the amplifier body a small spring reverb with a series effects loop.
Speaking about the sound of this model, it is worth saying that the GVT15H is an incredible sounding amplifier that covers a huge number of musical directions. However, it sounds just perfect with musical styles such as seventies rock and hardrock, as it adds a bit of edge and grittiness to the sound.
It may not be the ideal solution for metal music, but it can still provide you with a pleasant sound. Also, it should be noted that this guitar amp can be surprisingly loud, so being able to run it at 7.5 watts is a must. As such, the GVT15H has a sharp and clear sound, and the OverDrive is simply incredible, which is why guitarists around the world prefer this model.
Thus, if you are a fan of amplifiers and seventies music, but at the same time you want to get a modern ampeg tube guitar amp, then the Ampeg GVT15H will be your best solution.
2)Ampeg Rocket Bass RB-108
Another amazing line of Ampeg amplifiers that won't leave you indifferent is the Rocket. It includes five models with different characteristics, however each one has an old school vibe.
What's more, these amplifiers are known for their simple and efficient control layout, as well as their stylish design and connectivity. We would like to draw your attention to the Ampeg Rocket Bass RB-108, which in our opinion is considered one of the best of this line. First of all, it is worth mentioning that it belongs to the ampeg guitar combo amps and has a power of 30 watts, which is more than enough for home practice and small performances.
The RB-108 is small, light and portable, so you can easily take it on any trip you need. Among other things, it should be noted that it has metal corners that protect the amplifier from bumps and scratches, and the carry-handle will make transportation as comfortable as possible. The Ampeg Rocket Bass RB-108 is the epitome of simplicity and practicality in one amp.
As already mentioned, the RB-108 belongs to the ampeg guitar amps combo, but what gives this amplifier Ampeg's signature drive if it does not resort to tube technology? This is the Ampeg Legacy preamp and equips this model with proprietary overdrive circuitry (Super Grit Technology).
It is accessed using a switch on the control panel. Also the control panel is extremely well thought out and easy to use, so you will feel as if you have been using this amp all your life. The RB-108 has 3.5 mm aux in and headphone output sockets. Thus, you can use the amplifier at any time convenient for you and rehearse silently without disturbing your loved ones or neighbors.
Speaking about the sound of this guitar amplifier, it is worth noting that it was created in order to reproduce the low end. The Ampeg Rocket Bass RB-108 has a 1 x 8" speaker which is great for home rehearsals. We also cannot fail to mention the three-band EQ of this model, as it turned out to be quite flexible.
Using multiple active basses, this combo does a good job of handling the extra power provided by the active EQ. So, Ampeg Rocket Bass RB-108 is a great bass amp for home use that has a solid design and includes all the charm of this brand. What's more, if you're looking for ampeg guitar amps for sale, then the RB-108 is your best bet as it's only $209 and you can easily afford it.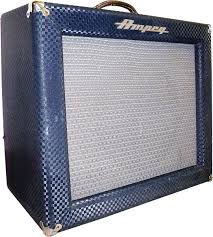 3) Ampeg Reverberocket
The last Ampeg amplifier on our list, which you should definitely pay attention to, is the legendary Reverberocket model. Ampeg introduced it to the world in July 1961, and in 1963 the Ampeg Reverberocket 2 GS-12-R was introduced, which we'll talk about today.
First of all, we would like to note that the 61 and 62 models had an output stage, which was typical for most amplifiers of those times that had a power of less than 20 watts. However, in late '62 and early '63, the company completely changed the model and released the Reverberocket 2 with 12AX7, 6U10 and 7199 preamp tubes, 7591 output tubes and solid-state rectification. In addition, they included a circuit with independent bass and treble controls, and also intensity and tremolo speed.
Moreover, there was also a single control for reverb depth. All of these changes came about because of the battle between jazz and rock and roll guitars. So the R12-Rs of that time had blue Jensens in them, 6SN7 and 6SL7 octals, which are always awesome, fat-sounding tubes. Thus, this particular guitar amplifier was ideal for indie rock.
An interesting fact about this amp is that one of its creators hated rock and roll and distortion, even when blues guitarists used it. According to him, the amplifiers should not be distorted, which is why he did everything to ensure that his amplifiers sounded good and had a pleasant soft sound.
However, we would like to point out that if they marketed these amps as rock 'n' roll amps they would most likely be a huge success in the market as they were perfect for that musical style as well. We would also like to mention that his 7591s develop develops even more power, around 20 watts, and his diode rectification makes it somewhat tighter and harder, giving a bolder sound to the famous Reverberocket amp.
So with this model you get 20 watts from two 7591 output tubes, 12AX7, 6U10 and 7199 preamp tubes, 12-inch CTS speaker and Navy check covering. In addition, it has controls for volume, bass, treble, speed, intensity and echo. Love indie rock and rock-n-roll? Buy the Ampeg Reverberocket without hesitation and enjoy the warm vintage sound of the 70s.