Top Best Youth Bass Guitars
Few young people start their musical journey with the bass guitar. Most of them learn to play classical, acoustic or electric guitar, piano or other instruments, and then move on to bass guitar. Of course, some people do it out of interest, but a very small number of children prefer this musical instrument.
However, what if your child or someone close to you at a young age decides to learn how to play the bass guitar? You probably know that bass guitars are usually big, and you will need to stretch your fingers well enough to play even the simplest part. Probably the best solution is to research youth bass guitars and find the very best models on the market. Now there are a huge number of options that are suitable for children or people with small hands. Our top will acquaint you with the most suitable options that will undoubtedly meet your desires and needs.
Top Best Bass Guitars For Kids
Here are our top picks:
1)Ibanez 4 String Bass Guitar
We decided to start our top bass guitars for kids with a brand that has been on the market for many years and during this time has already managed to earn universal love and respect – Ibanez. It is this company that is famous for the production of high-quality guitars, which are chosen by guitarists around the world.
Their range of bass guitars is also quite good, so if you are looking for the first guitar for your child, then the Ibanez 4 String Bass Guitar would be the best choice.
This model is compact, and you might think that for its small size it is not as high quality as full-sized models, but this is not at all the case. In fact, the Ibanez 4 String Bass Guitar has most of the same features as traditional bass guitars.
First of all, we would like to point out that this model has a lightweight poplar body and weighs only seven pounds, which is the ideal weight for a child. In addition, the Ibanez 4 String Bass Guitar has two cutaways that allow you to have full access to the fretboard.
The guitar also has a bevel in the design at the top of the body for comfortable hand placement. The semi-sunburst finish is quite interesting as it shows the grain of the wood. Not to mention the high-quality maple neck with a slim design. These are the same materials Ibanez uses for some of their full-size guitars, so the quality of the instrument has not been compromised.
The design of this guitar offers fast and accurate playing, which also makes it easy for the beginner. However, this model will also suit more experienced players due to its comfortable design and the neck scale length which is 28.6 inches.
Another feature why we categorized this model as a beginner bass guitars for kids is the hardware that shocked us with a hard tail bridge and four saddles.
It's also worth mentioning that the pickups are placed in mid-body style, and there are two volumes controls and a tone control. The Ibanez 4 String Bass Guitar produces a nice powerful sound and is one of the best kids bass guitars you can find on the market.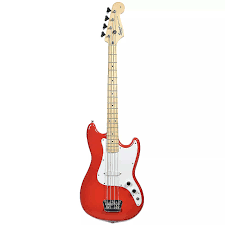 2)Squier by Fender Bronco Bass
The second on our list of the best kid bass guitars also comes from one of the hottest guitar brands of the moment, Fender. This brand has produced and produces a huge number of quality bass guitars, which are undoubtedly worth paying attention to, but today we will introduce you to the Squier model.
It is less expensive than other models of this brand and was made in the Far East. Speaking about the design of this Squier, Bronco borrowed a lot from another Fender model – Mustang, which was popular but was discontinued.
The shape of this model is very similar, and the short-scale neck has the same length (30 inches) and feel. The Squier also has a similar case with a double cutaway and sharp scratchplate.
We would also like to point out that the body is made of Agathis wood which is very lightweight (only 9 pounds) which is ideal for children bass guitars. The design of this model is also quite attractive and has an interesting finish, and the neck design has a Fender C shape which is just perfect for beginners.
Both the neck and the fingerboard are maple, and the guitar has 19 frets. We would also like to draw your attention to the fact that at the top is a Fender headstock with the four closed gear machine heads. Other hardware includes two saddle bridges and a volume and tone controls.
The Squier by Fender Bronco Bass is one of the best youth size accoustic bass guitars due to its size, comfortable neck format. This model meets all the requirements of a beginner and will not leave you indifferent.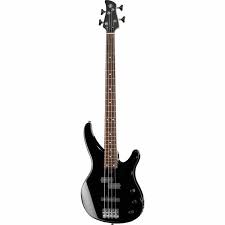 3) Yamaha TRBX174 Bass Guitar
Yamaha is a brand that needs no introduction and is well known for the quality of its guitars, especially when it comes to young players. They work especially hard to provide beginner guitarists with quality instruments. The Yamaha TRBX174 Bass Guitar is a great example of a quality instrument at an affordable price.
This model has a mahogany body with a double-cutaway design and also features bevels gently around the edges and where your hand is. This is what makes this model advantageous against the background of competitors.
The Yamaha TRBX174 Bass Guitar also has a thin maple neck with a rosewood fingerboard (24 frets). It should also be noted that all the frets are accessible thanks to the deep cutaway. Speaking about the hardware, it should be noted that it is of high quality and includes a die-cast hardtail bridge.
Moreover, each string has its own adjustable saddle. In addition, there are two single-coil pickups and tone control, and also two volume controls.
Yamaha TRBX174 Bass Guitar is one of the best bass guitars for children as it produces quality sound and lots of power. This guitar is easy enough to play despite its solid wood construction, which means it weighs 11 pounds.
4)Hofner HOF-HI-BB-SB-O 4-String Bass Guitar
Many musicians call this guitar an iconic bass, but the claim is somewhat controversial. Undoubtedly, the Hofner HOF-HI-BB-SB-O 4-String Bass Guitar is an excellent musical instrument, but at the same time, it may not meet the needs of some musicians. For some musical styles, this model is the best, but at the same time, it is not so good for modern rock because of the hollow body feedback.
The first thing we would like to note about this bass guitar is its mirror image design, and also a fully hollow body. Moreover, her "Violin" style gives her the most authentic and vintage look.
It should also be noted that the Hofner HOF-HI-BB-SB-O 4-String Bass Guitar has the famous little control panel, which is simple and convenient and is an integral part of the design. The model also features a wooden bridge and a Hofner designed tailpiece.
Speaking about the sound of the guitar, it should be noted that it is simply incredible thanks to the Easy shaped slip lime neck and lightweight design. It is these features that make the Hofner HOF-HI-BB-SB-O 4-String Bass Guitar ideal for beginners.
5) Oscar Schmidt 4 String OB25‑B 3/4 Size Bass
Oscar Schmidt is a brand we like because they make decent instruments at a very good price and always value for money. However, today we're introducing the Oscar Schmidt 4 String OB25‑B 3/4 Size Bass because its size and features make it perfect for the beginner and anyone with small hands.
Most of the time, a full-size neck is a problem for beginners, but Oscar Schmidt has solved this problem. This model is made of good quality materials, solid alder body with double cutaway and bevelled top edge for comfortable hand, maple neck with ebony fingerboard. Also the Oscar Schmidt 4 String OB25‑B 3/4 Size Bass has a hardtail bridge with four individual saddles.
Speaking about hardware, it is worth noting that this model has a split pickup design (that is actually a humbucker, even if it looks like single). Just as mentioned, this guitar is a great option for a beginner due to its weight of only five pounds, making it fairly easy to hold.
However, we, as experts, also would like to point out that the price of Oscar Schmidt 4 String OB25‑B 3/4 Size Bass can be quite high, especially if you choose the first musical instrument for yourself.