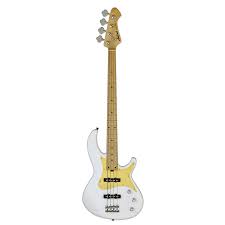 The Aria RSB-618/4 Electric Bass Guitar: A Comprehensive Review
Introduction
The world of electric bass guitars is vast, with an array of styles and models to choose from. Among these, the Aria RSB-618/4 stands out as a remarkable instrument that combines function, style, and affordability. This article provides a detailed review of the Aria RSB-618/4 Electric Bass Guitar, including its features, performance, and impressions from both professionals and beginners.
Overview of the Aria RSB-618/4
The Aria RSB-618/4 is a solid body electric bass guitar known for its deep cutaway shape, which enables superior playability at higher fret positions. Available in black and white colors, this bass guitar features a simple tone control and jazz bass type pickups. The body is made from basswood, and it has a bolt-on maple neck, a maple fingerboard, and 24 frets. The scale measures 864 mm, and the pickups used are OJ-1 x 2. The controls include volume, balancer, and tone, and it features a VFB-1C tailpiece.
Design and Construction
The Aria RSB-618/4 is designed with a traditional deep cutaway shape, which not only gives it a classic look but also allows for superior playability. The basswood body contributes to a rich, resonant sound, while the bolt-on maple neck and maple fingerboard add to the overall durability and stability of the instrument. The white and black color options, coupled with a gold anodized pickguard, add a touch of elegance to its design.
Sound and Performance
The Aria RSB-618/4 is praised for its rich, bold, bouncing bass tone with character. It produces a crisp, clear, punchy sound, thanks to its OJ-5 pickups. Additionally, the simple tone control allows for easy sound customization, making it suitable for a variety of music genres. Whether you're playing blues, jazz, rock, or pop, the Aria RSB-618/4 can deliver the right tone.
Professionals' Perspective
From a professional's viewpoint, the Aria RSB-618/4 is a reliable instrument that delivers consistent performance. Its solid construction ensures longevity, and the deep cutaway design offers superior playability, particularly at higher fret positions. The rich, bold bass tone is another highlight, providing a strong foundation for any band or ensemble. Professionals also appreciate the simple tone control, which allows for easy sound tweaking during live performances or studio sessions.
Beginners' Perspective
For beginners, the Aria RSB-618/4 is an excellent choice. Its affordable price point makes it accessible for those just starting their musical journey. Despite its affordability, it doesn't compromise on quality and performance. The bass guitar is easy to play, with a comfortable neck and fingerboard that make learning more enjoyable. Moreover, the simple tone control and volume and balance controls allow beginners to easily experiment with different sounds.
Conclusion
In conclusion, the Aria RSB-618/4 Electric Bass Guitar is a versatile and reliable instrument that caters to both professionals and beginners. With its solid construction, superior playability, and rich bass tone, it offers great value for its price. Whether you're a seasoned musician looking for a reliable backup instrument or a beginner seeking an affordable yet quality bass guitar, the Aria RSB-618/4 is a worthy consideration.