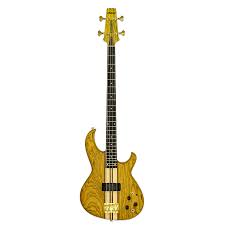 Aria SB-1000 Electric Bass Guitar: The Hidden Gem of Music World
Music is a world of its own, filled with hidden gems that have the power to transform and elevate our experiences. One such gem that has been winning hearts since its inception is the Aria SB-1000 Electric Bass Guitar, a high-end instrument that brings a unique blend of style, performance, and innovation. Let's dive deep into the world of Aria SB-1000 and explore what makes it stand out.
History and Construction
The Aria SB-1000 is not just an electric bass guitar; it's a revisit to a time when bass construction was enjoying a surge of creativity and flair. The origins of the Aria Pro II SB-1000 can be traced back to the 1980s, marking it as a classic instrument that has stood the test of time. Its design and construction evoke a sense of nostalgia while keeping up with modern needs and expectations.
This bass guitar is known for its solid construction and classy look. It's put together very well, with a reassuringly solid feeling to the whole bass. Weight-wise, it's comfortable to handle, adding to the overall ease of playing.
Features and Performance
Right out of the box, the Aria SB-1000 plays smoothly and easily. It's set up with a slick, low action, benefiting at the top end, making it a joy to play for both professionals and beginners. The 6-position tone switch is a highlight feature that provides most any tone you are looking for, from thick and boomy to sharp and aggressive. This versatility in tone makes it adaptable to various music genres and styles.
Another standout feature of the Aria SB-1000 is the original B.B. circuit fitted in it. This feature allows you to punch through the rest of the band and make sure your performance is heard. This makes it an excellent choice for band performances, ensuring that the bass guitar holds its own.
Professional and Beginner Reviews
The Aria SB-1000 has received rave reviews from professionals and beginners alike. It's ranked #38 in Electric Basses and rated 5.0 of 5 on Equipboard, reflecting its high standing in the music community.
Professionals appreciate the Aria SB-1000 for its smooth playability and the range of tones it offers. They find the 6-position tone switch and the B.B. circuit especially useful for band performances, allowing them to experiment with their sound and create unique musical experiences.
Beginners, on the other hand, love the Aria SB-1000 for its ease of use and solid construction. The low action setup makes it easy for beginners to start their musical journey, and the solid build ensures that the guitar can withstand the rigors of learning.
Conclusion
The Aria SB-1000 Electric Bass Guitar is a hidden gem in the world of music. With its high-end construction, versatile features, and positive reviews from professionals and beginners, it stands as a testament to Aria's commitment to quality and innovation. Whether you're a professional looking to expand your musical repertoire or a beginner starting your journey, the Aria SB-1000 is a worthy companion that promises to enhance your musical experience.