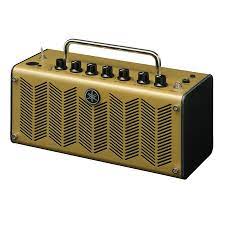 The Ultimate Yamaha THR10c Mini Amp Review: Pros and Cons
Are you on the lookout for a mini amp that can deliver great tone, portability, and ease of use? Look no further than the Yamaha THR10c Mini Amp. This small but powerful amplifier is perfect for any musician looking for a compact and convenient option. With its impressive features and excellent sound quality, the Yamaha THR10c is a must-have for all music enthusiasts. In this review, we will delve into the pros and cons of this thrilling mini amp and help you determine if it's the right product for you!

Design and Features
The first thing you'll notice about the Yamaha THR10c Mini Amp is its retro-inspired design. With its classic finish and vintage controls, this mini amp is undoubtedly one of the most visually appealing models on the market. More importantly, the THR10c is jam-packed with features that make it stand out from its competitors. It comes equipped with two 8cm speakers that ensure excellent sound coverage. The Yamaha THR10c also features a USB connection for easy recording, a headphone output jack, and a wide range of amp models and effects. If you're a guitar player who likes to travel, the THR10c's compact design and battery-powered option make it an excellent option for on-the-go musicians.

Sound Quality
One of the best things about the Yamaha THR10c Mini Amp is the sound quality it delivers. This mini amp creates an exceptional tone, especially for its size. Its dynamic tube amp modeling experience ensures it's perfect for musicians who don't want to carry around a heavy amplifier. It can replicate various amplifier sounds, including clean, crunch, modern, and lead. The THR10c's speaker system also ensures crystal clear audio output. Whether you need to practice in your bedroom or perform in a small venue, this amp will surely impress.

Pros:
The Yamaha THR10c Mini Amp is a highly functional model that provides you with a user-friendly interface. It is very easy to use, with just four control knobs that help adjust the tone and effects you need. Lastly, it's portable and lightweight, meaning that you can take it anywhere with you! With the THR10c, you don't have to worry about leaving your music behind.

Cons:
While the Yamaha THR10c Mini Amp is an excellent product, there are a few things to consider. One of the downsides is that it only has two 8cm speakers, which means that its sound capacity might not be enough for larger venues or events. Additionally, its tube emulation technology is not ideal for those who prefer an authentic, all-tube amplifier sound. If these drawbacks don't matter to you, then the Yamaha THR10c Mini Amp could be the right choice for you!


Conclusion:

Overall, the Yamaha THR10c Mini Amp is an impressive product that delivers excellent value for its price. If you're looking for a compact, yet highly functional amp that provides excellent sound quality and portability, then this mini amp is an excellent option for you. With its retro design and advanced features, the Yamaha THR10c is a great choice for guitar players, beginners, and professionals alike. Whether you're recording in your home studio or performing live, the Yamaha THR10c Mini Amp is a product worth considering. With its all-around versatility and easy-to-use interface, you can't go wrong with this mini amp!