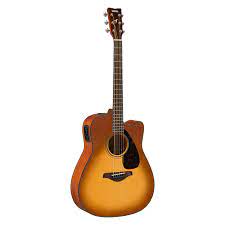 Yamaha FGX800C Electric Guitar Review
When it comes to high-quality, affordable acoustic guitars, Yamaha is a name that often comes to mind. Known for their consistent craftsmanship and dedication to creating reliable instruments, Yamaha has been a favorite among guitar players for decades. One of their most popular models is the Yamaha FGX800C Electric Guitar, which is an excellent choice for both beginners and experienced musicians.
In this review, we'll take a closer look at the Yamaha FGX800C electric guitar, examining its features, sound quality, playability, and overall value. With a solid reputation and a long history of satisfied customers, let's find out what makes this guitar stand out from the competition.
Design and Construction
The Yamaha FGX800C is a full-sized dreadnought-style acoustic-electric guitar with a cutaway body design. This allows for easy access to the upper frets, making it perfect for players who like to venture into higher registers. The top is made from solid Sitka spruce, known for its bright, clear tone and excellent projection. The back and sides are made from nato wood, which is similar to mahogany in terms of tonal characteristics, providing warmth and resonance.
The neck is also made from nato and features a 20-fret rosewood fingerboard with dot inlays. The slim taper profile of the neck allows for comfortable playability, especially for those with smaller hands or prefer a slimmer neck. The scale length is 25.6 inches, and the nut width is 1.69 inches.
The guitar's gloss finish not only adds to its aesthetic appeal but also helps protect the wood from humidity and temperature changes. The die-cast chrome tuners provide stable tuning, and the rosewood bridge ensures proper intonation. A tortoiseshell pickguard adds a touch of classic style to the instrument.
Electronics
The Yamaha FGX800C comes equipped with the Yamaha System 66 preamp and pickup system. This includes an under-saddle piezo pickup, which captures the natural acoustic tone of the guitar without any interference. The System 66 preamp features a 3-band EQ, allowing you to adjust bass, middle, and treble frequencies to shape your sound. There's also a mid-frequency sweep control, which lets you fine-tune your midrange for optimal clarity and definition.
Additionally, the System 66 includes a built-in tuner, making it easy to keep your guitar in tune during performances or practice sessions. The preamp is powered by a 9V battery, which can be easily accessed via a compartment on the side of the guitar.
Sound Quality
The Yamaha FGX800C produces a well-balanced, rich tone that's suitable for various music genres. The solid Sitka spruce top provides excellent projection and clarity, while the nato back and sides add warmth and depth to the overall sound. The dreadnought body shape gives the guitar plenty of volume and low-end resonance.
When plugged in, the System 66 preamp and pickup system accurately reproduces the guitar's natural acoustic sound. The 3-band EQ allows you to tailor your tone according to your preferences, whether you're looking for a bright, sparkling sound or a warm, mellow tone. The mid-frequency sweep control is particularly useful for cutting through the mix in live settings or adding presence during recordings.
Playability
The Yamaha FGX800C is designed with playability in mind. The slim taper neck profile is comfortable to play, especially for those with smaller hands or who prefer a slimmer neck. The cutaway design allows for easy access to the upper frets, making it perfect for lead playing or intricate fingerpicking patterns.
The action on the Yamaha FGX800C is generally set up well from the factory, but as with any guitar, it's always a good idea to have a professional setup done to ensure optimal playability and intonation.
Value
Considering its features, sound quality, and overall craftsmanship, the Yamaha FGX800C offers excellent value for money. Priced affordably, this guitar is perfect for beginners looking for a reliable instrument that will grow with them as they progress in their musical journey. At the same time, experienced players will appreciate the guitar's consistent performance and versatility.
Conclusion
The Yamaha FGX800C electric guitar is a fantastic option for anyone seeking a high-quality, affordable acoustic-electric guitar. With its solid construction, versatile electronics, and great playability, this guitar is sure to please players of all skill levels. Whether you're just starting out or are a seasoned musician looking for a reliable workhorse, the Yamaha FGX800C is an excellent choice that won't disappoint.