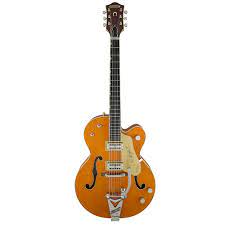 Gretsch G6120T-59 Vintage Select '59 Chet Atkins Electric Guitar Review
Gretsch Guitars, a company with a rich history dating back to 1883, has long been known for its unique designs and excellent craftsmanship. Among their many iconic models, the Gretsch G6120T-59 Vintage Select '59 Chet Atkins stands out as a guitar that captures the essence of the brand's golden era. This instrument, which pays homage to Chet Atkins, one of the most influential guitarists in history, is an exceptional blend of vintage style and modern playability. In this article, we will delve into the various features and qualities that make the G6120T-59 a must-have for any serious guitarist.
Design and Construction
The G6120T-59 Vintage Select '59 Chet Atkins is a hollow body electric guitar featuring a laminated maple body with a beautiful arched top. The guitar's unique shape, known as the "single cutaway," allows for easy access to the higher frets and is one of the distinguishing characteristics of Gretsch guitars. The body is adorned with a stunning Western Orange Stain finish, complemented by aged white binding and gold hardware, which adds a touch of elegance and class to the overall appearance.
The neck of this guitar is made from maple and features a comfortable standard U-shaped profile. It is capped with a 12-inch radius ebony fingerboard, which houses 22 medium jumbo frets and is adorned with eye-catching Neo-Classic thumbnail inlays. The scale length of the G6120T-59 is 24.6 inches, providing a perfect balance between playability and tonal richness.
One of the standout features of this guitar is the Bigsby B6G vibrato tailpiece, which not only adds to the vintage aesthetic but also provides players with the ability to add subtle pitch modulation and expressive vibrato to their playing. The guitar also comes equipped with a pinned rocking bar bridge, ensuring excellent intonation and stability.
Electronics and Hardware
The G6120T-59 Vintage Select '59 Chet Atkins is fitted with two TV Jones Classic Filter'Tron pickups, which are renowned for their clarity, punch, and warmth. These pickups are a perfect match for the hollow body construction, delivering a well-balanced tone that can easily cover a wide range of genres, from jazz and country to rockabilly and blues.
The guitar's electronics consist of a three-way pickup selector switch, individual volume controls for each pickup, a master volume control, and a three-way tone switch. This setup allows players to fine-tune their sound, blending the characteristics of both pickups to achieve the desired tone. Furthermore, the master volume control is conveniently placed near the cutaway, making it easy to access during live performances.
The G6120T-59 is equipped with Grover Sta-Tite die-cast tuners, providing excellent tuning stability and precision. Other notable hardware features include a gold plexi pickguard with a Chet Atkins signature logo, an adjustable truss rod, and a zero-fret nut, which contributes to better intonation and sustain.
Playability and Sound
As expected from a high-end Gretsch guitar, the G6120T-59 Vintage Select '59 Chet Atkins offers outstanding playability. The comfortable neck profile, combined with the smooth ebony fingerboard and medium jumbo frets, make it a joy to play for extended periods. The single cutaway design ensures easy access to the higher frets, allowing players to explore the full range of the instrument.
When it comes to sound, the G6120T-59 truly shines. The TV Jones Classic Filter'Tron pickups provide a rich, well-rounded tone with plenty of clarity and definition. The hollow body construction adds warmth and resonance, while the Bigsby tailpiece allows for smooth vibrato and pitch modulation. With its versatile electronics, this guitar can easily accommodate various playing styles and genres, making it an ideal choice for players who value flexibility and adaptability.
Conclusion
The Gretsch G6120T-59 Vintage Select '59 Chet Atkins is a testament to the company's commitment to quality and craftsmanship. This guitar features a stunning design, top-notch hardware, and exceptional playability, making it a worthy addition to any guitarist's collection. The combination of vintage aesthetics and modern performance makes this instrument a true work of art, one that pays homage to the legendary Chet Atkins while providing players with a versatile and inspiring tool for their musical journey.
Whether you're a fan of Chet Atkins, a Gretsch enthusiast, or simply a guitarist in search of a high-quality instrument with a distinctive sound, the G6120T-59 Vintage Select '59 Chet Atkins is sure to impress. Its unique blend of vintage charm and modern functionality make it an excellent choice for players of all levels and styles.