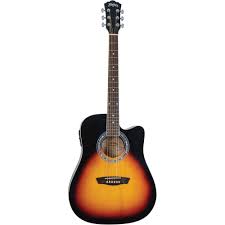 Washburn WA90CE Electric Guitar Review: An In-Depth Look
The world of guitars is vast and ever-evolving, with countless brands and models to choose from. One such noteworthy guitar is the Washburn WA90CE electric guitar. This versatile instrument has been making waves in the music community thanks to its unique design, impressive sound, and excellent playability. In this comprehensive review, we will take an in-depth look at the Washburn WA90CE electric guitar, exploring its features, construction, sound, and overall performance.
Overview
Washburn Guitars is a well-known brand that has been producing quality instruments since 1883. Over the years, they have built a reputation for crafting innovative designs and delivering exceptional sound quality. The Washburn WA90CE is no exception, offering musicians a versatile and reliable instrument that caters to a wide range of musical styles.
This electric guitar is part of Washburn's Apprentice Series, which is designed to provide beginner and intermediate players with a high-quality instrument at an affordable price. It is a cutaway dreadnought acoustic-electric guitar, featuring a solid spruce top, mahogany back and sides, and a Fishman Isys+ preamp system.
Construction and Design
Body
The body of the Washburn WA90CE is made of a solid spruce top, which is known for its bright and responsive tonal qualities. This wood choice ensures that the guitar produces a clear and articulate sound, making it perfect for both strumming and fingerpicking. The back and sides of the guitar are made of mahogany, which adds warmth and depth to the overall tone.
The guitar's body also features a cutaway design, allowing easy access to the higher frets. This is particularly useful for lead players who need to reach those higher notes with ease. The dreadnought body shape provides a robust and resonant sound, with plenty of projection and volume.
Neck
The neck of the Washburn WA90CE is made from mahogany and features a comfortable, slim profile. This design makes it easy for players to navigate the fretboard, ensuring smooth transitions between chords and notes. The neck is topped with an engineered wood fretboard that has 20 frets and dot inlays for easy navigation.
Hardware
The Washburn WA90CE comes equipped with a Fishman Isys+ preamp system, which includes a built-in tuner, volume control, and a three-band EQ. This system allows players to easily shape their tone and adjust the volume when plugged into an amplifier or PA system. The guitar also features die-cast tuners, ensuring stable tuning and quick string changes.
Sound and Performance
One of the main attractions of the Washburn WA90CE is its impressive sound quality. The combination of a solid spruce top and mahogany back and sides gives this guitar a balanced and versatile tone. The bright and responsive nature of the spruce top works well with the warmth and depth provided by the mahogany, resulting in a full and rich sound.
When played acoustically, the Washburn WA90CE delivers a strong projection and a well-defined tone, making it ideal for both solo performances and ensemble settings. The dreadnought body shape ensures that the guitar has plenty of volume, allowing it to hold its own against other instruments.
When plugged in, the Fishman Isys+ preamp system offers an array of tonal options, allowing players to tailor their sound to suit their specific needs. The built-in tuner is a convenient addition, ensuring that the guitar remains in tune during performances.
The playability of the Washburn WA90CE is another highlight. The slim neck profile and smooth fretboard make it easy for players to move around the neck, while the cutaway design ensures that the higher frets are easily accessible. This guitar is well-suited to players of all levels, from beginners to more experienced musicians.
Pros and Cons
Pros
Solid spruce top and mahogany back and sides provide a balanced and versatile tone
Fishman Isys+ preamp system offers excellent tonal options and a built-in tuner
Slim neck profile and cutaway design ensure comfortable playability
Affordable price point, making it accessible to beginner and intermediate players
Dreadnought body shape provides strong projection and volume
Cons
Some players may prefer a more premium wood choice for the fretboard
The Fishman Isys+ preamp system, while versatile, may not offer the same level of customization as more advanced systems
Conclusion
The Washburn WA90CE electric guitar is an excellent instrument for beginner and intermediate players looking for a reliable, versatile, and affordable option. With its solid construction, impressive sound quality, and comfortable playability, this guitar is perfect for those looking to explore a wide range of musical styles. While there may be some areas where more advanced players may desire additional features or customization, the overall value and performance of the Washburn WA90CE make it a worthy contender in the world of acoustic-electric guitars.