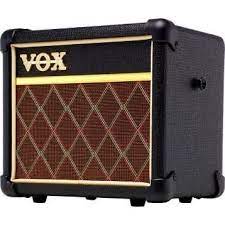 The Ultimate VOX Mini 3 G2 Review: Pros and Cons
Whether you're a beginner, a professional musician, or a casual player, you're bound to appreciate the VOX Mini 3 G2. If you're in the market for a portable, affordable, and versatile amp, then you're in luck! In this review, we'll give you an in-depth look at the VOX Mini 3 G2, its features, and everything else you need to know before you make your purchase.

Design and Features
The VOX Mini 3 G2 has a classic and eye-catching design with a retro-looking grille cloth. It weighs less than six pounds and comes with a strap, so it's easy to take it on the go. The amp also features a built-in tuner, an auxiliary input for connecting your phone or MP3 player, and a headphone output for silent practice. The amp is powered by either an AC adapter or six AA batteries, making it an excellent choice for outdoor gigs or impromptu jam sessions.

Sound Quality
The VOX Mini 3 G2 packs a powerful punch for its small size. The amp sports eleven different amp models, such as the classic VOX AC30 and the Fender Twin Reverb, and various effects such as chorus, delay, and reverb. The sound quality is crisp, clear, with a responsive and dynamic range. The amp also has a mic input, which allows it to be used as a mini PA system for small gigs or open mic nights.

Customer Reviews
Most buyers seem to be quite satisfied with their purchase of the VOX Mini 3 G2 amp. Customers rave about the amp's portability, versatility, and sound quality, especially given its price point. However, some users have reported a few issues, such as the battery life, the lack of a footswitch, and some unwanted noise at high volumes.
Price
The VOX Mini 3 G2 is not the most affordable amplifier on the market, and it's certainly not the most expensive. Its price falls somewhere in the middle, and it's reasonable considering the features it offers. Do keep in mind that it comes with numerous effects and a range of controls that deliver fantastic sound quality, making it an excellent investment for musicians who are looking to upgrade their setup.

Pros:
– Portable, lightweight, and affordable
– 11 different amp models and various effects
– Responsive and dynamic sound quality
– Built-in tuner, aux input, and headphone output
– Mic input for using as a mini-PA system

Cons:
– Limited battery life (about 10 hours) when running on AA batteries
– No footswitch included
– Some users claim a hissing or humming distortion at high volumes
– Sound quality may not be suitable for larger venues or louder gigs


Conclusion:

The VOX Mini 3 G2 is an excellent choice for anyone looking for a portable, versatile, and great-sounding amp. Whether you're practicing at home, playing on the go, or performing at small gigs, the Mini 3 G2 has got you covered. Its eleven different amp models, various effects, and built-in tuner make it a versatile and useful tool for any musician. While there may be a few downsides to this little guy, such as battery life and the absence of a footswitch, the pros far outweigh the cons in this case. So go out and grab yourself a VOX Mini 3 G2 and rock on!