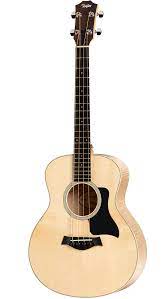 Taylor GS Mini-e Maple Acoustic Bass Guitar Review
The Taylor GS Mini-e Maple Acoustic Bass is an instrument that defies conventions. It offers the full-bodied tone and rich harmonics of a full-sized bass in a compact, travel-friendly package. Known for their high-quality acoustic guitars, Taylor has once again demonstrated their craftsmanship and attention to detail with this bass guitar.
Design & Aesthetics
The GS Mini-e Maple features a scaled-down Grand Symphony body shape, which despite its smaller size, does not compromise on sound. The top is made from solid Sitka spruce, a tonewood known for its broad dynamic range and crisp articulation. The back and sides are layered maple, adding a bright tonal character and enhancing durability.
The neck is made from tropical mahogany, while the fingerboard is West African Crelicam ebony. The use of these premium materials contributes to the overall tonal balance and playability of the instrument. The aesthetic appeal is enhanced by the varnish finish, giving it a sleek, modern look.
One of the standout design features is the inclusion of the ES-B pickup/preamp system. This system faithfully amplifies the natural acoustic tone of the bass, making it ideal for both practice and performance. It also includes a built-in digital chromatic tuner with an LED display for tuning precision.
Sound & Performance
When it comes to sound, the Taylor GS Mini-e Maple delivers beyond expectations. Despite its size, this bass produces a full, rich tone with plenty of low-end depth and clarity. The combination of Sitka spruce and maple results in a bright, punchy sound with excellent projection.
The ES-B electronics do an excellent job of capturing the acoustic voice of the GS Mini-e Maple and translating it into an amplified sound. This makes it ideal for live performances, recording, or even just jamming at home.
Whether you're playing fingerstyle, with a pick, or slapping, this bass responds well, delivering a robust sound with excellent note definition. It's also worth noting that the GS Mini-e Maple has a surprising amount of sustain for a small-bodied bass, adding to its versatility.
Playability
The playability of the Taylor GS Mini-e Maple is one of its strongest points. The scaled-down size and slim neck profile make it incredibly comfortable to play, whether you're sitting or standing. The action is set up nicely out of the box, and the frets are well-dressed, facilitating smooth movement across the fingerboard.
The compact size also makes it an ideal travel companion. Whether you're going on a road trip, heading to a gig, or just playing at home, the GS Mini-e Maple is easy to carry and doesn't take up much space.
Value for Money
In terms of value for money, the Taylor GS Mini-e Maple certainly delivers. Given its price range, the quality of materials, craftsmanship, sound, and playability is remarkable. It's hard to find a small-bodied acoustic bass that can match the GS Mini-e Maple's combination of solid tonewoods, onboard electronics, and superior playability.
This instrument is an excellent choice for beginners looking for a high-quality first bass or for more experienced players seeking a compact yet capable acoustic bass. It's also a great option for traveling musicians who need a reliable instrument on the go.
Conclusion
All in all, the Taylor GS Mini-e Maple Acoustic Bass Guitar is an outstanding instrument. It combines a compact design, excellent sound, and superior playability in a reasonably priced package. Whether you're laying down a groove, playing fingerstyle, or strumming chords, this bass can handle it all.
The GS Mini-e Maple is a testament to Taylor's dedication to creating quality instruments that inspire musicians. Whether you're a beginner embarking on your musical journey or an experienced player seeking a reliable and portable acoustic bass, the Taylor GS Mini-e Maple is a fantastic choice that offers a unique acoustic bass experience.