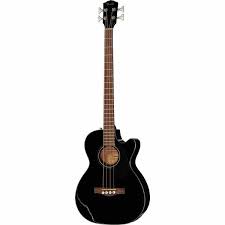 Fender CB-60SCE Acoustic Bass Guitar Review
Fender, a name synonymous with quality musical instruments, has produced yet another masterpiece with their CB-60SCE Acoustic Bass Guitar. This instrument is a testament to Fender's commitment to providing musicians with high-quality gear that doesn't break the bank. From its exceptional design and sound to its superior playability, the CB-60SCE is a bass guitar that truly shines.
Design & Aesthetics
The Fender CB-60SCE is a full-sized acoustic bass guitar with a cutaway body design, which allows easy access to the upper frets. The top is made from solid spruce, a tonewood known for its broad dynamic range and crisp articulation. The back and sides are made of laminated mahogany, contributing to the guitar's warm tones and durability.
It features a rolled fingerboard edge, which makes it comfortable to play, even for extended periods. The neck is also made of mahogany, and it's topped with a 22-fret walnut fingerboard. The glossy finish lends an elegant touch to the overall appearance, and it comes in two options – natural and black.
The aesthetic appeal of the CB-60SCE is rounded off with a mother-of-pearl rosette and chrome die-cast tuners, adding a touch of class to this already beautiful instrument.
Sound & Performance
When it comes to sound, the Fender CB-60SCE delivers impressively. The combination of solid spruce and mahogany produces a well-balanced tone that is both warm and articulate. The bass response is particularly noteworthy, offering deep, resonant lows that are sure to satisfy any bass player.
The inclusion of the Fishman Classic Design pickup/preamp system takes the CB-60SCE's sound to another level. This system faithfully amplifies the natural acoustic tone, making it ideal for both practice and performance. It also features a built-in tuner, volume control, and a three-band EQ, giving you full control over your sound.
Whether you're playing fingerstyle, using a pick, or even slapping, the CB-60SCE responds well, delivering a robust and punchy sound that carries well in a mix.
Playability
The playability of the Fender CB-60SCE is one of its strongest points. The 'Easy-to-Play' neck shape with a rolled fingerboard edge makes it comfortable for players of all levels. The cutaway body design provides easy access to the upper frets, making it ideal for playing solos or intricate bass lines.
The action is set up nicely out of the box, and the strings are close to the fretboard, reducing the amount of pressure needed to fret the notes. This makes it easier for beginners and also reduces fatigue for seasoned players during long gigs or practice sessions.
Value for Money
In terms of value for money, the Fender CB-60SCE certainly delivers. Given its price range, the quality of materials, craftsmanship, and sound is remarkable. It's hard to find an acoustic bass guitar in this price range that can match the CB-60SCE's combination of solid tonewoods, onboard electronics, and superior playability.
This instrument is an excellent choice for beginners looking for a quality first bass or for more experienced players seeking a reliable acoustic bass for gigs or recording. It's also a great option for electric bass players wanting to add an acoustic flavor to their arsenal.
Conclusion
All in all, the Fender CB-60SCE Acoustic Bass Guitar is an outstanding instrument. It combines a stylish design, excellent sound, and superior playability in a budget-friendly package. Whether you're strumming chords, playing fingerstyle, or laying down a groove, this bass can handle it all.
The CB-60SCE is a testament to Fender's dedication to creating quality instruments that inspire musicians. Whether you're a beginner looking to start your musical journey or an experienced player seeking a reliable acoustic bass, the Fender CB-60SCE is a fantastic choice. It offers a rich acoustic bass experience that will undoubtedly enhance your music-making endeavors.