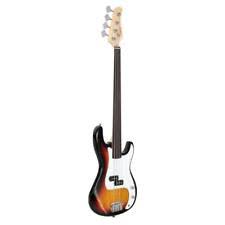 Davison 235LH Electric Bass Review
The electric bass guitar is an essential instrument in modern music, providing the backbone and foundation for countless genres and styles. Among the countless models available on the market today, the Davison 235LH stands out as a remarkable option for left-handed players. This comprehensive review will explore the features, design, performance, and overall value of the Davison 235LH electric bass to help you determine if it's the right choice for your musical needs.
Design and Construction
The first thing that strikes you about the Davison 235LH electric bass is its sleek and elegant appearance. The body is made from solid wood, ensuring durability and longevity. It sports a glossy black finish, which not only looks great but also protects the wood from scratches and dings. The contrasting white pickguard adds a touch of sophistication and style to the overall design.
The neck is constructed from maple, a popular choice among bassists for its bright tonal characteristics and excellent sustain. The 20-fret rosewood fingerboard is smooth and comfortable to play, with dot inlays for easy navigation along the frets. The scale length is 34 inches, making it suitable for players of all skill levels and hand sizes.
One of the unique features of the Davison 235LH is its left-handed orientation. While most bass guitars are designed for right-handed players, this model caters specifically to the left-handed community, a demographic often overlooked by other manufacturers. This thoughtful design ensures that left-handed players can enjoy the same quality and performance as their right-handed counterparts.
Electronics and Hardware
The Davison 235LH electric bass is equipped with two passive single-coil pickups, providing versatile tonal options for various musical styles. The pickups are controlled by a master volume knob and a blend knob, allowing players to easily adjust their sound on the fly. The blend knob is particularly useful for dialing in the perfect balance between the two pickups, letting you achieve anything from a punchy, aggressive tone to a warm, smooth sound.
The hardware on the Davison 235LH is both reliable and practical. The chrome tuning machines are sturdy and hold tune well, ensuring that your bass stays in tune even during extended playing sessions. The adjustable bridge allows for precise intonation and action adjustments, enabling players to set up their bass according to their personal preferences.
Playability and Performance
The playability of the Davison 235LH electric bass is exceptional, thanks to its comfortable neck and well-designed body contours. The slim profile of the neck makes it easy to navigate the fretboard, while the smooth rosewood fingerboard ensures a pleasant playing experience. The body shape is ergonomic, providing excellent balance and reducing fatigue during long playing sessions.
In terms of performance, the Davison 235LH delivers a surprisingly powerful and versatile sound for its price range. The passive single-coil pickups provide a wide range of tonal options, from deep and thumpy to bright and snappy. The blend knob allows for even greater control over your sound, making this bass suitable for various genres such as rock, jazz, funk, and more.
While the stock strings on the Davison 235LH are decent, upgrading to a higher-quality set can significantly enhance the overall sound and playability of the instrument. Also, a professional setup may be necessary to get the most out of this bass, as factory setups can sometimes be inconsistent.
Value for Money
One of the main selling points of the Davison 235LH electric bass is its affordability. With a price point that's accessible to beginners and budget-conscious musicians, this bass offers an impressive combination of quality, performance, and value. While it may not compete with high-end models from established brands, the Davison 235LH is an excellent choice for those looking for a reliable and versatile instrument without breaking the bank.
Final Thoughts
The Davison 235LH electric bass is a well-rounded instrument that offers great value for money. Its solid construction, comfortable playability, and versatile sound make it an appealing option for left-handed players of all skill levels. While a professional setup and string upgrade may be necessary to get the most out of this bass, the overall performance and quality are impressive for the price point.
In conclusion, if you're a left-handed bassist in search of an affordable instrument that doesn't compromise on quality or performance, the Davison 235LH electric bass is definitely worth considering. With its sleek design, comfortable playability, and versatile sound, this bass is sure to satisfy your musical needs and inspire your creativity.