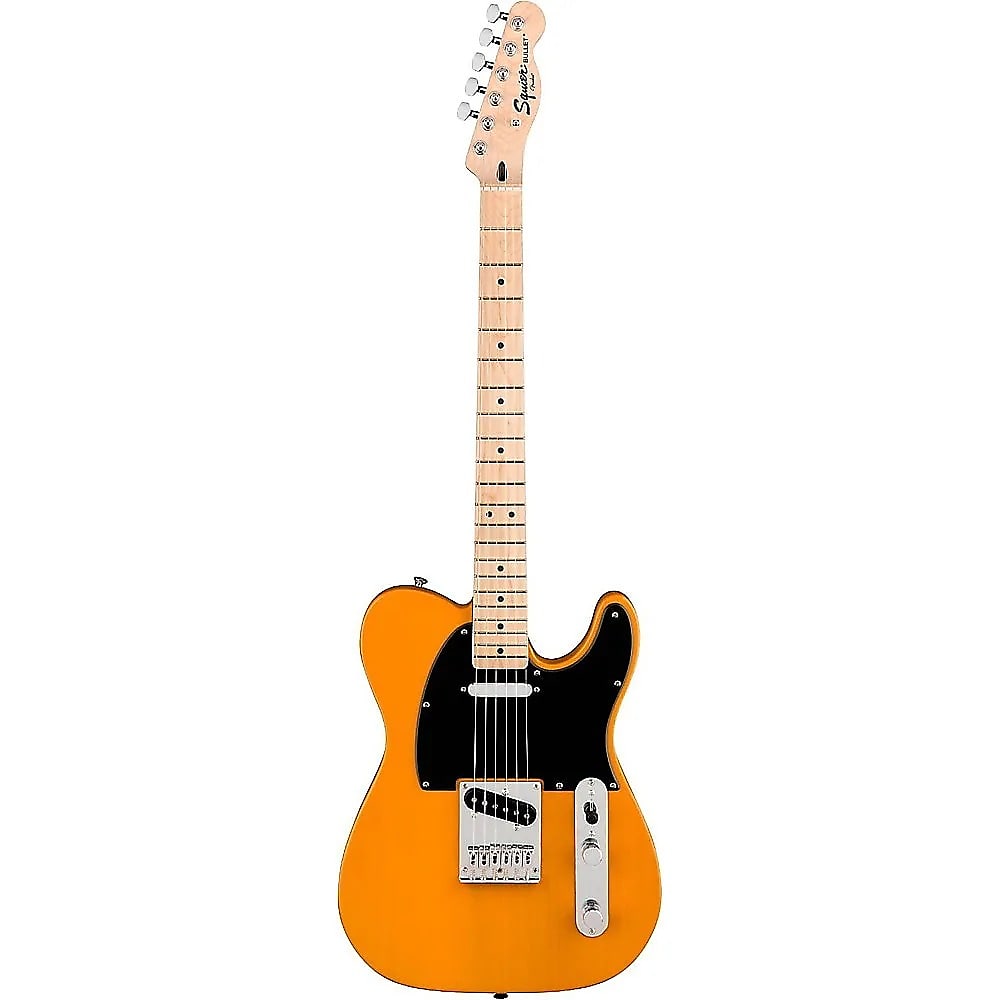 If you're new to the world of music, chances are you're already overwhelmed with so many suggestions and have no idea where to start. This is not surprising, since the market for electric guitars is now as big as ever – there are a huge number of different brands that offer quality affordable models for beginners. However, what if you still want to buy a model from a well-known brand and are eyeing Fender? Undoubtedly, this company is one of the leading manufacturers of guitars worldwide and has earned a reputation as a quality and reliable brand. However, if we talk about low-cost offers, accessible even to a young musician, you should definitely pay attention to such a model as the Squier Bullet Telecaster.
Today's review will draw your attention to the Squier Bullet Telecaster, its specific features, and also help you understand if it is worth buying or if there are better entry-level models. Undoubtedly, this model is a good affordable electric guitar that is suitable for a beginner, but will not be the best option for advanced players. Let's move on to a more detailed review of this model so that you can decide if this offer is right for you or if you should explore the market in search of other options.
Squier Bullet Telecaster: What You Should Know
The Squier Bullet Telecaster is an electric guitar with a lightweight poplar body and a comfortable laurel fretboard neck. The light body is a big advantage for beginners as they can practice for many hours standing or sitting without hurting their backs. It is also impossible not to pay attention to the fact that this guitar has a hardtail bridge with strings through the body, which increases the stability of the tuning, the beginner does not have to constantly tune it.
Also note that the Squier Bullet Telecaster has the classic Telecaster pickup setup (two single coils, specific to any Telecaster). Speaking about their sound, I would like to note that both pickups provide a very clear and rich tone, which will be an undoubted advantage for a beginner who is not yet our own sound. Also, of course, the pickups also offer the legendary "Telecaster Twang".
How Much Does a Squier Bullet Telecaster Cost?
At the moment, the cost of this model on the official Fender website is $189.99, which makes the Squier Bullet Telecaster one of the cheapest Tele on the market at the moment. Thus, it is precisely because of this price that beginners most often prefer this particular model. Since most of them don't have a big enough budget to purchase a better quality electric guitar, the Squier Bullet Telecaster is indeed a good option.
Who is the Squier Bullet Telecaster Best For?
As we have already noted, first of all, this model is ideal for people who are just starting their journey in the world of music. So, if you've never owned an electric guitar, the Squier Bullet Telecaster is a great start.
In addition, if you are a musician who appreciates versatility, this model will also be a good option for you. For example, if you have not yet chosen the musical style that you prefer, and prefer experiments or different musical genres, then this guitar cannot disappoint you.
Also, of course, this guitar is perfect for musicians with a limited budget. If you don't want to spend hundreds or even thousands of dollars on a new guitar, the Squier Bullet Telecaster gives you the perfect opportunity to start playing today.
What to Look for When Buying a Squier Bullet Telecaster?
Although this is the cheapest Telecaster offered by Squier, it still has a few drawbacks that you should be aware of before purchasing this model. However, it is important to note that any other electric guitar in this price range will not be perfect and you will have to put up with some downsides.
The first thing we want to point out is the pickups, which are quite simple. Undoubtedly, if you have not held an electric guitar in your hands before, then this model will be more than enough for you. However, if you already have some experience and have practiced on more expensive and better models, you will most likely be able to notice a difference in sound.
The tuner of this model is also quite simple and aimed specifically at a beginner who wants to buy the first inexpensive electric guitar. However, an experienced player will immediately see that Squier used fairly cheap materials to build this guitar. However, you can hardly expect more from a guitar under $200.
The last thing we want to bring to your attention is the strings, since Squier, trying to make the Bullet Telecaster as affordable as possible, could not afford a more expensive version. However, this is also not a problem, since you can change the countries and notice the difference. But, as already mentioned, for a beginner this will be more than enough.
Final Thoughts
Our opinion is that this guitar is the perfect choice for all beginner guitarists who have no previous experience and have not practiced on more expensive models. Thus, if you are just starting out and do not know what guitar to buy, then the Squier Bullet Telecaster is a great option. Not only does it have a beautiful look and typical telecaster design, but it also offers you good sound at an affordable price. Thus, it literally meets all the basic needs of a beginner.
In addition, it should be noted that this guitar is the most versatile, and it can be used in a wide range of genres. So, whether you like rock, country, blues or indie, you will be able to reproduce the sound you need in any case.
So, despite the fact that the Squier Bullet Telecaster is not the highest quality and professional-sounding instrument in the world, it is more than worth the money. If you are an experienced musician, then you should definitely look at the more expensive models, but a beginner will be satisfied with the Squier Bullet Telecaster.