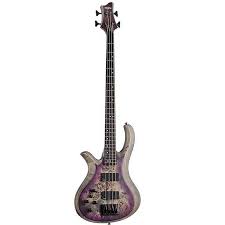 Schecter Riot-4 Bass LH Electric Bass Guitar: A Comprehensive Review
Introduction
In the world of electric bass guitars, Schecter is a brand that has consistently delivered high-quality instruments that cater to a diverse range of musicians. The Schecter Riot-4 Bass LH Electric Bass Guitar is no exception and deserves a detailed review for its superb craftsmanship, performance, and value. This review will dissect the instrument from both a beginner's and professional's perspective, providing an in-depth analysis of its features, playability, and sound quality.
First Impressions
The first thing that strikes you about the Schecter Riot-4 Bass LH is its stunning aesthetics. The sleek, mahogany body, combined with the maple neck and rosewood fretboard, gives it a classic yet elegant look. The diamond-shaped inlays add a touch of sophistication, while the satin black finish lends it a rock 'n' roll edge. For beginners, this visual appeal can be a significant motivating factor as it makes the learning process more enjoyable.
Build Quality and Design
Schecter has a reputation for its attention to detail and use of top-quality materials, and the Riot-4 Bass LH embodies this ethos. The body is solid and durable, capable of withstanding the rigors of prolonged playing sessions and live performances. The thin 'C' shape neck profile is comfortable to hold, making it easy for beginners to navigate the fretboard. Professionals will appreciate the 24 extra-jumbo frets that offer a wide tonal range and the flexibility to perform complex musical pieces.
Sound Quality
The heart of any bass guitar lies in its pickups, and the Schecter Riot-4 Bass LH comes equipped with two Schecter Diamond SuperRock MM pickups. These deliver a powerful, punchy tone that can cut through the mix in any band setting. Beginners will find the sound inspiring and encouraging, while professionals will appreciate the tonal versatility that these pickups offer. The active 2-band EQ allows players to shape their tone further, catering to a variety of music genres.
Playability
The Schecter Riot-4 Bass LH scores highly in terms of playability. The smooth neck and well-dressed frets make it easy for players to move up and down the fretboard. For beginners, this can ease the learning curve and help build confidence. The low action and precise intonation, appreciated by professionals, allow for fast playing and accurate tuning. The guitar's overall balance and ergonomic design make it comfortable to play, even for extended periods.
Value for Money
Considering the high-quality construction, excellent sound, and impressive playability, the Schecter Riot-4 Bass LH offers exceptional value for money. It's an investment that beginners can grow with, and professionals can rely on for consistent performance. The guitar also comes with a sturdy gig bag, which adds to its overall value.
Conclusion
In summary, the Schecter Riot-4 Bass LH Electric Bass Guitar is a well-rounded instrument that caters to both beginner and professional bassists. Its beautiful design, robust build, superior sound, and high playability make it a worthy addition to any musician's arsenal. Whether you're just starting your musical journey or looking for a reliable workhorse for your gigs, the Schecter Riot-4 Bass LH is a fantastic choice that offers real bang for your buck.