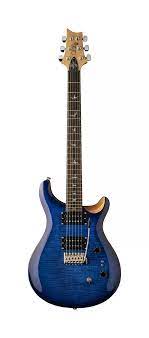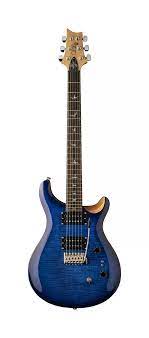 PRS SE Custom 24: A Comprehensive Review
The world of electric guitars is vast and diverse, with a multitude of brands, models, and options available for musicians to choose from. One such guitar that has garnered significant attention and acclaim in recent years is the PRS SE Custom 24. This versatile and stunning instrument has become a favorite among players of various genres, from rock and metal to jazz and blues.
In this comprehensive review, we will delve into the features, specifications, and performance of the PRS SE Custom 24, and explore what makes it stand out in the crowded market of electric guitars.
Overview
The PRS SE Custom 24 is the more affordable version of the renowned PRS Custom 24, a flagship model from Paul Reed Smith's lineup of high-end electric guitars. Despite its lower price point, the SE Custom 24 offers many of the same qualities and features as its pricier counterpart, making it an attractive option for both beginners and seasoned players alike.
One of the key selling points of the SE Custom 24 is its striking appearance. The guitar boasts a beautiful flame maple veneer top, available in various finishes such as Trampas Green, Whale Blue, and Vintage Sunburst. The body contours and double-cutaway design not only add to the visual appeal but also provide ergonomic comfort during extended playing sessions.
Specifications
Body and Neck
The PRS SE Custom 24 features a mahogany body with a beveled maple top and flame maple veneer, giving it a warm and resonant tone with plenty of sustain. The 25-inch scale length neck is also constructed from mahogany, featuring a wide-thin profile that allows for smooth and comfortable playability across various styles.
The fretboard is made from rosewood and adorned with PRS's signature bird inlays, adding a touch of elegance to the guitar's overall aesthetic. With 24 frets, the SE Custom 24 offers a full two-octave range for each string, providing ample room for creative expression.
Electronics
The PRS SE Custom 24 comes equipped with a pair of PRS-designed 85/15 "S" humbucker pickups, which are modeled after the highly-regarded 85/15 pickups found in the Core Custom 24. These versatile pickups offer a wide range of tones, from warm and smooth cleans to aggressive and articulate distortion.
A three-way blade switch allows players to toggle between the bridge, neck, and combined pickup configurations, while a push-pull tone knob provides the option to split the humbuckers into single coils for added tonal variety. The guitar also features a volume knob for easy control over output levels.
Hardware
The hardware on the PRS SE Custom 24 is both reliable and visually appealing. The guitar features PRS-designed tuners, which offer precise tuning stability and a smooth, easy-to-use feel. The patented PRS tremolo bridge not only enhances the guitar's sustain but also allows for expressive pitch manipulation and smooth vibrato effects without compromising tuning stability.
Performance
One of the most important aspects of any guitar is how it performs in the hands of a musician. The PRS SE Custom 24 excels in this area, offering a comfortable playing experience and a wide array of tonal options to suit various musical styles.
Playability
The wide-thin neck profile and smooth rosewood fretboard make for a comfortable playing experience across all frets. The double-cutaway design allows for easy access to the upper frets, making it ideal for lead guitarists and those who frequently venture into higher registers.
The PRS tremolo bridge is also noteworthy for its ease of use and stability. Players can confidently perform dive bombs, subtle vibrato, and other pitch-bending techniques without worrying about the guitar slipping out of tune.
Tone
The PRS SE Custom 24's tonal versatility is one of its standout features. The 85/15 "S" humbuckers provide a full and well-balanced sound, with tight lows, clear mids, and sparkling highs. The option to split the pickups into single coils further expands the guitar's tonal palette, making it suitable for genres such as blues, jazz, and country.
Whether you're playing clean chords or high-gain leads, the SE Custom 24 delivers a rich and expressive tone that can be easily tailored to your specific needs and preferences.
Conclusion
The PRS SE Custom 24 is an impressive instrument that offers a high level of quality, playability, and versatility at a more affordable price point than its Core counterpart. With its stunning appearance, comfortable neck profile, and versatile electronics, this guitar is an excellent choice for players of all skill levels and musical styles.
While the SE Custom 24 may not possess all of the luxurious appointments found on the Core Custom 24, it does an outstanding job of capturing the essence and performance of its high-end sibling. For those in search of a reliable, versatile, and visually striking electric guitar that won't break the bank, the PRS SE Custom 24 is a fantastic option to consider.