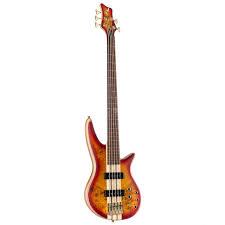 Jackson Pro Series Spectra Bass SBP V 5-String: A Detailed Review
Introduction
The world of bass guitars has seen a revolution of sorts with the entry of the Jackson Pro Series Spectra Bass SBP V 5-String. This versatile instrument is designed to provide a full-sonic spectrum for even the most progressive bassists. With its distinctive features, superior craftsmanship, and exceptional sound quality, it has quickly become a favorite among both professionals and beginners.
Design and Construction
The Jackson Pro Series Spectra Bass SBP V 5-String boasts an attractive multi-laminate body comprised of walnut, maple, and mahogany, topped with a stunning poplar burl top. This combination not only provides a robust and durable structure but also contributes to the rich, resonant sound that this bass guitar produces. It commands attention not only with its sound but also with its aesthetic appeal.
Another noteworthy feature is the ergonomic neck shape with a satin finish, which makes life easy for the fretting hand, requiring little acclimatization. The caramelized jatoba fingerboard adds to the overall elegance of the instrument and provides a smooth playing surface.
Sound Quality and Performance
This five-string, 35″-scale bass features alnico V magnets and the Nordstrand® SB5 single-coil, which together deliver a powerful, rounded sound that can be tuned to a variety of genres. Whether you're into rock, jazz, blues, or any other style, the Jackson Pro Series Spectra Bass SBP V 5-String has got you covered.
The Jackson Single-String hardtail bridge significantly enhances individual note attack and improves sustain, providing a balanced tone that remains consistent across all strings. This feature is particularly beneficial for those who are just starting their journey in bass guitar playing as it aids in producing clear, distinct notes.
Professionals' Perspective
From a professional's viewpoint, the Jackson Pro Series Spectra Bass SBP V 5-String is a finely crafted instrument with its very essence right there in the name—a bass for professionals. Its diverse tonal spectrum, coupled with its superior design and construction, makes it a reliable choice for live performances and studio recordings alike.
The versatility of this bass guitar allows professional players to experiment with a wide range of sounds, making it suitable for various music styles. Furthermore, the well-designed neck shape and string spacing help reduce hand fatigue during long playing sessions, a feature much appreciated by seasoned players.
Beginners' Perspective
For beginners, the Jackson Pro Series Spectra Bass SBP V 5-String serves as an excellent introduction to the world of bass guitars. Despite being a professional-grade instrument, it is user-friendly and does not require a steep learning curve.
Its comfortable neck shape, combined with the smooth fingerboard, makes it easy for new players to navigate the frets. Moreover, the enhanced note attack and improved sustain allow beginners to produce clear, well-defined sounds, aiding in their learning process.
Conclusion
In conclusion, the Jackson Pro Series Spectra Bass SBP V 5-String is a remarkable instrument that skillfully combines aesthetics with performance. Its superior design, versatile sound capabilities, and user-friendly features make it a worthy addition to any musician's collection, regardless of their skill level.
Whether you're a seasoned professional looking to add to your arsenal or a beginner eager to embark on your musical journey, the Jackson Pro Series Spectra Bass SBP V 5-String won't disappoint. This bass guitar truly lives up to its name, offering a spectacular sonic experience that resonates with every strum.