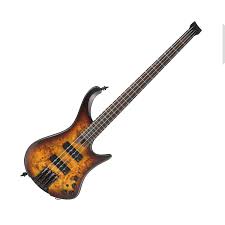 Ibanez EHB1500 Electric Bass: A Symphony of Comfort, Balance, and Versatility
Introduction
In the realm of bass guitars, the Ibanez EHB1500 stands out as a revolutionary instrument that seamlessly blends comfort, balance, and versatility. This article delves into the features, functionalities, and performance of this ergonomic headless bass guitar from the perspective of both professionals and beginners.
Design and Ergonomics
The first thing that strikes you about the Ibanez EHB1500 is its unique design. It sports a headless construction, which significantly contributes to its lightweight nature. This feature not only enhances its portability but also ensures a comfortable playing experience, whether seated or standing. The body is specially designed for optimal balance, making it easy to maintain a similar playing position in both scenarios.
The EHB1500 also features a contoured, ergonomic design that has been touted as one of the most comfortable basses ever. Its chambered body further enhances its lightweight nature while ensuring a well-balanced feel. These features make it an excellent instrument for long sets or practice sessions, with many users reporting the ability to play for hours on end without discomfort.
Performance and Versatility
When it comes to performance, the Ibanez EHB1500 does not disappoint. It's not just about comfort and balance; this bass guitar delivers an amazing tone that is sure to captivate any audience. The Nordstrand pickups coupled with electronics offer an incredible range of sounds. The sound in passive mode is particularly impressive, providing a rich and full-bodied tone that can adapt to a variety of music genres.
This versatility extends beyond just sound. The EHB1500 is a joy to play, irrespective of your preferred style. Whether you're into modern rock, funk, R&B, country, or blues, this bass guitar fits the bill perfectly. It caters to the needs of both finger play and slap styles, offering excellent gameplay that both professionals and beginners will appreciate.
Adjustability and Customization
The Ibanez EHB1500 also shines in its adjustability and customization options. Tuning it up is a breeze, and making small adjustments to the action is straightforward. This feature is especially beneficial for picky players who prefer to customize their instruments to their liking.
Conclusion
In conclusion, the Ibanez EHB1500 Electric Bass is a standout instrument that ticks all the right boxes. Its unique design and ergonomic features ensure a comfortable and balanced playing experience, while its performance and versatility cater to a wide range of musical styles and player preferences. Whether you're a professional looking for a reliable and versatile bass guitar, or a beginner seeking a comfortable and easy-to-play instrument, the EHB1500 is worth considering.
From its innovative headless construction to its chambered body, and from its amazing tone to its easy adjustability, the Ibanez EHB1500 is a testament to Ibanez's commitment to quality and innovation. It is not just a bass guitar; it is a tool for expressing your musical creativity and passion. The EHB1500 is more than capable of meeting and exceeding your expectations, no matter how high they may be.