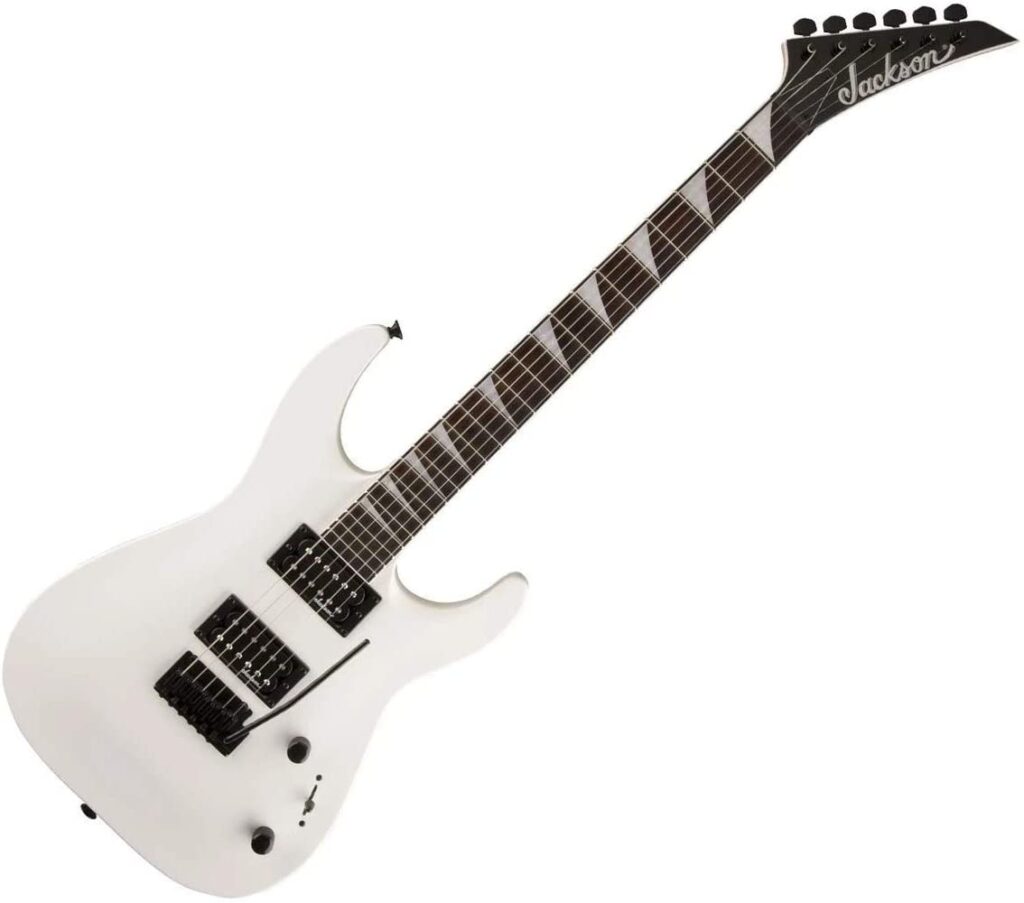 Jackson is one of the most famous guitar brands in the entire world. Even more so than Fender, I'd argue. If you're a fan of metal music, it's highly likely that at some point in your life you've heard of Jackson guitars.
The company was founded by Grover Jackson, who wanted to create high quality instruments that were affordable enough for everyone to buy – exactly like what Gibson was doing at the time with their Les Paul models (they are now quite unaffordable though).
Today we are going to look closer on one of these iconic guitars – many times copied but never matched – the Jackson JS22 Dinky electric guitar .
We'll take a very detailed look on this model and how it compares with similar models by other manufacturers, like Ibanez and ESP.
Let's start with the basics:
Specs & Features
Brand: Jackson
Model: Dinky JS22-6
Body Type: Solidbody
Neck Joint Location: Bolt-on Fingerboard
Radius: 12″
Scale Length 24.75″
Frets Total 22
Pickups H/H
Controls Master Volume, Master Tone
Hardware Chrome Bridge Tune-O-Matic
String Nut Synthetic
Bone Switching 5-Position Blade Pickup Configuration H/S/H
Strings 6 String Fretboard Material Rosewood
Appearance
The JS22 Dinky comes in a variety of colors, but I chose the Metallic Blue one because it looks absolutely stunning. The finish is very glossy and seems to be quite durable.
The guitar has a Strat-like shape, with a HSH pickup configuration. It's a pretty lightweight guitar, which makes it comfortable to play for long periods of time. The neck is made out of maple and has a rosewood fretboard. All in all, it looks and feels like a high quality instrument.
Sound
Now let's take a listen to how this baby sounds:
As you can hear, this guitar sounds absolutely phenomenal.
The cleans are nice and bright, the distortion tone is very rich and saturated, but without any harshness to it – perfect for metal. The sustain is also great due to the Floyd Rose bridge.
All in all, I think that this guitar can cover pretty much all types of music out there: from blues/jazz over rock n' roll to metalcore and deathcore (if you want it to).
Price & Quality
As we've already established, Jackson guitars tend to be quite affordable for what they offer (although they can get very expensive), and this one is no different: you can find used ones for as low as $350 on Amazon, while new ones go up to $400-$450.
For that price, I think it's a very solid investment, as the tone and playability of this guitar are excellent for this price range.
Conclusion
To conclude if you're looking for a great beginner guitar or a mid-range option to upgrade from your starter pack, look elsewhere – there are better options out there at this price point. However, if you want a high-quality instrument that is going to last you years with proper care – Jackson JS22 Dinky is definitely worth checking out!