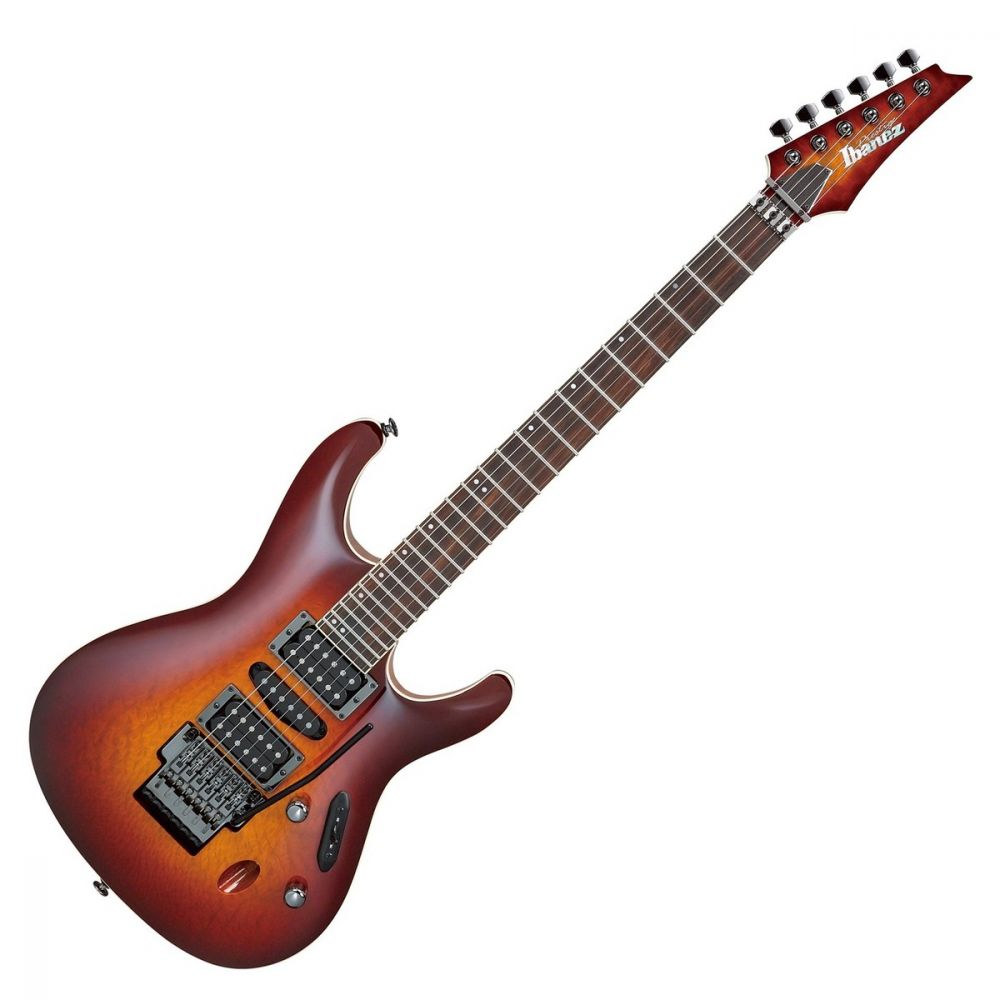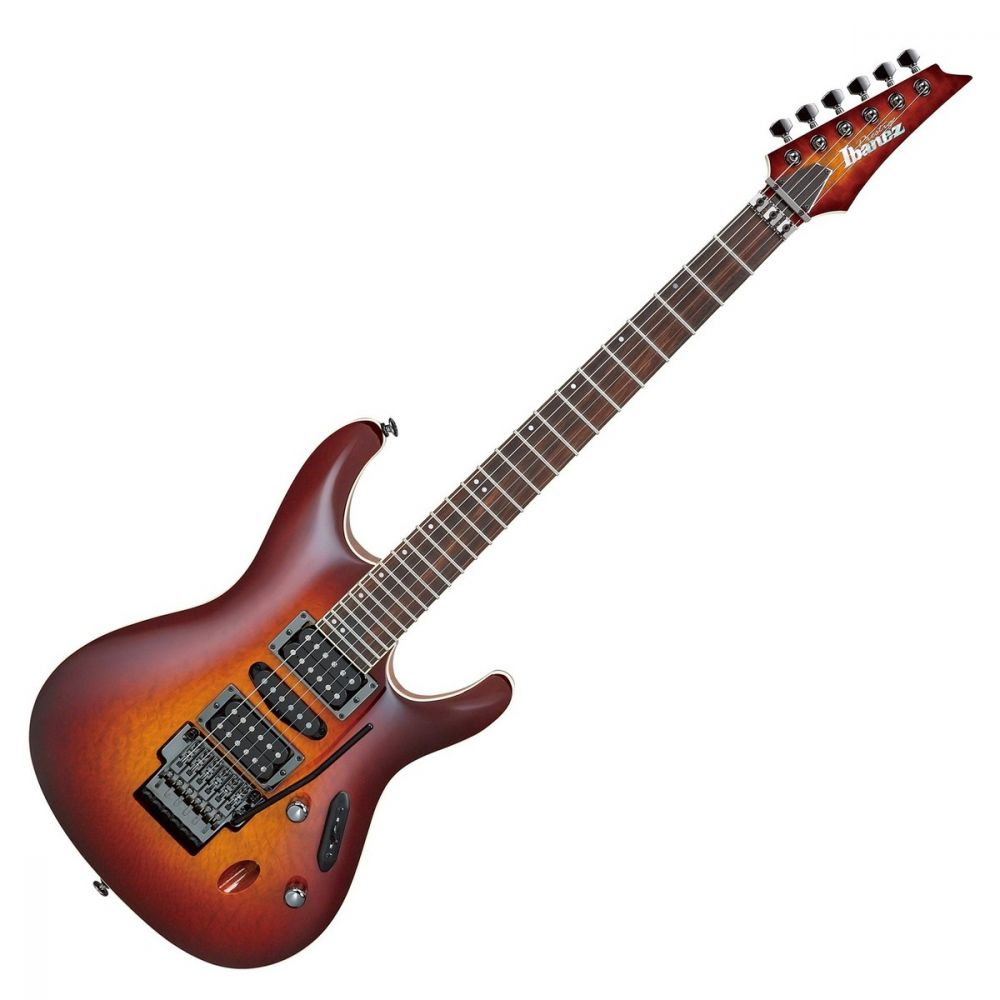 This is an Ibanez S Series guitar, it's in the prestige line so there are a lot of features to list. Features: Mahogany body with quilted maple top, 5 piece mahogany/walnut neck-thru w/ binding, ebony fretboard with 24 jumbo frets and pearl dot inlays, DiMarzio IBZ pickups (humbucker at the bridge and single coil at the neck), Edge Pro tremolo bridge , black hardware, 25.5 inch scale length. These guitars retail for around $2000 depending on where you buy one from.
You can get these from Amazon . So this blog post will be less of a review more of a dissection of the guitar. This is my first high end guitar that I've purchased, all guitars before this were mid-level beginner guitars. So the main difference between this and some other guitars is more towards quality/construction, stability of hardware & electronics, fit & finish, playability (fretboard radius, neck profile), tone/tone shaping capabilities, features.
I'll go through each section of parts on the guitar to see what they are made out of and how it affects the overall sound of the instrument. I'll also describe some features since there's a lot on this guitar. First let's start with pickups because that's one aspect that everyone talks about when playing electric guitars. Pickups are essentially magnets surrounded by copper wire which acts as a transmitter of the string vibrations to an amp. This moves the speaker in the amp which creates the sound waves that you hear when playing through headphones or with an amplifier.
So these pickups are very high output, they are DiMarzio IBZ passive humbuckers. The single coil is at the neck position and works well for getting some nice clean tones. I haven't used this guitar enough to really use it for overdrive tones but when I have played it through my tube amp, it's given me some great cleans just not push quite enough gain to be considered overdriven distortion. The bridge pickup has a really cool tone too in fact, both pickups have very unique tones compared to other guitars that I've played. The neck pickup is bright and rich sounding, it also sounds very solid. You can get some really nice riffs or arpeggios from the neck pickup on this thing, especially if you roll back your tone knob slightly (at least on my Epiphone Les Paul).
The bridge humbucker has a lot of range to it compared to other pickups I've played. It's got that deep growl when the gain isn't up but then changes into more of an aggressive scream when cranked. What makes it even better is that there's no noise and the sustain is great. This just sounds killer for rhythm guitar parts and solos since you can pop in so many different nuances on how hard you pick each note.
The single coil pickup at the neck is a lot brighter sounding than I thought it would be, it can get lots of that "snappy" clean tone sound since the string attack pops well. The single coil also has a bit more bass response as well which offers up different tonal characteristics from the other pickups as well as having its own unique voice as compared to other guitars with single coils.
The neck itself even though maple is pretty smooth and not at all sticky or grainy feeling like some necks can be if they aren't finished well enough (which seems to be common with cheaper guitars). The fretboard radius makes it easier to play chords and solos but doesn't make note bending suddenly much easier because the frets are still pretty high even though the radius makes them feel flatter. I'm not sure how much effect that has on bending but it doesn't make a huge difference as compared to other guitars I've played with a flatter radius.
The fretboard material is made out of ebony which is a really hard black wood which also means you will have some serious sustain and clarity from your notes too since it's harder material. The nut width seems to be 1 11/16 or 42mm but it's just slightly off, can go either way depending what gear you're using to measure it up (calipers).These guitar pots come in at 250k ohms. It would be nice if they were 500k for higher gain tones but I've had no problems with the volume pots at all.
They're smooth and easy to roll up or down for volume, tone knob is push/pull so you can switch between pickups which is nice if you want to go clean by itself or distorted by itself. Schaller locking tuners are very nice, they seem sturdy and really lock in the strings securely so there's no slipping whatsoever. It also comes with an Ibanez hard case which is very high quality (I've got another case that isn't even made anymore but it looks like this one). The logo on the headstock isn't outlined which I don't like as much but not a big deal since it isn't too noticeable unless you're looking at the headstock from a foot or two away.
Ibanez Prestige S6570SK
3-piece maple neck (flamed) and mahogany body
22 medium frets on a rosewood fingerboard
DiMarzio IBZ pickups with 5-way switch and push/pull tone knob
Ibanez tuners & Gotoh bridge; Flamed Maple top; Transparent finish (more like a dark cherry sunburst)!!!