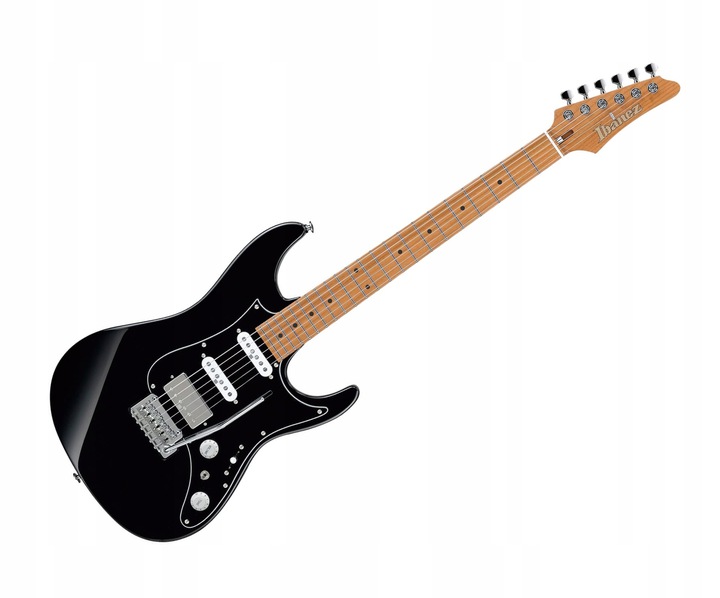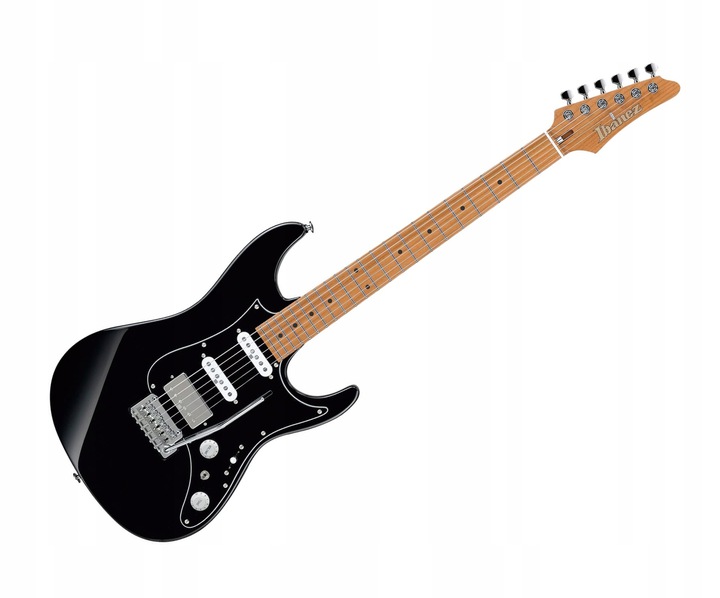 Today we're going to take a look at one of Ibanez's new guitars that was just recently released: the AZ2204B. The guitar is part of their Prestige line, meaning it's made with premium materials and components; in this case, it uses an alder body with maple top and 3-piece maple/bubinga/mahogany neck (bolt-on).
The finish on this particular model is absolutely beautiful – not only clear coat but also vintage nitrocellulose lacquer. It gives the wood a really nice depth and lets you see some grain beneath it. While most people think "nitro" means thinning the paint out with gasoline, what actually happens is that they put very little paint on the wood and instead rub it into the pores for a very thin but very shiny coat.
The only area where they cheapened out is in the tuners; unfortunately, they're non-locking (not that locking tuners would be an improvement in this case). Since they sit so deep and since most players don't use more than 5th or 6th position on a 24-fret guitar, this isn't really a big deal unless you play in weird tunings. The good news is that Ibanez put an excellent Gotoh set of open gear tuners on this one with pearloid buttons. As with all Prestige models, the AZ2204B comes standard with quality DiMarzio pickups, a 5-way switch and an Edge-Zero tremolo.
The neck/fretboard is made from 2 pieces of bubinga with a gorgeous wide-strip maple neck. Since this isn't an AANJ or AAANJ neck you get all the tonal characteristics that come from the tighter grain of those woods rather than just maple with some purflings to look nice. The fretboard is pretty chunky – not as thick as it would be on a Les Paul but much chunkier than your basic thin Wizard neck found on other Ibanez guitars like the JS series; whether you prefer one over the other comes down to personal preference (thicker necks are generally more stable but can feel awkward for people with smaller hands and vice-versa).
The AZ2204B features a slightly asymmetrical profile; it's almost like an Ibanez AS but with a little more meat under the forearm. This is definitely one of my favorite necks for this type of shape – it's fast, smooth and feels great to play (my only problem is that the finish gets sticky when your hands get sweaty). The frets themselves are jumbo sized making string bends very easy and giving you maximum control over your vibrato or whammy bar dive bombs. This guitar really screams in terms of sustain and resonance: you can hold notes down and they'll ring out for quite some time before dying away, much longer than on thinner guitars.
One of the reasons this guitar has such great sustain is due to its hardware: Ibanez went with a gold Edge-Zero tremolo and an excellent set of locking Gotoh tuners. The Edge-Zero isn't your ordinary trem; it's got some unique design features that take the edge off when you're up around the 20th fret. It's still possible to do dive bombs but it doesn't go out of tune nearly as easily as traditional Edge trems. As for the Gotoh tuners, you can rest assured that they're set very well and will keep this guitar in tune beautifully whether your playing style involves sweep picking or just chugging power chords.
The pickups are DiMarzio designed specifically for Ibanez. Here we have a pair of DiMarzio Air Norton and Tone Zone S pickups. These are designed as humbuckers but sound excellent as single coil pickups as well. The neck pickup is fat and smooth with plenty of warmth while the bridge position has more "zing" for leads etc.
Overall, Ibanez has come up with another awesome guitar in their Prestige line – although at $1,499 this isn't an entry-level instrument by any stretch of the imagination. Is it worth that much? If you're playing gigs on a regular basis or simply want to have one awesome guitar in your arsenal, then yes it's absolutely worth every penny! But if you're just starting out need something for school or home use then you should look at the lower-priced Ibanez RG and S series guitars. That said, this is one of my favorite guitars: it's fast and smooth with a beautiful neck that looks great in black!