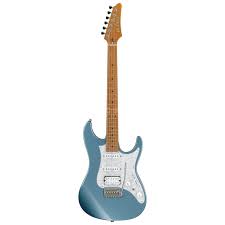 Ibanez Prestige AZ2204 Electric Guitar Review
The Ibanez Prestige series has long been synonymous with high-quality instruments, and the AZ2204 model is no exception. As part of the AZ line, the AZ2204 boasts a blend of modern aesthetics, versatile tonal options, and exceptional playability, making it a top choice for many guitarists. In this in-depth review, we'll take a closer look at the features, specifications, and performance of the Ibanez Prestige AZ2204 electric guitar.
Design and Construction
The Ibanez Prestige AZ2204 features a classic double-cutaway body shape with a slightly offset design, reminiscent of the iconic Fender Stratocaster. The body is made from high-quality alder, known for its balanced tonal characteristics and lightweight nature, making it comfortable to hold for extended periods.
The neck of the AZ2204 is constructed from roasted maple, which has undergone a heat treatment process to enhance the wood's stability and resistance to humidity-related issues. The 24-fret fretboard is also made from roasted maple, and features stainless steel frets, black dot inlays, and a compound radius (from 305mmR at the nut to 508mmR at the 24th fret). This design ensures optimal playability across the entire range of the instrument.
The AZ2204 comes equipped with Gotoh Magnum Lock machine heads, which provide exceptional tuning stability and ease of use. The overall build quality of the AZ2204 is nothing short of impressive, with flawless craftsmanship and attention to detail that one would expect from a guitar in the Prestige series.
Electronics and Hardware
The Ibanez Prestige AZ2204 comes loaded with a trio of Seymour Duncan Hyperion pickups – two single-coils in the neck and middle positions, and a humbucker in the bridge position. These pickups were specifically designed for the AZ series, and offer a wide range of tonal options, from sparkling clean tones to thick, saturated overdrive.
The guitar features a 5-way pickup selector switch, allowing you to choose between various pickup configurations. Additionally, the AZ2204 includes Ibanez's innovative dyna-MIX 10 switching system, which provides ten different pickup combinations via a mini toggle switch. This system allows you to access additional tonal options not typically found on traditional three-pickup guitars.
The AZ2204 is fitted with a Gotoh T1802 tremolo bridge, which offers smooth operation and excellent tuning stability, even with heavy use. The bridge also features titanium saddles, which are known for their improved sustain and tonal transfer.
Playability and Performance
One of the standout aspects of the Ibanez Prestige AZ2204 is its playability. The roasted maple neck is smooth and fast, allowing for effortless movement across the fretboard. The compound radius ensures that both chord playing and lead work feel comfortable and natural, while the stainless steel frets provide long-lasting durability and resistance to wear.
The guitar's overall balance and weight distribution are excellent, making it comfortable to play both standing and seated. The double-cutaway design allows for easy access to the higher frets, which is crucial for soloists and those who frequently venture into the upper registers.
In terms of tonal versatility, the AZ2204 truly shines. The Seymour Duncan Hyperion pickups, combined with the dyna-MIX 10 switching system, provide a wide array of tonal options suitable for various genres and playing styles. From pristine clean sounds to aggressive overdrive, the AZ2204 can handle it all with ease.
Pros and Cons
Pros:
Outstanding build quality and attention to detail
Roasted maple neck offers excellent stability and playability
Wide range of tonal options thanks to Seymour Duncan Hyperion pickups and dyna-MIX 10 switching system
Comfortable body shape and weight distribution
Cons:
Premium price may be a barrier for some players
Some guitarists may prefer a more traditional pickup configuration without the additional switching options
Conclusion
The Ibanez Prestige AZ2204 electric guitar is an exceptional instrument that offers top-notch build quality, playability, and tonal versatility. While its premium price tag may be a deterrent for some players, those who are willing to invest in a high-quality guitar will find the AZ2204 to be well worth the cost.
Whether you're a professional guitarist looking for a reliable workhorse or an amateur player seeking an instrument that can grow with your skills, the Ibanez Prestige AZ2204 is a fantastic option. With its wide range of tonal possibilities, comfortable playability, and outstanding craftsmanship, the AZ2204 is a guitar that truly lives up to the Prestige name.