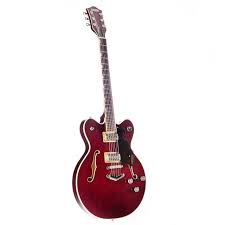 Gretsch G6659TG Players Edition Broadcaster Jr: A Detailed Review
Gretsch is a brand known for its iconic guitars with exceptional sound and build quality. The Gretsch G6659TG Players Edition Broadcaster Jr is no exception, as it brings together the best of Gretsch's craftsmanship and innovation in a compact, versatile, and beautiful instrument. This electric guitar is designed to cater to the modern guitarist's needs while retaining the vintage charm that has made Gretsch a favorite among musicians for decades. In this detailed review, we will explore the features, specifications, playability, and sound of this fantastic guitar.
Design and Build Quality
The Gretsch G6659TG Broadcaster Jr is a scaled-down version of the classic Broadcaster model, featuring a more compact body size that makes it an excellent choice for players who prefer a smaller and lighter instrument. The body of the guitar is made from laminated maple, which not only looks stunning but also contributes to the guitar's bright and resonant tone. The single-cutaway design allows easy access to the higher frets, ensuring that players can comfortably navigate the entire fingerboard.
One of the most striking aspects of the Broadcaster Jr is its beautiful finish. The guitar is available in a luscious Vintage White or Cadillac Green, both of which are complemented by gold hardware and binding. The gold Bigsby B7GP tailpiece and matching gold Gotoh locking tuners add a touch of elegance and sophistication to the instrument while providing excellent tuning stability.
The neck is made from maple and features a standard U-shaped profile, making it comfortable to play for extended periods. The ebony fingerboard has 22 medium jumbo frets, with pearloid thumbnail inlays that not only look great but also serve as helpful position markers. The neck is set into the body using a dovetail joint, ensuring optimal resonance and sustain.
Electronics and Hardware
The Gretsch G6659TG Broadcaster Jr comes equipped with two High Sensitive Filter'Tron pickups, which are designed to provide the classic Gretsch sound with increased output and responsiveness. These pickups deliver a bright, clear, and articulate tone that works well for various musical styles, from rockabilly and country to blues and rock.
One of the standout features of this guitar is the versatile control layout. The Broadcaster Jr has individual volume controls for each pickup, allowing players to blend the two pickups' sounds to their liking. There's also a master volume control, which is handy for making quick adjustments on stage without affecting the balance between the pickups. Additionally, the guitar features a master tone control and a three-way pickup selector switch for even more tonal flexibility.
The hardware on the G6659TG Broadcaster Jr is top-notch, ensuring that the guitar stays in tune and performs consistently. The gold Gotoh locking tuners provide excellent tuning stability, while the Adjusto-Matic bridge with a pinned ebony base ensures accurate intonation. The Bigsby B7GP tailpiece not only adds to the guitar's visual appeal but also allows for subtle vibrato effects and smooth pitch bending.
Playability
The Gretsch G6659TG Broadcaster Jr is a joy to play, thanks to its smaller body size and comfortable neck profile. The guitar's lighter weight makes it an excellent choice for gigging musicians who need an instrument that won't cause fatigue during long performances. The 12-inch fingerboard radius and medium jumbo frets make for easy string bending and effortless playability across all genres.
The guitar's setup out of the box is generally excellent, although some players may prefer to make minor adjustments to suit their personal preferences. The action is low without causing fret buzz, and the intonation is spot-on, ensuring that chords and single notes ring out clearly and accurately.
Sound
The sound of the Gretsch G6659TG Broadcaster Jr is where this guitar truly shines. The High Sensitive Filter'Tron pickups do an excellent job of capturing the guitar's natural resonance and brightness, resulting in a tone that is unmistakably Gretsch. The guitar has plenty of output and can easily cut through a mix, making it suitable for both rhythm and lead playing.
The tonal versatility of the Broadcaster Jr is impressive, with the ability to cover a wide range of musical styles. The bridge pickup delivers a bright, twangy sound that is perfect for country and rockabilly, while the neck pickup offers a warmer, rounder tone that works well for jazz and blues. Combining the two pickups allows for a myriad of different sounds, from chimey cleans to growling overdrive.
Conclusion
The Gretsch G6659TG Players Edition Broadcaster Jr is a fantastic electric guitar that combines vintage aesthetics with modern playability and performance. Its compact size, comfortable neck, and versatile tonal options make it an excellent choice for guitarists of all styles and skill levels. The build quality and attention to detail are exceptional, ensuring that this guitar will be a reliable and inspiring instrument for years to come. Whether you're a long-time Gretsch fan or new to the brand, the Broadcaster Jr is definitely worth checking out.