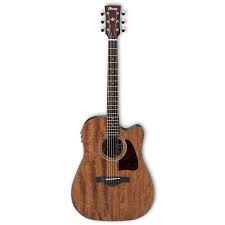 The Ibanez AW54CE is a great acoustic electric guitar for the money. It has a beautiful natural finish and a cutaway so you can easily reach the higher frets.
The guitar also comes with an onboard tuner, which is a nice touch.
The sound of the AW54CE is excellent, thanks to its solid spruce top and mahogany back and sides. The guitar has a bright, clear tone that sounds great for both solo playing and jamming with friends.
If you're looking for an affordable acoustic electric guitar that sounds great, the Ibanez AW54CE is definitely worth checking out.