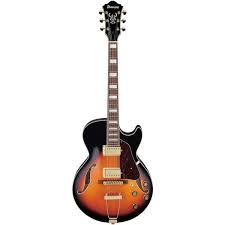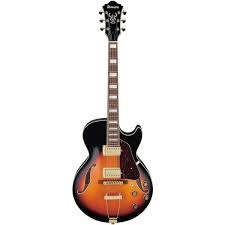 Ibanez Artcore AG75G Electric Guitar Review
The Ibanez Artcore AG75G is an electric guitar that has been making waves in the music industry for its incredible sound, build quality, and affordability. This hollow body guitar is perfect for musicians looking to add some versatility to their collection or those who are simply seeking a high-quality instrument at a reasonable price. In this comprehensive review, we will delve into the features, sound, playability, and overall quality of the Ibanez Artcore AG75G.
Features and Specifications
The Ibanez Artcore AG75G is a hollow body electric guitar that boasts an attractive design and impressive specifications. The body is constructed from maple, while the set-in neck is made of nyatoh, which is known for its durability and tonal qualities. The fingerboard is crafted from walnut wood, featuring 22 medium frets with acrylic block inlays that give the guitar a classic aesthetic.
Equipped with Classic Elite humbucker pickups, the AG75G delivers a warm and well-rounded sound that's perfect for various genres, including blues, jazz, and rock. The guitar also features a Gibraltar Performer bridge and VT60 tailpiece, which provide excellent tuning stability and intonation. The gold hardware adds a touch of elegance to the instrument's overall appearance.
One notable feature of the Ibanez Artcore AG75G is its slim neck profile. With a thickness of only 21mm at the first fret and 24mm at the 12th fret, this guitar offers unparalleled comfort and playability. Additionally, the double cutaway design allows easy access to the higher frets, making it perfect for lead guitarists and soloists.
Sound and Tone
The Ibanez Artcore AG75G produces a rich and versatile sound that can cater to different musical styles. The Classic Elite humbucker pickups give the guitar a warm, full-bodied tone with well-defined mids and smooth highs. These pickups have been specifically designed to provide excellent clarity and articulation, making them ideal for both clean and overdriven tones.
The hollow body construction of the AG75G adds an inherent acoustic quality to the sound, which is especially noticeable when playing with a clean tone. This characteristic makes the guitar perfect for jazz and blues players who require a more organic sound from their instrument. When used with overdrive or distortion, the guitar's natural resonance adds depth and complexity to the tone, making it suitable for rock and other heavier genres as well.
Playability
The Ibanez Artcore AG75G is a highly playable instrument, thanks to its slim neck profile and double cutaway design. The nyatoh neck feels comfortable in your hand, while the walnut fingerboard provides a smooth surface for your fingers to glide across during play. The medium frets are well-dressed and evenly spaced, ensuring accurate intonation and minimal string buzz.
The guitar's lightweight construction also contributes to its playability. The hollow body design not only enhances the sound but also reduces the overall weight of the instrument, making it comfortable to hold and play for extended periods. The Gibraltar Performer bridge and VT60 tailpiece keep the strings securely in place, allowing you to perform bends and vibrato without worrying about tuning stability.
Build Quality and Aesthetics
Ibanez has a reputation for producing high-quality instruments, and the Artcore AG75G is no exception. The guitar's maple body and nyatoh neck are expertly crafted, ensuring durability and longevity. The gold hardware, acrylic block inlays, and bound body and neck add a touch of sophistication to the instrument's appearance, making it an attractive option for those who value aesthetics as much as performance.
One potential downside to the AG75G's construction is its susceptibility to feedback due to its hollow body design. However, this issue can be mitigated by using a noise gate or adjusting your playing technique and amplifier settings.
Value for Money
Considering its impressive features, sound quality, and playability, the Ibanez Artcore AG75G offers excellent value for money. It's an affordable option for musicians who want a versatile, high-quality instrument without breaking the bank. The guitar's ease of play makes it suitable for beginners and experienced players alike, while its attractive design ensures it will look good on stage or in your practice space.
Conclusion
The Ibanez Artcore AG75G is an outstanding electric guitar that delivers on all fronts. Its exceptional sound quality, playability, and build make it a fantastic option for musicians looking for a versatile, affordable instrument. Whether you're a seasoned guitarist or just starting out, the AG75G is an excellent choice that will undoubtedly exceed your expectations.