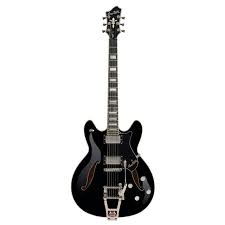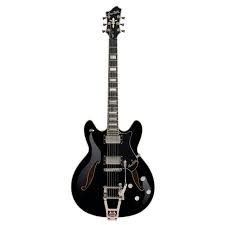 Hagstrom Tremar Viking Deluxe Electric Guitar: A Comprehensive Review
The Hagstrom Tremar Viking Deluxe electric guitar is a stunning, high-quality instrument that combines the best of both worlds: classic design and modern functionality. This guitar is perfect for players of all levels, as it offers exceptional playability, versatile tone options, and outstanding craftsmanship. In this comprehensive review, we will delve into the various features, performance, and overall value of the Hagstrom Tremar Viking Deluxe.
Design and Construction
The Hagstrom Tremar Viking Deluxe is a semi-hollow body electric guitar with a double-cutaway design, reminiscent of the timeless Gibson ES-335. The body is made from high-quality plywood maple, providing a lightweight yet durable construction. The top, back, and sides of the guitar are beautifully finished in a glossy, transparent finish, showcasing the natural wood grain. The available color options include Black Gloss, Wild Cherry Transparent, and Vintage Sunburst.
The neck of the Tremar Viking Deluxe is made from Canadian hard maple, which is known for its strength and stability. The set-neck construction ensures excellent sustain and resonance. The fingerboard is crafted from Resinator wood, a composite material designed to mimic the tonal characteristics of ebony. It features 22 medium jumbo frets and Hagstrom's signature pearloid block inlays, giving it a vintage aesthetic.
The headstock is adorned with the iconic Hagstrom logo and six chrome die-cast tuning machines, ensuring precise tuning and stability. The guitar's hardware is also chrome-plated, adding to its stylish appearance.
Electronics and Hardware
The Hagstrom Tremar Viking Deluxe comes equipped with two Hagstrom HJ-50 humbucker pickups, which are designed to provide warm, well-rounded tones with excellent clarity. The pickups are controlled by a three-way toggle switch, allowing players to select between the neck, bridge, or a combination of both pickups. The guitar also features individual volume and tone controls for each pickup, giving players maximum control over their sound.
One of the standout features of the Tremar Viking Deluxe is its Hagstrom Tremar vibrato system. This vintage-style tremolo bridge allows players to add subtle vibrato or more aggressive pitch bends to their playing. The Tremar system is designed to maintain tuning stability, even with frequent use.
Additionally, the guitar features a Tune-O-Matic bridge with a roller saddle, which ensures accurate intonation and helps to prevent string breakage. The combination of the Tremar vibrato system and the roller saddle makes this guitar perfect for players who enjoy using tremolo effects in their playing.
Playability
The Hagstrom Tremar Viking Deluxe boasts exceptional playability, thanks to its comfortable neck profile and smooth fingerboard. The medium jumbo frets make it easy to play fast passages and execute bends without fretting out. The set-neck construction provides excellent sustain and resonance, while the semi-hollow body design adds warmth and depth to the overall tone.
The Tremar vibrato system is easy to use and offers a wide range of vibrato effects, from subtle shimmer to more pronounced pitch bends. The tuning machines and roller saddle ensure that the guitar stays in tune, even with heavy tremolo use.
Sound and Versatility
The HJ-50 humbucker pickups provide a versatile range of tones, suitable for various genres and styles. The neck pickup delivers warm, full-bodied tones, perfect for jazz and blues, while the bridge pickup offers a bright, cutting sound, ideal for rock and country. The three-way toggle switch and individual volume and tone controls allow players to dial in their desired sound with precision.
The semi-hollow body design of the Tremar Viking Deluxe adds a unique tonal characteristic to the guitar, providing a warm, resonant sound with excellent sustain. This feature makes it suitable for a wide range of musical styles, from classic rock to modern pop.
Value and Conclusion
The Hagstrom Tremar Viking Deluxe is an outstanding electric guitar that offers a perfect blend of vintage design, modern functionality, and exceptional playability. Its high-quality construction, versatile sound options, and stunning aesthetics make it an excellent choice for players of all levels, whether they are just starting or have years of experience under their belt.
With its reasonable price point, the Tremar Viking Deluxe is an exceptional value for those seeking a semi-hollow body guitar with a vintage vibe and modern features. Whether you're a gigging musician or a hobbyist looking for a reliable and versatile instrument, the Hagstrom Tremar Viking Deluxe is a fantastic option that will not disappoint.